Native American Man Tased by Park Ranger Says He Was Off Trail to Maintain Social Distance
A Native American man says he was shot with a Taser by a park ranger on Sunday after walking off a trail to maintain social distancing measures.
Darrell House, a Native American and Marine veteran, posted a video of the incident, which occurred while he was hiking at the Petroglyph National Monument in Albuquerque, New Mexico, on his Instagram page.
"Today 12/27/2020, I was tased for being off trail at the Petroglyphs. I come here to pray and speak to my Pueblo Ancestor relatives," House wrote in the caption to the video. "Here, you will see a white man abuse his power. Both men pulled tasers on me after the first 1 couldn't keep me down."
According to a second video posted on House's Instagram, he was accompanied by his sister, who recorded the incident.
House told KRQE News that while he was walking on the Piedra Mercado trail with his dog, he noticed a large group of people ahead, so in an effort to maintain social distancing measures amid the ongoing novel coronavirus pandemic, he decided to cut through a blocked-off area.
House told the TV station that he never had an issue walking off the trail, but on Sunday, he was confronted by a park ranger, who ordered him to walk on the designated trail paths.
House said he followed the orders but refused to provide identification after being asked for it, after which the ranger used the stun gun. In the video posted on Instagram, House can be seen laying on the ground and yelling for help.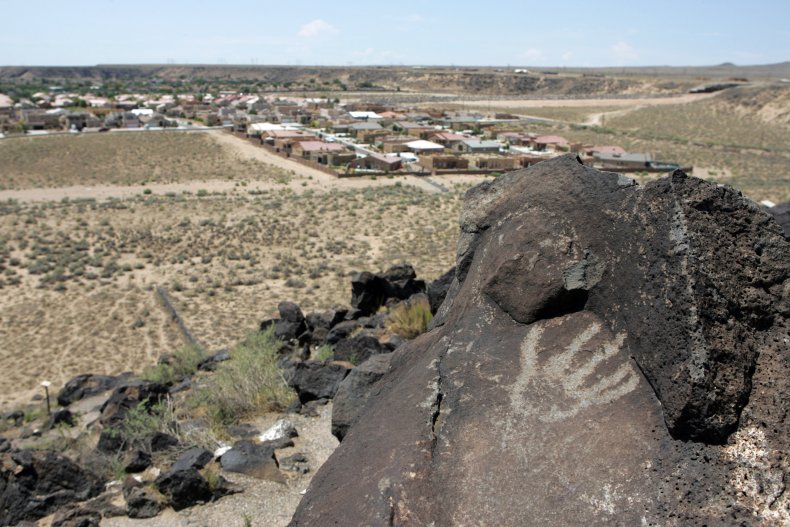 "I was holding my dog, so my dog got tased as well, he felt the shock, he felt everything. I ended up dropping him when I fell," House told KRQE.
House made comments to the station similar to his Instagram caption and said that the ranger "wanted to show power, dominance, keep me in order."
"That's what authority figures are trained to do, to keep people like me in order. To make the 'Indian' look crazy, to make them look insane," House told the station.
In response to the video, the National Park Service issued a statement which said, "On December 27, a law enforcement park ranger contacted two visitors who were walking in a closed area off-trail, which is a violation of National Park Service regulations within Petroglyph National Monument."
"In accordance with National Park Service policy, this incident is under review and has been referred to the NPS Office of Professional Responsibility, our internal affairs unit, for a thorough investigation," the statement said. "While we work to gather the facts of this specific situation, we cannot speculate on the events leading up to what was captured on video. We take any allegation of wrongdoing very seriously, and appreciate the public's patience as we gather the facts of this incident."
Newsweek reached out to the National Park Service for comment but did not receive a response in time for publication.
According to KRQE, House was given three citations by the ranger, for interfering with agency function, false information and being off-trail. Despite the citation, House told KRQE that he will continue to go off the trails "without permission. Without consent."
"That is my right," he said.