Native American Mom Blasts 'Racist' School Assignment About Slaughter of White Colonists
A Native American mother has blasted her son's teacher for giving his class an assignment which she claims is "definitely racist."
The project, handed out by a teacher at Meadowdale Elementary School in Lynwood, Washington, asked the class to write a diary entry from the perspective of a white man about the slaughter of white colonists by "Indians," King5 News reported.
"You have welcomed them [Native Americans] into your homes, and have often shared your meals, your good times and your sorrows," read the assignment. "Many of the colonists were killed at their dinner table as they shared their meal with their 'friends'." The students were told: "Express your conflicting feelings toward the Indians."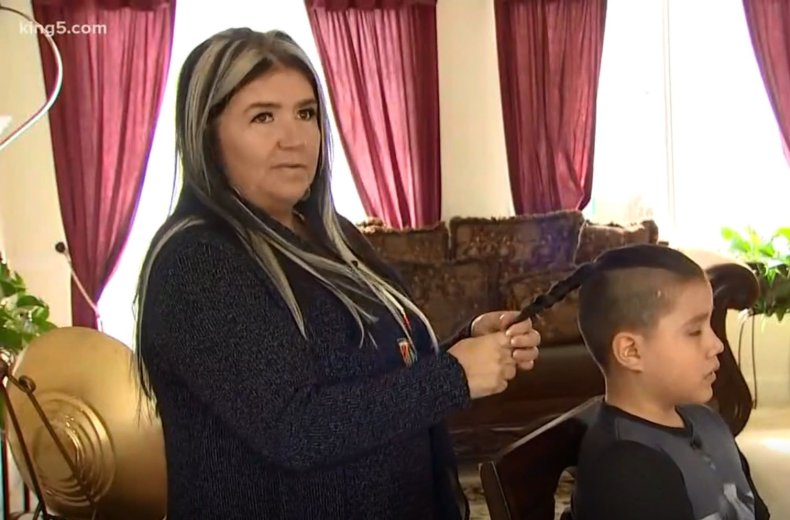 Shawna Gallagher, mother to Blaine and a member of the Klamath Tribe, told King5 "It's definitely racist," adding: "This shouldn't be happening. It is institutional oppression."
An emotional Blaine fought back tears as he told the news channel: "We didn't slaughter the white man. Because they came over to the new world, our world, and they started slaughtering the people. Us."
Gallagher said that while she acknowledges Native Americans did kill white people, the assignment gave no context to the violence, painting a one-sided and inaccurate picture of historical events. She told the unnamed teacher: "What you're doing is perpetuating hatred and segregation and stereotypical views of Native American people."
The worksheet handed to students was first written in 1971. Local education officials said it is not part of the curriculum and was introduced to the class as an additional piece of work by the teacher—and they assured parents it will not be used again.
"No one disagrees with this parent," Debbie Joyce Jakala, a spokeswoman for the school district, told King5. "This is exactly the sort of thing we want families to do. We need to hear from them about changes that need to be made."