Native Americans Angered By Trump's July 3 Mount Rushmore Fireworks Event
Native Americans have been angered by President Donald Trump's plans to attend an Independence Day event at the Mount Rushmore monument on July 3.
One tribe member told the Associated Press that the South Dakota monument depicting former U.S. Presidents George Washington, Thomas Jefferson, Abraham Lincoln and Theodore Roosevelt was a "symbol of white supremacy" and a reminder of existing structural racism.
The AP also reported that various Native American groups were planning to protest the planned Independence Day celebration at Mount Rushmore next week.
"Mount Rushmore is a symbol of white supremacy, of structural racism that's still alive and well in society today," Nick Tilsen, a member of the Oglala Lakota tribe told the AP. "It's an injustice to actively steal Indigenous people's land, then carve the white faces of the colonizers who committed genocide."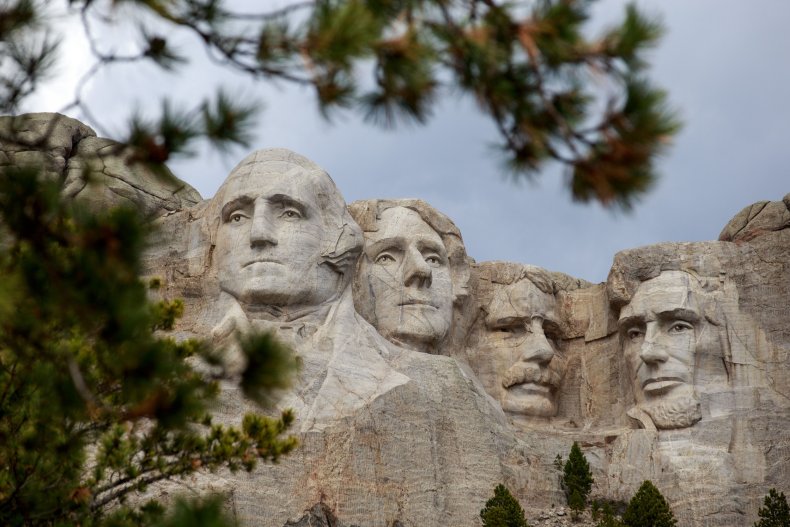 Speaking to the Sioux Falls Argus Leader, Julian Bear Runner, the Oglala Sioux President, told the newspaper that he wanted Mount Rushmore to be removed.
He added that the sight of the monument was a "great sign of disrespect" to him, and clarified that he did not want to see the Mount Rushmore sculptures blown up, but instead simply removed from the area.
However, the director of the Native American voting rights organization Four Directions, O.J. Semans, told the Argus Leader that he believed leaving the monument in place could prove useful to the community.
"Doing that, I think, would get more people to understand the actual hurt that Natives are going through every time they see those images," he told the Leader.
According to a website promoting the July 3 event, more than 7,000 people are expected to attend. Lakota tribe storytellers will be informing visitors of the area's Native American roots.
Later in the day, the U.S. Air Force will perform a flyover at the site before a fireworks display is launched near the monument for the first time in a little more than a decade. The president is expected to headline the celebration kicking off Independence Day weekend.
Newsweek has contacted the White House for comment and will update this article with any response.
The AP reported on planned protests at the Mount Rushmore event days after South Dakota Gov. Kristi Noem promised to protect the monument as statues were felled elsewhere in the country.
Responding to a tweet by Conservative commentator Ben Shapiro that questioned when "our woke historical revisionist priesthood" would ask for Mount Rushmore to be blown up, Noem said: "Not on my watch."
A spokesperson for the governor's office told Newsweek on Thursday that there had been "widespread chatter on social media about defacing or destroying Mount Rushmore" amid ongoing protests against racism following the death of George Floyd in police custody.