Cases of the novel coronavirus among Native Americans have been growing faster than some of the worst-hit states in the country. Nearly 8,000 cases have been reported but the actual number of infections is likely to be higher, with less than three percent of the total Native American population tested for the virus.
Many of the country's over 2.9 million Native Americans have health risks, such as diabetes, heart disease, cancer and obesity, that are higher than other Americans, making them more vulnerable to novel coronavirus infection.
Navajo Nation, the largest Native American territory in the U.S. with over 173,600 residents, has the highest per capita (per 100,000 people) infection rate in the country.
The territory has seen at least 4,253 confirmed cases, according to the latest report Wednesday from the Navajo Nation Department of Health. Its infection rate is at nearly 2,450 infections per 100,000 people. The infection rate is higher than that of New York and New Jersey, which each report 1,827 and 1,694 cases per 100,000 people, respectively.
Speaking to Newsweek, a spokesperson for the Centers for Disease Control and Prevention (CDC) confirmed: "There have been 227 COVID-19-related deaths among Native Americans. However, race was missing for more than 50 percent of cases, so this number is likely an under-representation due both to completeness of data, as well as reporting delays."
There have been 7,753 confirmed cases reported among Native American communities covered by the Indian Health Service (IHS). "Reporting by tribal and urban programs is voluntary," the IHS notes—therefore many cases may have been unreported.
But only around 84,913 (2.8 percent) of Native Americans have been tested, according to the latest report Wednesday from the IHS, tribal, and urban Indian organization facilities.
Native Americans are particularly vulnerable to novel coronavirus infection due to a spectrum of other diseases to which they are prone.
"American Indians/Alaska Native adults are more likely to be obese than white adults, more likely to have high blood pressure, and they are more likely to be current cigarette smokers than white adults - all risk factors for heart disease," the Office of Minority Health (OMH) of the U.S. Department of Health and Human Services reports.
"In 2018, American Indians/Alaska Natives were 50 percent more likely to be diagnosed with coronary heart disease than their white counterparts. American Indian/Alaska Native adults were 10 percent more likely than white adults to have high blood pressure, as compared to non-Hispanic whites, in 2018," the OMH said.
Native Americans also have a greater chance of having diabetes than any other racial group in the U.S., according to the CDC.
The OMH also reports that Native Americans have high risks for different types of cancer: "From 2012-2016, American Indian/Alaska Native men were almost twice as likely to have liver & IBD [inflammatory bowel disease] cancer as compared to non-Hispanic white men. American Indian/Alaska Native men are 40 percent more likely to have stomach cancer than non-Hispanic white men and are over twice as likely to die from the same disease.
"American Indian/Alaska Native women are 2.3 times more likely to have, and twice as likely to die from, liver & IBD cancer, as compared to non-Hispanic white women. American Indian/Alaska Native women are 20 percent more likely to have kidney/renal pelvis cancer than non-Hispanic white women," the OMH said.
"We have tested more than any population or state"
Speaking to Newsweek, Navajo Nation President Jonathan Nez, said: "Our focus right now is on helping such patients, those among the elderly, high-risk, vulnerable population. This virus has taken over a lot of homes."
More than half (around 64 percent) of the total COVID-19 deaths among Native Americans in the country have been reported in the Navajo Nation, which has seen at least 146 fatalities, as of May 20, according to Navajo Nation's health department.
The territory has been aggressively testing its citizens and claims to have conducted more tests than any other population in the country.
Nez told Newsweek: "The virus came [to the Navajo Nation] from southern Arizona, which we know from contact tracing and around 11.6 percent of Navajo Nation [residents] have been tested. We have tested more than any population or state throughout this country and because of the aggressive testing we're going to get a little more positive results.
"This is a war against the monster that is COVID-19. And we're fighting daily to keep that monster out of our houses, out of communities and out of our nation.
"We have done the best we could with the limited resources we've had so far and experts have said this [outbreak] could have been worse, a lot worse than what the latest virus figures have shown. It would have been a lot worse if it weren't for the proactive measures and the health orders we've issued and the stringent curfews we've been doing here on Navajo Nation. And that was all without federal aid," he said.
Suing the government
Lack of financial resources, among a string of other shortages, has hampered the territory's COVID-19 response effort.
Earlier this month, the Navajo Nation received $600 million in federal funding under the CARES (Coronavirus Aid, Relief, and Economic Security) Act following a lawsuit filed against the federal government in April.
The Navajo Nation and more than a dozen other tribes filed a lawsuit against U.S. Secretary of the Treasury, Steven Mnuchin over proposed plans that would give as much as half of the coronavirus relief allocated for tribes in the $2.2 trillion stimulus package towards 230 Alaska Native Corporations, for-profit corporations which serve tribal villages in Alaska. The tribes argued that corporations do not meet the definition of tribal governments and should not be eligible for the coronavirus relief.
Nez told Newsweek: "We had to sue the federal government before they'd give us the money, that is ridiculous. And we're not asking for handouts. That money was allocated for all U.S. citizens. Yet the first citizens of this country are, once, again, pushed aside and not given the resources to help fight COVID-19. That's just how tribes have been treated for a long time."
Doctor shortage
Since receiving the federal funding, the territory has been able to construct two alternative care sites (ACS), which cost around $4million to build, and were opened for patients last weekend. They are also looking into hotels and other structures within the territory that can be used as recovery and isolation sites for patients.
Critical patients remain at hospitals, while those in need of less medical attention are sent to an ACS. Those who are suffering extremely critical conditions are flown out to larger hospitals in the region.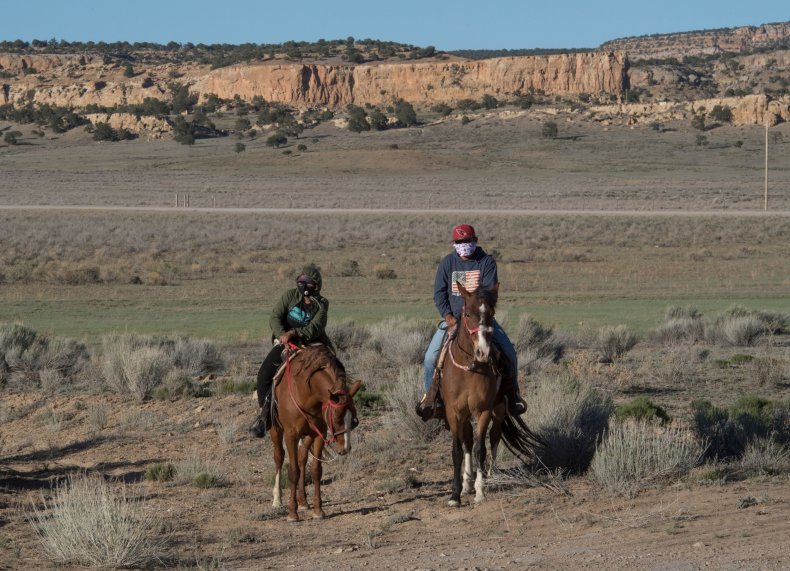 "I know some people might say 'well, why didn't you do this [build ACSs] from the beginning?' but we just didn't have the resources to do it. That's why we're late into isolating our citizens," Nez notes, which has contributed to the further spreading of the virus.
In addition to lack of health care facilities, Navajo Nation faces shortages in doctors and protective equipment.
"The Indian Health Service has been underfunded since its inception. This pandemic has shown that the health care system of the U.S. is in need of attention and even more so among the Native American community.
"There are only a handful of Navajo doctors working in Navajo Nation, less than 10. Here you don't get paid a lot, so the ones that are working are doing it just to give back to their people. There's quite a good number of nurses, because we do have a good nursing program at Northern Arizona University.
"Those nurses, community health representatives, public health nurses are on the frontlines everyday now dealing with COVID-19 patients. And what warriors they are...80 warriors trying to do the best they can to keep our people safe," he said.
The lack of quarantine centers to isolated infected patients has also exacerbated the situation. Many Navajo households see many generations living together in one home, increasing the chances of spreading the virus.
"Because of the multi-generations living under one roof, the virus tends to spread very quickly at the house. We're having hard time tracing because people may not be so forthcoming to get tested. Sometimes you have the breadwinner, who can't afford to be isolated for 14 days, be infected" Nez explains, adding to the under-testing of patients and under-reporting of cases.
"We need housing so that multiple generations don't live under one roof. And we're willing to build it. But we just never got invited to the [American] dream here, so we might as well bully our way in there because we are citizens of the U.S., and we want to be treated as equals," he said.
With reportedly only 13 supermarkets available in the whole of the Navajo Nation, a lack of food and access to healthier options coupled with unhealthy eating habits among citizens has made the territory extra vulnerable amid the pandemic.
Nez told Newsweek: "We live in a food desert, which is a contributing factor to all these health problems among the population. Some communities live right next to a border town, so their nearest supermarket is in that border state," which means they have to travel across borders and further risk exposure to the virus.
"A shift in the way of thinking needs to happen among our citizens, that's what this pandemic has highlighted—the need for healthier eating.
"We have people wanting to help us, but if you're gonna provide us with food, provide healthier foods. I don't want to fuel the already high numbers of diabetes cases here on Navajo Nation. I see a lot of junk [food] being handed out by other organizations here on the Navajo Nation.
"We're trying to lower the curve of the outbreak here and I don't want a spike of diabetes down the road. So we're doing our best to educate our citizens to eat healthier foods and those that are donating items to bring healthier foods. And people are stepping up to do that.
"We have a partnership in Santa Cruz County in Southern Arizona where they provide fresh fruits and vegetables from their farms. And I envision one day that we'll have large-scale farming here on Navajo Nation, so we can take care of our own."
"We have appreciated the friends of the Navajo Nation, like movie stars, who have helped us by getting PPEs [personal protective equipment] sent to us, so we can give it to our frontline warriors for their protection," Nez notes.
"Protect the Sacred"
Earlier this month, actor Sean Penn and his disaster relief organization Core Response provided food, testing kits and other supplies to the Navajo Nation.
A campaign known as Protect the Sacred was launched recently to raise awareness for the Navajo Nation and their needs during the pandemic. The campaign featured a public service announcement where a string of celebrities, including comedian Ellen DeGeneres, actors Mark Ruffalo and Debra Messing and various others, make a public appeal on behalf of the Navajo Nation.
Earlier this week, another public health emergency order was issued in the Navajo Nation, which entails a 57-hour lockdown over the weekend from 8 p.m. local time on May 22 to 5 a.m. local time on May 25. The lockdown sees the closure of businesses and requires citizens to remain at home during the period of the lockdown.
The territory has previously implemented at least six other similar weekend lockdowns in April and May in a bid to help reduce community spread of the virus. Around 80 percent of citizens were reported to be compliant with the strict curfews so far, Nez told Newsweek.
"We've got to prepare [to fight this outbreak]. We've got to learn how to bulk up our epidemiology, get better water infrastructure—around 30 to 40 percent of our Navajo citizens don't have water. We need to grow our own food so we can be self-sufficient, get more Navajo people into the medical fields," Nez notes.
"We have to get better broadband and telecommunications, so we can get information out to our citizens in times of emergency.
"It's up to us as citizens to hold each other accountable," Nez said.
The novel coronavirus, which was first reported in Wuhan, China, has infected more than five million globally, including more than 1.5 million in the U.S., the current epicenter of the outbreak. More than 328,600 have died, while over 1.9 million have reportedly recovered from infection.
The graphic below, provided by Statista, illustrates U.S. states with the most confirmed COVID-19 cases.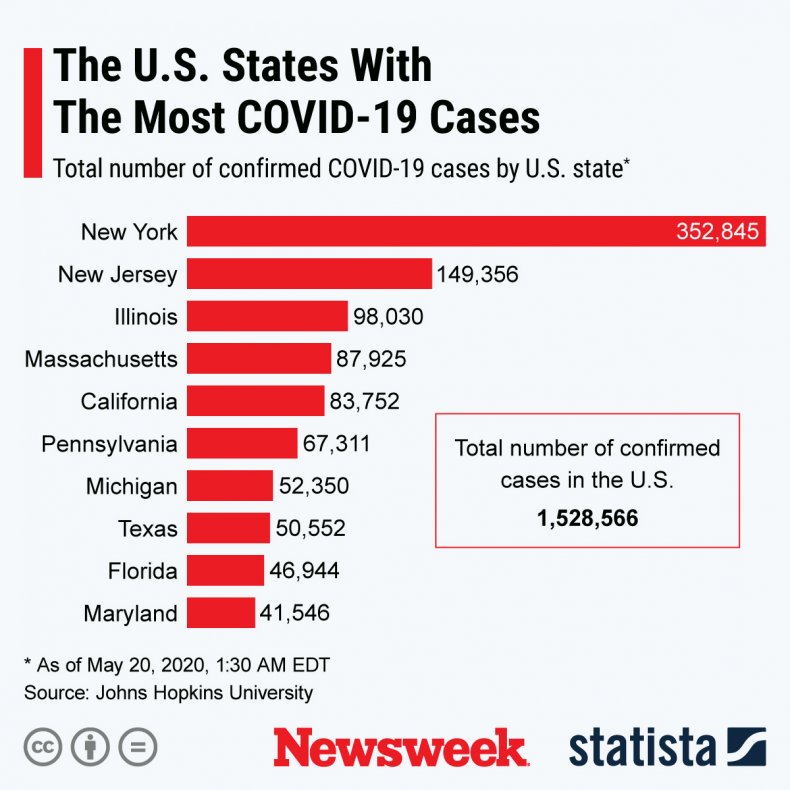 The graphic below, provided by Statista, illustrates the spread of the COVID-19 virus across the U.S.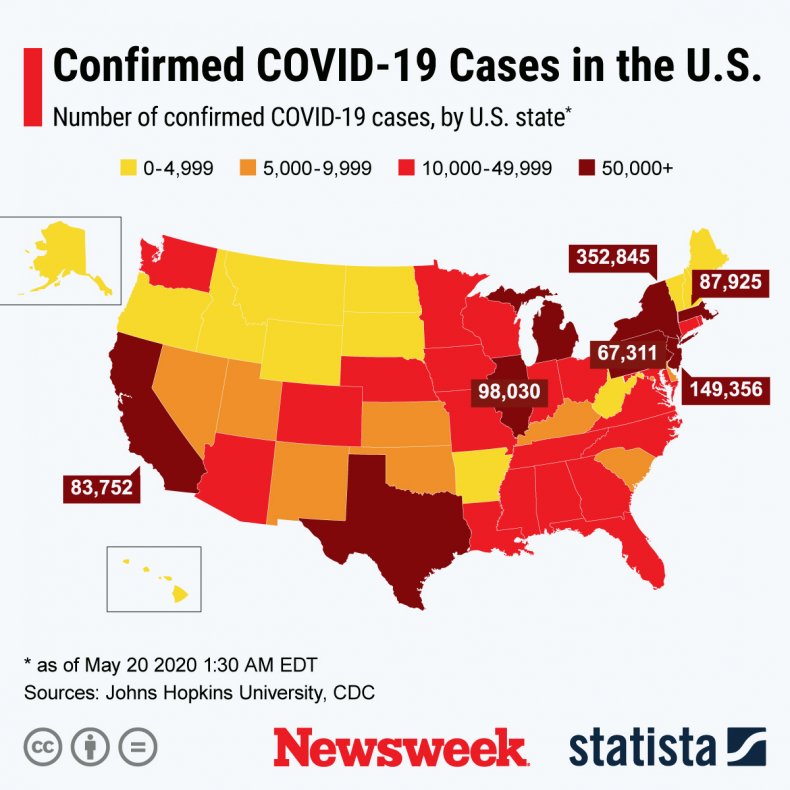 About the writer
Soo Kim is a Newsweek SEO Reporter is based in London, UK. She reports on various trends and lifestyle stories, from health, fitness and travel to psychology, relationships and family issues. She is also a South Korea expert who regularly covers Korean culture/entertainment for Newsweek, including the latest K-dramas, films and K-pop news, and is the author of the book How to Live Korean, which is available in eight languages. Soo also covered the COVID-19 pandemic extensively from 2020 through 2021 after joining the general news desk of Newsweek in 2019 from the Daily Telegraph (a U.K. national newspaper) where she was a travel reporter/editor from 2010. She is a graduate of Binghamton University in New York and the journalism school of City University in London, where she earned a Masters in international journalism. Languages spoken: English and Korean.
Follow her on Twitter at @MissSooKim or Instagram at @miss.soo.kim
You can get in touch with Soo by emailing s.kim@newsweek.com