Native Americans Clash With Christian Prayer Group at Ohio Sacred Site
Native Americans have clashed with a Christian prayer group that went to pray at a historical site in Ohio that is sacred to the former.
Dave Daubenmire, a former high school football coach who now leads Pass the Salt Ministries in Hebron, took a group to pray at the Great Serpent Mound near Peebles on Sunday.
The American Indian Movement of Ohio's executive director Philip Yenyo and other members met Daubenmire's group in the site's parking lot after finding out about the event, which was planned to coincide with the winter solstice.
Yenyo is seen telling the prayer group to leave in a video posted of the encounter on YouTube with the title "PAGANS TRY TO PREVENT PRAYER." The American Indian Movement of Ohio also posted video from Sunday on its Facebook page.
"You have no right and no business doing this on this sacred site where our ancestors are buried," Yenyo says in the YouTube clip. "You're not going any further."
A man from the prayer group is seen moving towards Yenyo and getting close to him. "Don't touch me," the man tells Yenyo. "You're the one pushing me," he responds.
"We don't come to your cemeteries," Yenyo adds as the pair continue to face off. At this point, the man appears to push Yenyo and others try to calm the situation.
"Don't tell me to get out of the way on my own land," Yenyo added. "It's our birthright."
Another member of the prayer group then approaches Yenyo and tells him: "It's public land. This land will be taken in the name of Jesus."
Yenyo replied: "This land was already taken a long time ago. And you people keep taking it."
The Cincinnati Enquirer reported the prayer group pushed past Yenyo and started praying at the mound. At least one person climbed onto the mound and was asked to get down by an employee, the newspaper reported.
A video shared by the group said they were "PRAYING DOWN SATANIC SERPENT MOUNDS!"
The Ohio History Connection, which owns the site, confirmed to Newsweek that it called the Adams County Sheriff due to the altercation. No arrests were made.
"Serpent Mound is an internationally known National Historic Landmark built by the ancient American Indian cultures of Ohio and is on the U.S. Tentative List for possible World Heritage inscription by UNESCO, a designation reserved for only the most authentic and historically significant sites," the organization said in a statement. "Serpent Mound is well-known and visited by many people of different faiths and religions. However, there is no question it is a sacred American Indian site."
The statement added: "In 2017 we discontinued the lighting of the Serpent Mound during the Winter Solstice—a decision that was reached after conversations with leaders of multiple tribal nations with Ohio ties. Yesterday's incident is a reminder that there is more work to do to preserve and share the site in the most appropriate ways. We are committed to working with our tribal partners to offer the public a better understanding of its history and significance to American Indians."
Yenyo told Newsweek that he wants people to understand the effigy mound is sacred to Native Americans as their ancestors are buried there.
"These mounds were created by our people thousands of years ago, and these are sacred sites," he said. "Some of the mounds in Ohio, not all of them, but the majority of them, have our ancestors buried in them.
"So when we have people that are not of our heritage on the site performing their ceremonies, it's absolutely wrong. That would be like me going into a Catholic Church and performing my ceremonies, or a Christian walking into a mosque and performing their ceremonies and not caring what the people in the mosque feel. This is wrong."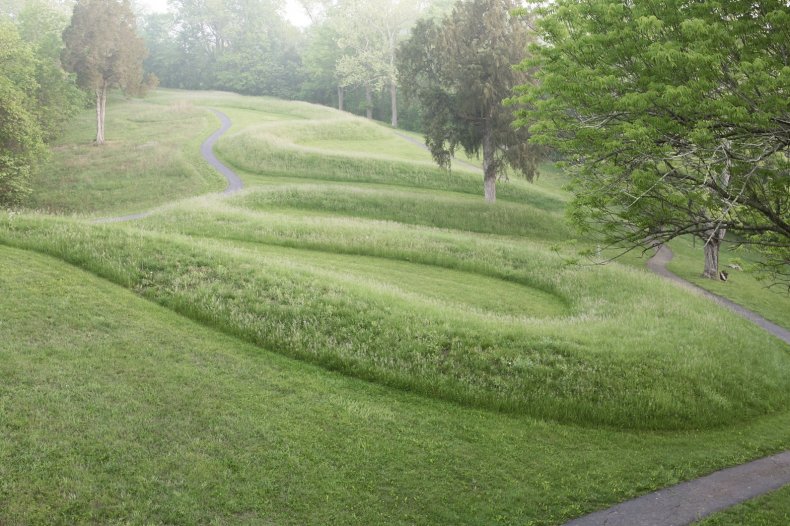 Yenyo said it's not just evangelical Christian groups who perform ceremonies on sacred sites. "It's also done by people with new age beliefs that go there with their crystals," he said.
In an email to Newsweek, Daubenmire said his group had gone to "proclaim the name of Jesus" and "anoint the land."
"We pressed through and prayed despite their aggressive behavior," he said. "We prayed and then went to lunch."
Daubenmire told the Enquirer that the mound is a "dark place" where "dark energy" is released. "I'm not calling the Indians dark," he said. "This has nothing to do with the Indians. We went there because we believe dark energy is released there."
Daubenmire, who also hosts a podcast, recently made headlines after comparing the late Justice Ruth Bader Ginsburg to Adolf Hitler.
Earlier this year, he said he planned to sue the NFL because he felt the Super Bowl half-time show featuring Jennifer Lopez and Shakira was inappropriate.
Yenyo and Daubenmire have been contacted for additional comment. The Ohio History Connection has also been contacted for comment.