NATO Allies Would Run Out of Ammo Within Days of War With Russia: Report
NATO recently completed a large survey of its ammunition stockpiles and found supplies have been considerably depleted by the war in Ukraine, according to a new report.
Many NATO countries were said to have already had weapons stockpiles that did not meet the bloc's targets prior to Russian President Vladimir Putin's invasion of Ukraine nearly a year ago, according to the report from Reuters.
The news agency cited a NATO official who spoke on condition of anonymity and said the alliance found in a survey that those stockpile numbers have since dwindled even further as NATO continues to arm Ukraine at a rate that doesn't match weapons production.
Reuters also quoted an unnamed European diplomat who said: "If Europe were to fight Russia, some countries would run out of ammunition in days."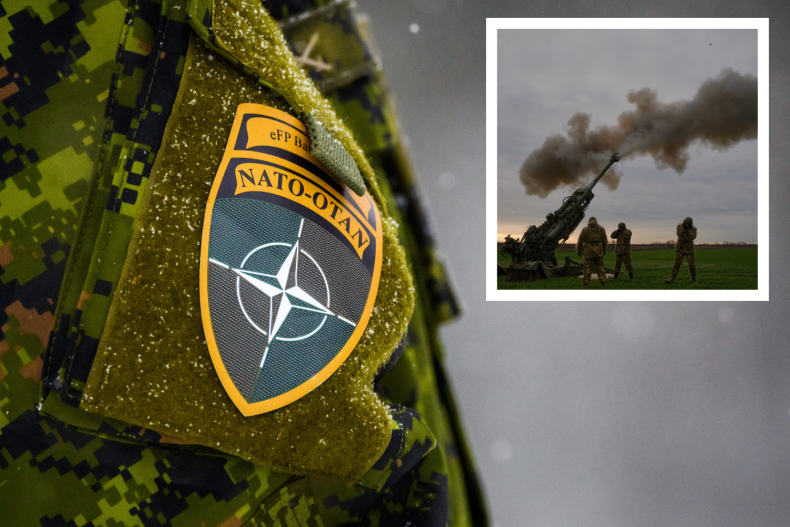 NATO allies are each asked to maintain a degree of defense capability should they be needed to participate in any conflict involving the alliance. The targets laid out by NATO for members' stockpiles are said to vary from each country, but the exact numbers in those targets are classified.
According to Reuters, many officials from NATO countries had "considered wars of attrition with large-scale artillery battles a thing of the past." Therefore, multiple NATO countries had let their stockpiles decrease even before Russia launched its prolonged conflict.
Now, though, NATO will reportedly request that members make up for the reduced supplies by increasing weapons production.
"Those NATO [munitions targets] that we set, and each ally has a specific target, those were not being met for the most part [before the Ukraine war]," the NATO official told Reuters. "I would be absolutely gobsmacked if the targets...were not increased."
William Reno, professor and chair of the political science department at Northwestern University, told Newsweek that nations now seeing the realities of attrition warfare will find it's "hard to suddenly gear up production to meet that demand. Insofar as the current war gives insight into possible future warfare, there's an added urgency to the task."
The NATO source also reportedly told Reuters where members are experiencing the biggest shortages and pointed to munitions that have been used to great effect by Ukrainian President Volodymyr Zelensky's forces. The shells used in howitzers, HIMARS missiles and ammunitions for defense systems like the U.S.-made Patriots and Germany's Gerards were specifically named.
In some countries, increased production has been made a goal even without NATO making such a request.
The United States remains Ukraine's biggest single-country donor of weapons, and the Defense Department already has plans in place to replenish its supplies.
Doug Bush—assistant Army secretary for acquisition, logistics and technology—said during a January briefing that the Pentagon is preparing to place large orders in the coming months to increase American stocks of weapons.
"There are going to be several big awards coming in February and March that will just move us further down that path," Bush said at the time.
The United Kingdom has also already begun taking steps to make up for weapons donated to Ukraine. In December, U.K. Secretary of State for Defence Ben Wallace announced that his ministry had agreed to a new deal with Saab to build more anti-tank weapons in the coming years.
John Healey, defense policy chief for the U.K.'s Labour Party, told Reuters that additional steps are still needed to be taken by his country to ensure its defense capabilities are adequate.
"We need a stockpile strategy that deals with the requirement to continue to support Ukraine but also the requirement to restock our own forces for the future," he said.
Despite the pressure Western nations may feel about increasing weapons production, Reno noted that "Russia is faced with an even worse crunch of this sort."
"In some respects, it's a race to see who runs dry first," he said.
Newsweek reached out to NATO for comment.