NATO Blames Russia After Video Shows Close Call Between Fighters Near Defense Minister's Plane
The U.S.-led NATO Western military alliance has blamed Russia for Tuesday's encounter over the Baltic Sea, where a fighter jet from Russia chased off one from Spain.
The incident was first revealed by the state-run Tass Russian News Agency, which reported that a Russian Sukhoi Su-27 had chased off a NATO F-18 as it attempted to near a plane over the Baltic Sea carrying Russian Defense Minister Sergei Shoigu back to Moscow from Kaliningrad. Footage released shortly after by the Russian Defense Ministry showed veering extreme left to force what appeared to be a Spanish F/A-18 Hornet away from an unidentified aircraft in the foreground, but NATO said the following day that Moscow was at fault.
"A Russian Tu-214 aircraft, escorted by two Russian Su-27 fighter airplanes, was tracked over the Baltic Sea near NATO airspace in the early afternoon (local time) on 13 August. The Tu-214 had a valid flight plan. However, the two escorting Su-27 flew without a flight plan, their transponders were switched off, and they did not communicate to air traffic control," NATO spokesperson Oana Lungescu told Newsweek in a statement.
"Two jets from NATO's Baltic Air Policing Mission were scrambled to visually identify the aircraft, as is routine. They monitored the planes at a safe distance, but one of the Russian fighters conducted an unsafe maneuver, cutting into the flight path of one of the NATO jets," she added.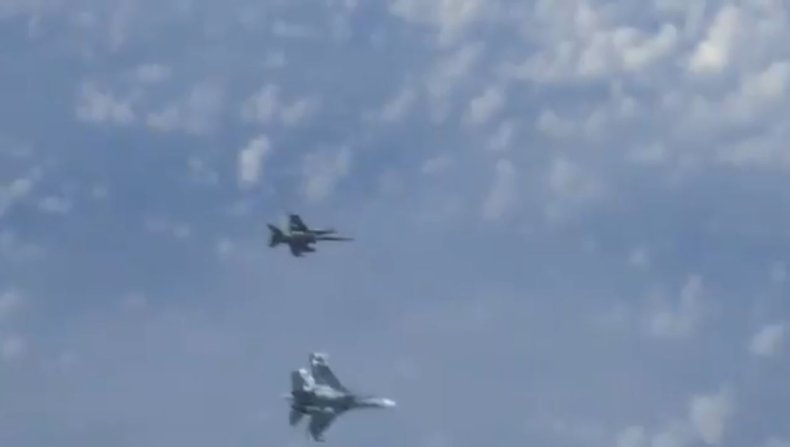 In a previous statement sent to Newsweek on the day of the incident, a NATO spokesperson said that "Jets from NATO's Baltic Air Policing mission scrambled to identify the aircraft which flew close to Allied airspace. Once identification of the aircraft had taken place, the NATO jets returned to base. NATO has no information as to who was on board." Again NATO maintained it "has no information as to who was on board."
Tass cited a Russian Defense Ministry spokesperson Wednesday as confirming the incident, saying "the fighter jet, which was spotted on the video, is indeed Spanish, which is under control of NATO."
NATO officially describes its Air Policing mission as "a collective task and a purely defensive mission, which involves the 24/7 presence of fighter aircraft, which are ready to react quickly to airspace violations." It brought this operation to the Baltics in 2004 when Estonia, Latvia and Lithuania joined what has since become a 29-nation defense group.
With NATO's borders having expanded significantly eastward since its beginning at the dawn of the Cold War, concerns have been raised by Russia, whose rival Warsaw Pact collapsed along with the Soviet Union in the early 1990s. Since then, however, Moscow has witnessed a resurgence in military and political might, shoring up its borders against states now aligned with the West.
Long-strained on both sides of these borders were significantly damaged amid a 2014 uprising in Ukraine that brought in a pro-NATO president, but saw Moscow annex the neighboring Crimean Peninsula and stand accused of backing a separatist insurgency in the east. Tensions arose and by 2016 NATO had designated multi-national battle groups in the three Baltic states and Poland.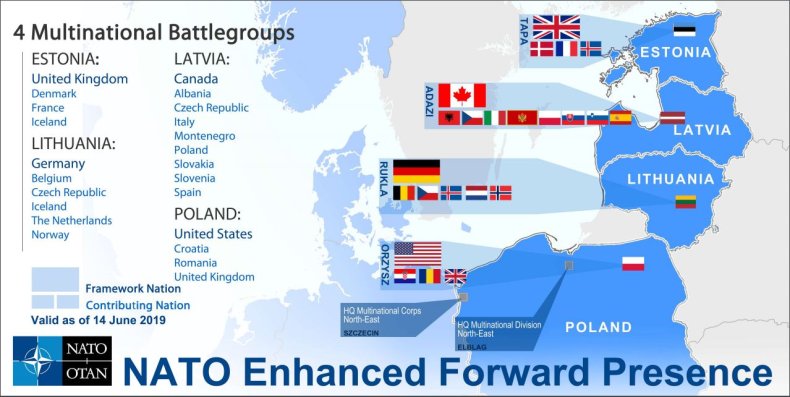 Eastern Europe has become an especially tense region for failing relations between Washington and Moscow as the U.S. officially left the 1987 Intermediate-range Nuclear Forces (INF) earlier this month and announced plans to develop and deploy previously-banned missiles ranging from 310 to 3,420 miles. U.S. officials accused their Russian counterparts of developing a cruise missile that violated the agreement, while Moscow charged the Pentagon with deploying defense systems capable of being used offensively as well in Romania and Poland.
NATO has defended the U.S.' decision to exit the INF but has expressed hesitation in introducing such new weapons to the frontlines of heightened frictions with Russia.
Spain, a founding member of NATO, has participated in at least six rounds of the Baltic Air Policing mission and currently based its planes in Siauliai, Lithuania. The Spanish air force drew controversy around this same time last year, however, when one if its Eurofighter Typhoon jets accidentally fired an AIM-120 Advanced Medium-Range Air-to-Air Missile (AMRAAM) during an exercise over southeastern Estonia.
Such drills often drew complaints from Russia, which has accused NATO of provocative actions across Europe. Both sides have held exercises at an increased tempo and have been involved in hundreds of intercepts across the continent in recent years.