NATO Agrees to Build 'European Sky Shield' Amid Mass Russia Strikes
More than a dozen NATO members have signed on to an initiative aimed at building a European air and missile defense system as Russia continues a wave of mass strikes on civilian targets in Ukraine.
Fourteen NATO allies and Finland, which is in the process of joining the defensive alliance, agreed Thursday to develop the "European Sky Shield Initiative," which will be led by Germany and will see European nations work to acquire air defense equipment and missiles. NATO said in a release that the initiative will strengthen its Integrated Air and Missile Defense (IAMD), a mission that works to stabilize and safeguard NATO airspace.
"This commitment is even more crucial today, as we witness the ruthless and indiscriminate missile attacks by Russia in Ukraine, killing civilians and destroying critical infrastructure. In this context, I strongly welcome Germany's leadership in launching the European Sky Shield Initiative," NATO Deputy Secretary General Mircea Geoană said in a statement. "The new assets, fully interoperable and seamlessly integrated within the NATO air and missile defense, would significantly enhance our ability to defend the Alliance from all air and missile threats."
Russia has carried out a series of missile attacks on civilian centers and critical infrastructure across Ukraine this week in what Russian President Vladimir Putin has framed as retaliation for an explosion at the Kerch Bridge connecting his country to the occupied Crimean peninsula. Putin blamed Ukraine for the damage, calling it an act of "terrorism," though Ukraine has not publicly taken responsibility for the explosion.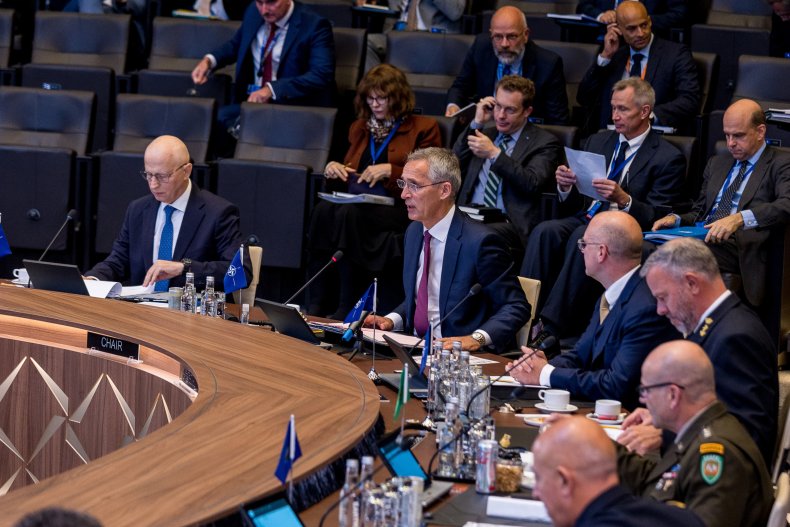 In updates posted on Telegram over the last few days, the State Emergency Service of Ukraine has reported power, water and gas outages. The service said Tuesday that the death toll of the strikes had reached 19 and more than 100 others had been injured, but since then, the total casualty counts have not been immediately clear.
The 14 NATO allies who signed on to the European Sky Shield Initiative included the U.K., Hungary, Belgium, Romania and Slovakia. Concerns have circulated ever since the start of the war in late February that the conflict could spread beyond Ukraine's borders and even provoke a direct war with NATO, though it remains unclear if Putin or the alliance would be prepared for such an escalation.
While NATO intends to build up its own air defense in Europe, Ukraine has called on Western allies for more equipment that can help defend its own airspace during this onslaught of Russian missile attacks.
"Ukraine needs air and missile defense systems. We need them here and now," Ukrainian Foreign Minister Dmytro Kuleba tweeted Wednesday.
Russia's strikes prompted Germany to announce Monday that it would provide the first of four new IRIS-T air defense systems to Ukraine within days. In a call with Ukrainian President Volodymyr Zelensky on Monday, U.S. President Joe Biden also "pledged to continue providing Ukraine with the support needed to defend itself, including advanced air defense systems," according to a White House readout.
Newsweek reached out to Germany's Defense Ministry for comment.