NATO 'Closely' Watching Baltic Sea Situation as Pipeline Sabotage Suspected
A NATO official has told Newsweek that the U.S.-led Western military alliance is carefully watching the Baltic Sea in the wake of suspicious incidents that targeted twin pipelines designed to bring gas from Russia to Germany.
"NATO is monitoring the situation in the Baltic Sea closely," the NATO official said. "Allies are looking into the gas leaks and exchanging information, also with Finland and Sweden."
Sudden drops in pressure were first detected Monday by the operators of the Nord Stream 1 and Nord Stream 2 pipelines, along with reports of leaks by the Danish Energy Agency and Swedish Maritime Authority. Both pipelines have been at the center of geopolitical tensions surrounding Russia's war in Ukraine, and neither were in operation at the time of the incidents, though they maintained gas under pressure within them.
Late last month, Russia's state-run Gazprom halted all supply through Nord Stream 1, which was completed in 2012, citing technical issues stemming from Western wartime sanctions against Moscow. Nord Stream 2, which was completed last year, never entered into commercial operation as a result of the dispute over the conflict in Ukraine.
The Danish Defense Command said Tuesday that "prohibition zones" have been established around the site of three leaks that have been detected within the two pipelines, and European nations have increasingly suspected that they were caused by foul play.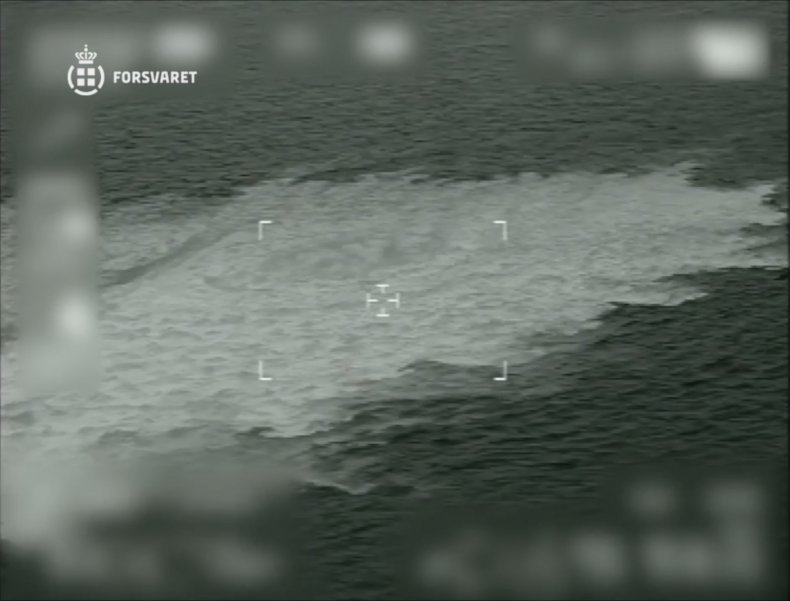 The incidents took place just a day before leaders from Denmark, Norway and Poland attended a symbolic event to inaugurate another pipeline, the Baltic Pipe, which runs from Norway to Poland. The project, which remains under construction, has been touted as critical to diminishing Europe's dependency on Russian gas as relations continue to deteriorate.
Speaking at Tuesday's ceremony, Polish Prime Minister Mateusz Morawiecki claimed that enemy action was behind the Nord Stream pipeline incidents.
"Today we faced an act of sabotage." Morawiecki said, "We don't know all the details of what happened, but we see clearly that it's an act of sabotage, related to the next step of escalation of the situation in Ukraine."
He said the Baltic Pipe, set to enter into partial operation as soon as next month, demonstrated that "the era of Russian domination in the area of gas is ending," an era he said had "marked by blackmail, threats and extortion."
Danish Prime Minister Mette Frederiksen said she "cannot rule out" the possibility of sabotage, and that it was "difficult to imagine" that such an event could be random.
Kremlin spokesperson Dmitry Peskov also left the possibility open of sabotage in response to a question by the state-run TASS Russian News Agency.
"Obviously, there is some kind of destruction of the pipe," Peskov said, "and as for what caused it, before the results of the research appear, we cannot rule out any single way."
"Certainly, this is an issue related to the energy security of the entire continent," he added.
German newspaper Der Spiegel reported Tuesday on growing suspicion of sabotage among German officials as well, citing unnamed sources who said the investigation was increasingly leaning toward a deliberate act that caused the trio of leaks.
Further suspicion has been prompted by the Swedish National Seismic Network at Uppsala University after one of its experts, Björn Lund, told national broadcaster SVT that readings near the sites of the leak indicated a blast occurred around the time of the incidents at the politically sensitive pipelines.
The United States has been among the most stalwart critics of the Nord Stream pipelines. Earlier this month, Secretary of State Antony Blinken cited Russia's decision to cut off supplies through Nord Stream 1 as "further evidence that it is so vital strategically for Europe to move away from dependence on Russian energy because [Russian President Vladimir] Putin has shown repeatedly that he will use it as a weapon."
Commenting on the recent incidents to befall the pipelines, Blinken said Tuesday that "the leaks are under investigation" and that "there are initial reports indicating that this may be the result of an attack or some kind of sabotage."
"If it is confirmed," he added, "that is clearly in no one's interest."
Though far removed geographically from the front lines of the conflict in Ukraine, the Baltic Sea has also found itself at the center of worsening tensions between Russia and Europe.
After unrest first emerged in Ukraine in 2014 with a pro-West government taking over, the eruption of a Moscow-aligned insurgency in the east and Russia's annexation of the Crimean Peninsula after a disputed referendum, NATO shored up the Baltic states of Estonia, Latvia and Lithuania, as well as Poland, with multinational battlegroups. After further battlegroups were established earlier this year in Bulgaria, Hungary, Romania and Slovakia, long-neutral Finland and Sweden decided to join the alliance.
The moves prompted some concern from Moscow, which has accused the U.S. and its allies of further encroaching upon Russia's borders. This includes the Baltic exclave of Kaliningrad, known to host a significant array of Russian firepower.
Newsweek has contacted the German Foreign Ministry, the Danish Energy Agency and U.S. European Command for comment.
This is a developing news story. More information will be added as it becomes available.