NATO Could Enter Ukraine War Against Russia on This One Condition, U.K. Says
Britain's armed forces minister has warned Russian President Vladimir Putin that using chemical weapons in Ukraine would risk "an international response."
As the Russian invasion of Ukraine entered a third week, James Heappey said that intelligence has revealed that Putin is considering deploying chemical weapons in the fight.
"I read last week, the very high-level intelligence around the possibility of chemical weapons being used, and I know that they were reading the same thing in Washington," Heappey told the BBC's Today program on Thursday. "When you read that stuff, you are utterly appalled at the fact that it's even under consideration."
NATO countries have refused Ukrainian President Volodymyr Zelensky's repeated calls for a no-fly zone over Ukraine, fearing it could risk provoking a widespread war with Russia.
Asked if the use of chemical weapons would be a red line, Heappey said: "I don't think it's helpful to get into any firm commitment right now about where that red line sits.
"But I think President Putin needs to be very clear that when other countries have used chemical weapons, it has caused an international response."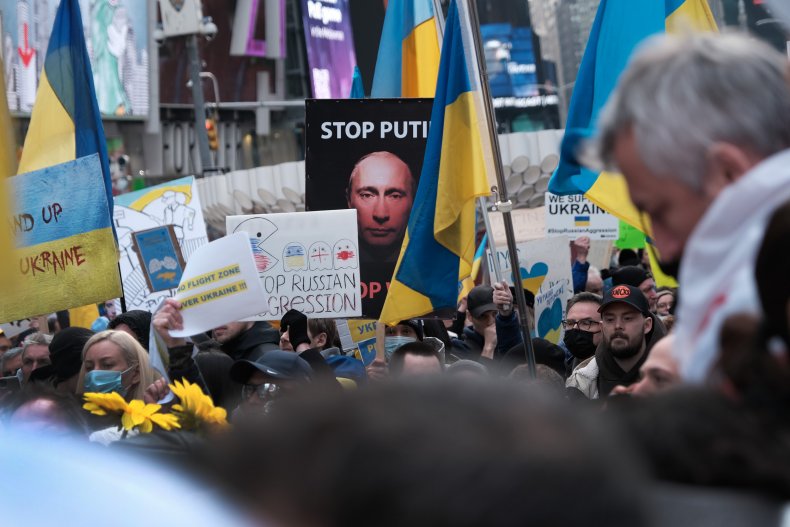 The U.S. was "right to declassify the intelligence so that Putin knows that we know that he's got this under consideration," Heappey said. "And I think he should reflect very urgently on what has happened to other countries where they have used this."
It came after the Biden administration publicly warned on Wednesday that Russia could use chemical or biological weapons in Ukraine.
Russian officials have accused Ukraine of running biological weapons labs with U.S. support.
White House press secretary Jen Psaki called Russia's claim "preposterous" and said it could be part of an attempt by Russia to lay the groundwork for its own use of such weapons against Ukraine.
"This is all an obvious ploy by Russia to try to justify its further premeditated, unprovoked, and unjustified attack on Ukraine," Psaki wrote on Twitter.
"Now that Russia has made these false claims, and China has seemingly endorsed this propaganda, we should all be on the lookout for Russia to possibly use chemical or biological weapons in Ukraine, or to create a false flag operation using them. It's a clear pattern."
Russia's Foreign Minister Sergei Lavrov repeated the claim that the U.S. was using Ukrainian territory to develop biological or chemical weapons during a press conference in Turkey after the latest round of talks between Ukraine and Russia yielded no breakthrough.
Lavrov said it was "no surprise" that the White House denied the claims, according to the BBC. The European Union and United Nations found no evidence because the Americans did it in "deep secrecy," Lavrov said.