NATO Countries Vow to Help Defend Finland, Sweden if Russia Attacks
If Russia were to take military action against Sweden or Finland for their attempts to join NATO, it would encounter opposition from three countries that are already members of the international alliance.
On Monday, Denmark, Iceland and Norway released a joint statement in which they indicated how far they would be willing to go to protect Sweden and Finland for their decision to apply for membership in NATO.
In the release, the three countries explained that if Finland or Sweden were to become a "victim of aggression on their territory before obtaining NATO membership, we will assist Finland and Sweden by all means necessary."
The statement from the three European countries came after Russian officials expressed their disapproval of Finland and Sweden potentially joining NATO. On Monday, Russia's Deputy Foreign Minister Sergei Ryabkov addressed that possibility, saying NATO "should not have any illusions that we will simply put up with this."
Finland and Sweden have also been threatened with the use of nuclear weapons by Dmitry Kiselyov, a presenter on a Russian state-owned television channel.
"When NATO bases appear in Sweden and Finland, Russia will have no choice but to neutralize the imbalance and new threat by deploying tactical nuclear weapons," Kiselyov said.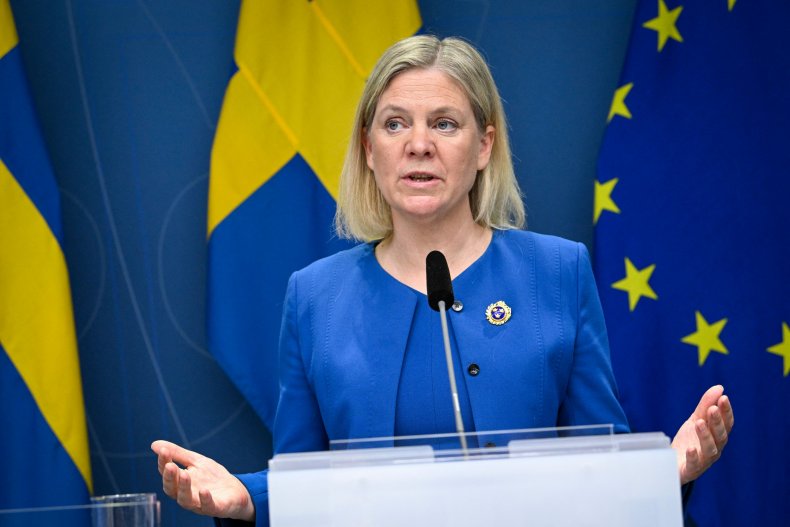 Last month, the Kremlin warned the two countries against the move. At the time, a Kremlin spokesperson said NATO "remains a tool geared towards confrontation and its further expansion will not bring stability to the European continent."
In their statement on Monday, the three countries indicated that they "strongly welcome Finland and Sweden's decision to apply for NATO membership." The release added that, as independent sovereign nations, Finland and Sweden have the "right to choose their own security arrangements."
Additionally, the three countries suggested that providing aid to Finland and Sweden is not just about the safety of those nations should they become the subject of an attack but about collective security as well.
"Finland and Sweden share the values and principles of our Alliance and will enhance our collective defence and strengthen Euro-Atlantic security," the statement read, adding, "Finland and Sweden's security is a matter of common concern to us all."
However, the release also made clear that those countries are not waiting until an attack occurs to prepare.
"We immediately initiate preparations in order to effectuate these security assurances. We will also further develop our defence cooperation with Finland and Sweden," the three countries stated.
Newsweek reached out to the foreign ministry of affairs offices for Denmark, Norway, Iceland, Sweden, Finland and Russia for comment.