NATO Hits Back at Vladimir Putin Over His 'Unacceptable' Threats to Attack U.S. and Allies
NATO responded on Wednesday to Russian President Vladimir Putin's threat that Russia would target the U.S. if it placed intermediate-range missiles in Europe.
"We have taken note of the message from President Vladimir Putin on February 20. The Russian declarations that threaten to attack allies are unacceptable," NATO spokesman Pierce Casalet told the Russian news outlet RIA Novosti.
During his State of the Union address on Wednesday, Putin said Moscow would respond to security threats, including the placement of new U.S. missiles in Europe. He stressed, however, that Russia was not seeking a confrontation with the West.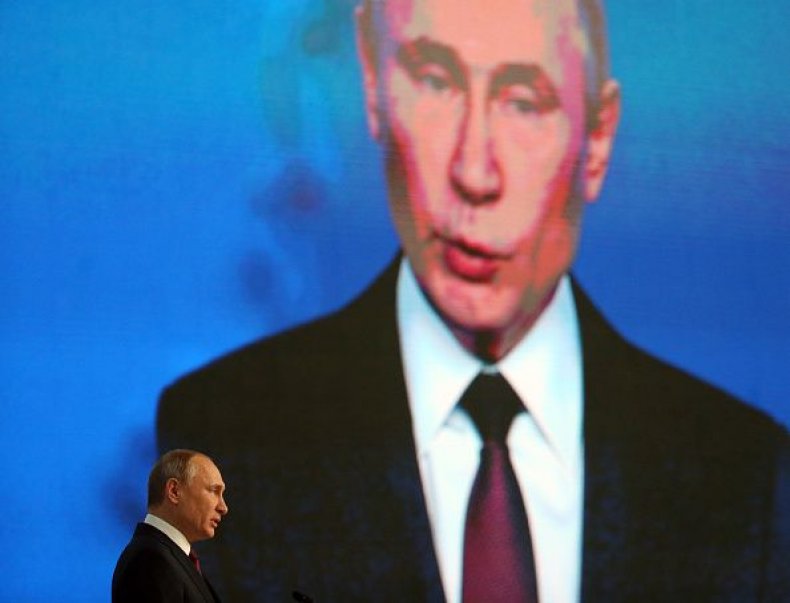 The comments came at a time when tensions had ratcheted up between Russia and NATO over the U.S. decision to abandon the Intermediate Range Nuclear Forces (INF) treaty, which was signed between the U.S. and the Soviet Union in 1987. The Trump administration has said it would abandon the INF treaty because Russian continued to violate its terms.
The treaty bans all ground-launched ballistic and cruise missiles with a range of about 300 to 3,500 miles. Secretary of State Mike Pompeo has argued that there was no point in preserving the treaty if only one party was abiding by it. But some critics of the decision argued that it was unwise to abolish a treaty just because someone breaks it. Others have warned that a new arms race could break out. NATO officials have signaled they are preparing for a world in which Russia could deploy nuclear-capable missiles in Europe.
Senator Chris Van Hollen, a Maryland Democrat, presented a new bill Wednesday to prevent the Trump administration from escalating current tensions with Russia by restricting funding for any activity that would violate the INF treaty during the six-month period after the U.S. withdrawal.
"The president's decision to withdraw from the INF treaty was reckless and deeply short-sighted—and at every turn, it represents a win for Moscow," Senator Van Hollen said in a statement. "To prevent further harm to our national security interests, this administration must immediately assure our allies and the world that we do not seek to further escalate tensions, and that we have a plan going forward…This legislation requires the administration to take a pause and present its strategy to bring Russia back to the table. I urge my colleagues to take it up immediately," he continued.
Some experts, however, argued that Russia's military was glad to be free of the constraints of the agreement. The INF treaty is believed to be deeply unpopular with Russian military insiders.