NATO Instructors Provide Combat Training to Ukrainian Recruits
NATO instructors put Ukrainian recruits through their paces and provided combat and first aid training.
The Land Forces of the Armed Forces of Ukraine (AFU) said on May 17: "Territorial Defense Units of the Armed Forces of Ukraine continue to undergo combat coordination.
"NATO instructors conducted training in shooting, tactical movement, combat interaction, and first aid."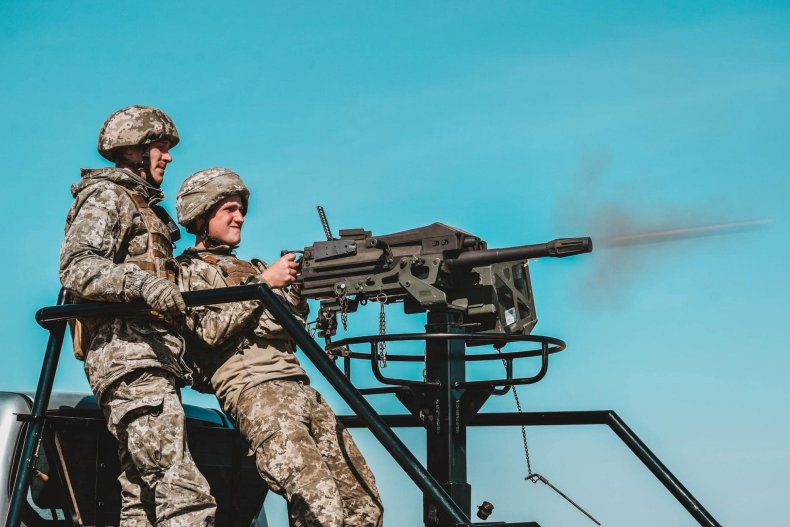 The AFU said: "The most valuable thing in war is trained, motivated warriors who are professionally proficient in modern weapons. That is why we continue to train for the sake of victory, the victory of Ukraine.Believe in the Armed Forces of Ukraine!"
Ukrainian Defense Minister Oleksii Reznikov, 55, announced May 13: "We are focusing on the need to provide for 1 million people who will be facing the enemy."
As well as looking to recruit up to a million soldiers, the minister said 1,500 recruits are already undergoing training. After learning to master Western weapons, some of them will become instructors for the next crop of recruits.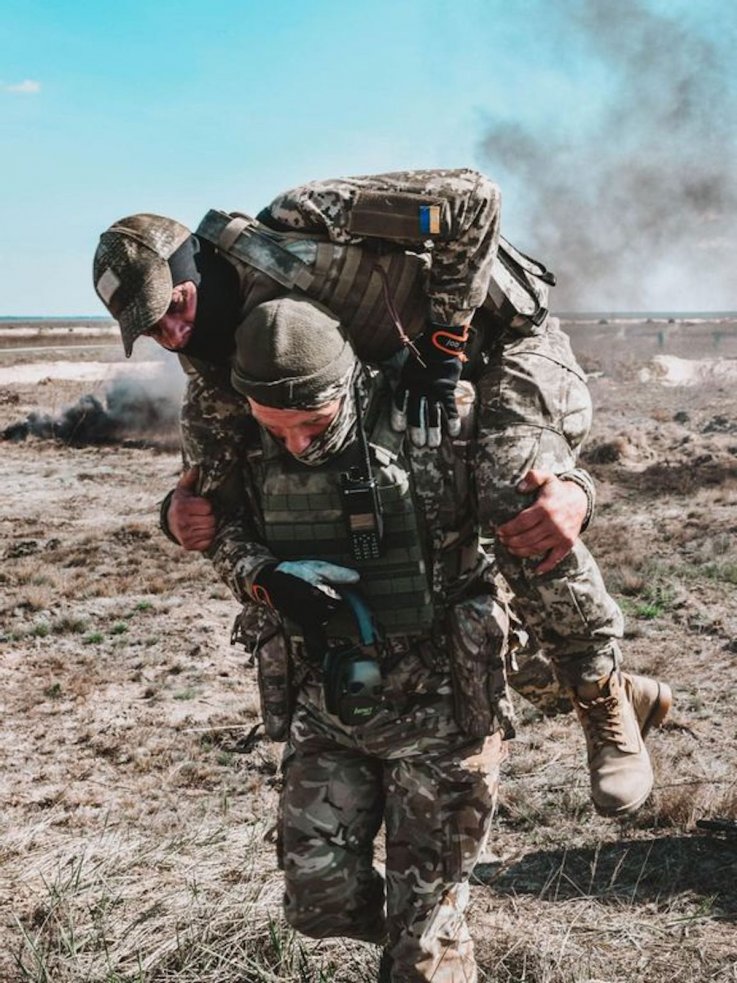 NATO instructors provided combat training for the Territorial Defense Forces Units of the Armed Forces of Ukraine in May 2022.
@UkrainianLandForces/Zenger
Russian troops invaded Ukraine on February 24 in what the Kremlin is still calling a "special military operation." May 18 marks the 84th day of the campaign.
From February 24 to May 17, the total combat losses of Russian troops stand at around 28,300 personnel, according to the General Staff of the Armed Forces of Ukraine.
The Ukrainian military also claims that Russia has lost 1,235 tanks, 3,009 armored fighting vehicles, 586 artillery systems, 199 multiple launch rocket systems, 91 anti-aircraft systems, 202 warplanes, 167 helicopters, 2,137 motor vehicles and fuel tankers, 13 vessels, 441 unmanned aerial vehicles, 43 units of special equipment and 102 cruise missiles.
The Ukrainian military added that the Russian Armed Forces' greatest losses on Monday were sustained in the Lyman and Zaporizhzhia directions.
Elsewhere, around 260 Ukrainian soldiers left the Azovstal metallurgical plant and were taken to Russian-controlled territory earlier this week. It is believed they will be exchanged for Russian prisoners of war.
Meanwhile, Turkish President Recep Tayyip Erdogan has suggested that he may block Finland's and Sweden's applications to join NATO after he accused the Nordic nations of harboring Kurdish militants who he regards as "terrorists."
This story was provided to Newsweek by Zenger News.