The End of NATO? Leader Warns of Alliance Split Amid Trump-Europe Tensions
The head of NATO has warned that splits between the U.S. and its European allies risk endangering the trans-Atlantic security alliance.
In an editorial in The Guardian, NATO Secretary General Jens Stoltenberg writes that "the ties that bind us are under strain."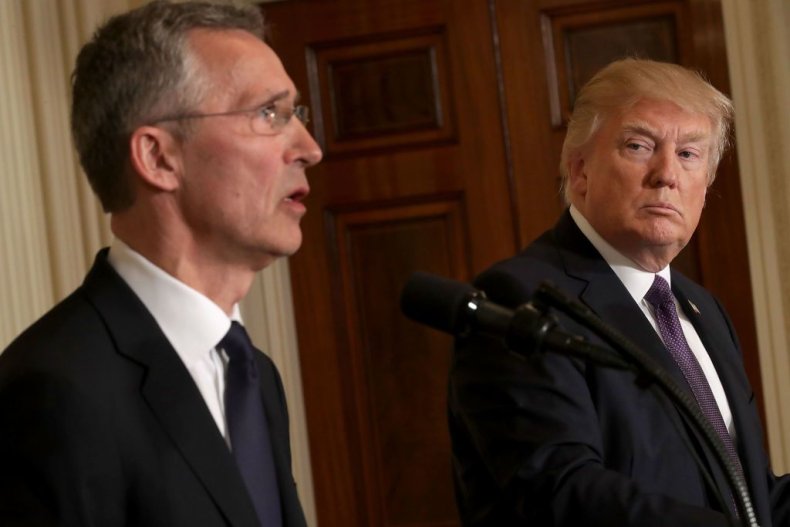 He said: "We must continue to work hard to settle our differences—and where differences persist, we must limit any negative impact on our security cooperation."
Stoltenberg's warning follows attacks on German Chancellor Angela Merkel on Monday by President Donald Trump, who criticized Germany over its immigration policy and taunted Merkel over a cabinet crisis that threatens her leadership.
Trump tweeted Monday that Germans are "turning against their leadership" over immigration and falsely claimed that immigrants had caused a spike in crime rates.
Stoltenberg's message comes less than a month before NATO leaders are set to meet in Brussels.
In the article, he enumerated deep divisions between the U.S. and Europe, but he expressed his belief that NATO leaders could overcome their differences and the alliance could endure.
"Since the alliance was created almost 70 years ago, the people of Europe and North America have enjoyed an unprecedented period of peace and prosperity. But, at the political level, the ties which bind us are under strain.
"There are real differences between the United States and other allies over issues such as trade, climate change and the Iran nuclear agreement.
"These disagreements are real and they won't disappear overnight. In fact, nowhere is it written in stone that the transatlantic bond will always thrive. That doesn't, however, mean that its breakdown is inevitable. We can maintain it, and all the mutual benefits we derive from it."
Trump's attacks on Europe came as he faces fierce domestic criticism over his administration's policy of separating immigrant children from their parents at the U.S.-Mexican border and holding them in mass detention centers.
Trump also clashed with Europe after pulling out of the Paris climate deal in the first year of his presidency, and in May after withdrawing from the Iran nuclear deal.
He has also castigated European nations for failing to meet their NATO military spending commitments, and for what he claims are unfair trade practices.