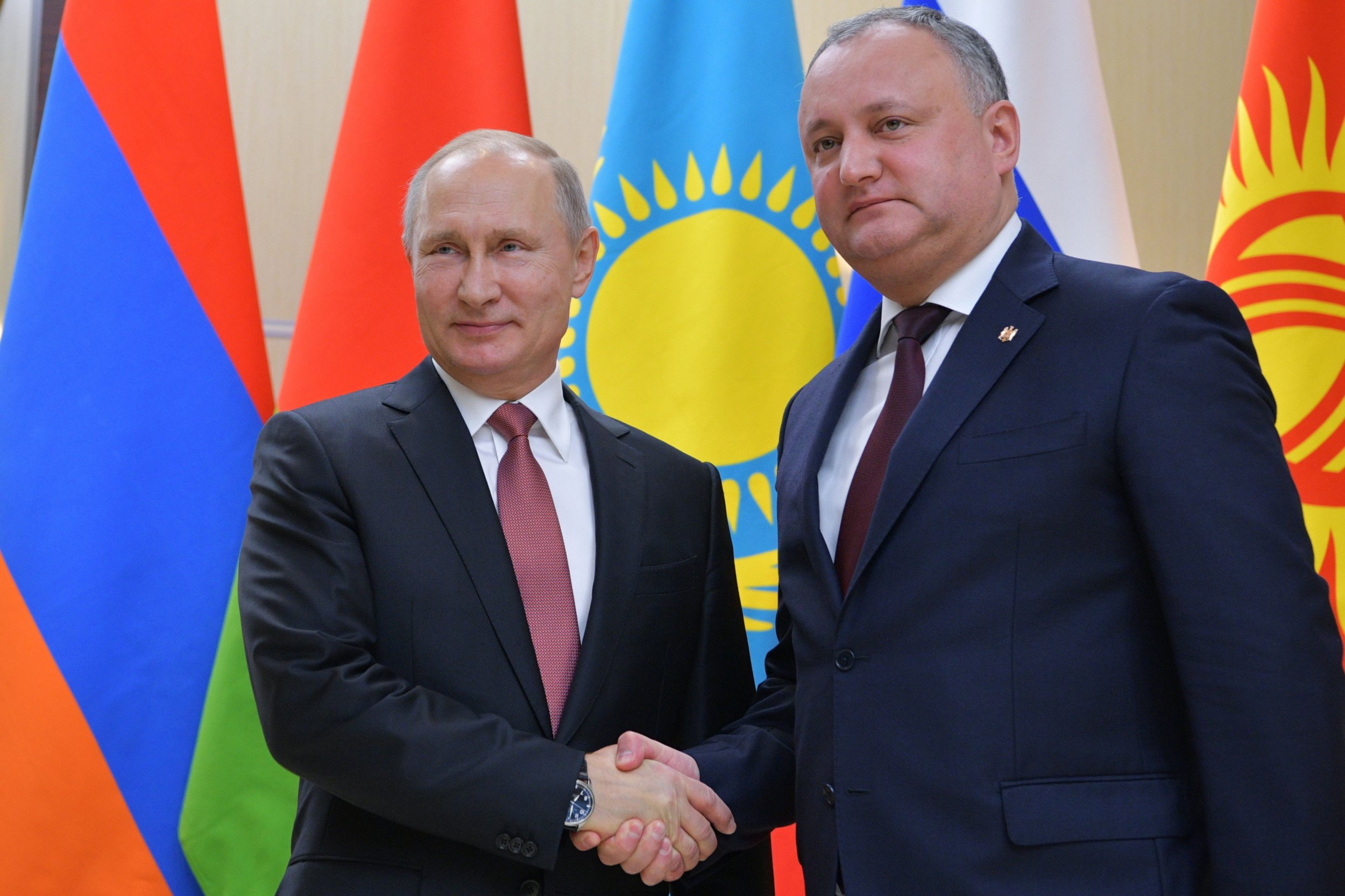 The head of Moldova has said joining Western military alliance NATO would bring conflict to his country, something he wished to avoid by seeking good relations with the multinational coalition's rival, Russia.
Moldovan President Igor Dodon reportedly criticized U.S.-led NATO's expanding military infrastructure in Eastern Europe, considering it a ploy to draw countries into a continental war of influence between NATO and Russia. Moldova, where other politicians have sought greater ties to the transatlantic alliance, was already located on the frontlines of Cold War–esque tensions, flanked by U.S. Navy host Romania and embattled Ukraine, where a pro-NATO government was engaged in fighting pro-Russia separatists that have taken over parts of the country's east.
Related: Russia-NATO Cold War leads Finland to build military 100 years after independence
"Our western neighbor is NATO, that is, Romania, our eastern neighbor is Ukraine. And in between, there is small Moldova, whose people want to be friends with Russia," Dodon said Monday, according to Eurasia Daily, a news site generally supportive of Russia.
"Our people want their country to be neutral. They don't want to see NATO here. To me neutrality is a matter of principle as NATO means war. I don't want my people to be used as cannon fodder for some geopolitical games and some battles," he added.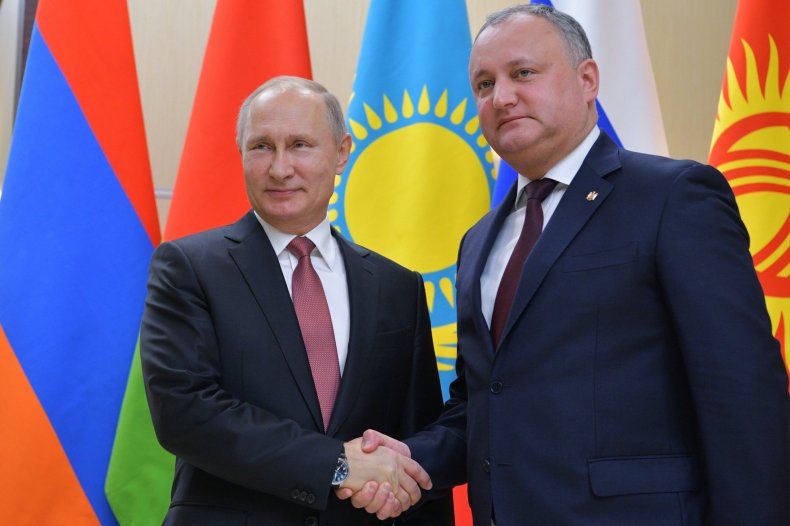 Moldova declared independence in the final days of the Soviet Union in 1991. A year later, it joined the North Atlantic Cooperation Council that served as a forum for both NATO and Warsaw Pact countries and, in 1994, further established NATO ties by entering the Partnership for Peace program. Moldova has committed troops to NATO's Kosovo Force since March 2014 and, as recently as last November, built a new security cooperation center as both Moldovan Prime Minister Pavel Filip and Defense Minister Eugen Sturza hailed a more pro-West stance.
This direction has been opposed, however, by Dodon, who in October 2016 won the country's first presidential election in 15 years. A number of nearby countries had sought Western security in the aftermath of Russia's annexation of Ukraine's Crimean Peninsula amid political upheaval in 2014, but former Socialist Party leader Dodon embraced Russia's move, which Moscow argued was done to protect the territory's sizable ethnic Russian community.
The seizure drew a strong response from NATO, which accused Russia of then arming rebels that took over the eastern Ukrainian region of Donbass. NATO has bolstered its defenses by mobilizing troops, weapons and equipment along its eastern borders, especially the Baltic states of Estonia, Latvia and Lithuania, as well as Poland. The U.S. military also set up a sophisticated Aegis Ashore Missile Defense complex at a naval support facility in Deveselu, southern Romania, where local forces were dealing with an entirely different, four-legged insurgent.
Between Moldova and Ukraine is another separatist enclave: the self-proclaimed Republic of Transnistria. This majority-ethnic Russian breakaway state has established close military ties with Moscow, and Dodon said Monday that "any attempt to solve this conflict by means of force may have disastrous consequences for Moldova."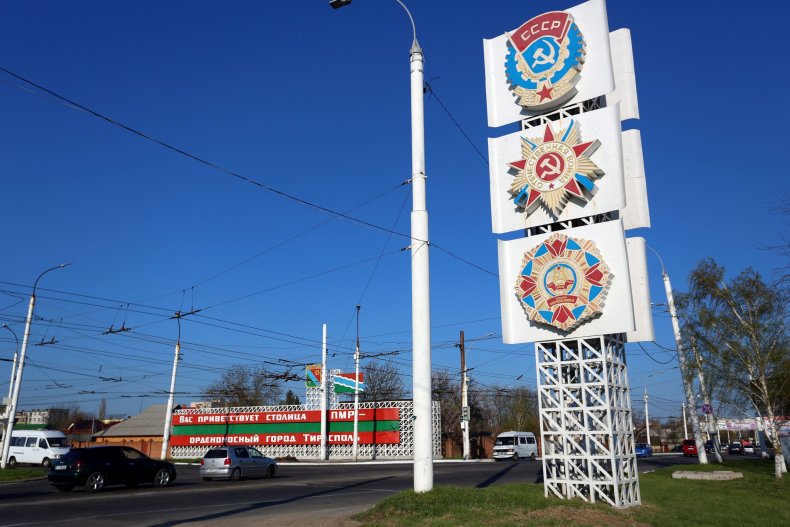 After the events of 2014 in Ukraine, NATO's Supreme Allied Commander Europe, U.S. Air Force General Philip Breedlove warned that Transnistria could be the launching point of another pro-Russia operation in Eastern Europe, further threatening Ukraine and linking up with areas of Russian support in Moldova. The commander said at the time, "There is absolutely sufficient (Russian) force postured on the eastern border of Ukraine to run to Transnistria if the decision was made to do that, and that is very worrisome," according to Reuters.
Dodon, who also expressed support for Russian peacekeepers in Transnistria, had his presidential powers temporarily suspended earlier this month after he refused to appoint five ministers and two deputy ministers to join Filip's cabinet, according to Deutsche Welle. Dodon criticized the move as being politicized and targeting his anti-EU approach. He's also condemned national laws banning Russian media accused of spreading pro-Kremlin propaganda.
In a Facebook post, Dodon said Tuesday he met with the diplomatic corps accredited in the capital Chisinau and discussed "tightening relations with the Russian Federation" and "Transnistrian conflict settlement" among other issues.