NATO Members Don't Want Ukraine War to End, Turkish Minister Claims
Several NATO member states want the Russia-Ukraine war to continue, Turkish Foreign Minister Mevlut Cavusoglu claimed on Tuesday.
Russian President Vladimir Putin launched the invasion of Ukraine on February 24, 2022, and was quickly met with international backlash, including from the North Atlantic Treaty Organization (NATO). World leaders raised concerns about a lack of justification for the war—Putin claimed it was to "liberate" the separatist Donbas region and rid the Ukrainian government of Nazis, despite their president Volodymyr Zelensky being Jewish—as well as reports of war crimes committed by Russian troops.
NATO has stood firmly behind Ukraine, with many member states offering humanitarian and military aid to Kyiv to help them defeat Russia. Their support has allowed Ukraine to go on the offensive in Crimea and has weakened Russia's military as some experts have voiced concern that Putin may have his sights set farther than just Ukraine.
Turkey, while a member of NATO, has broken from other member states in the months following the invasion as Turkish President Recep Tayyip Erdogan aims to maintain an economic relationship with Russia that he views as favorable to his own country's economy. As Erdogan walks a delicate line between holding that relationship and supporting Ukraine, he has often found himself at odds with other NATO member states.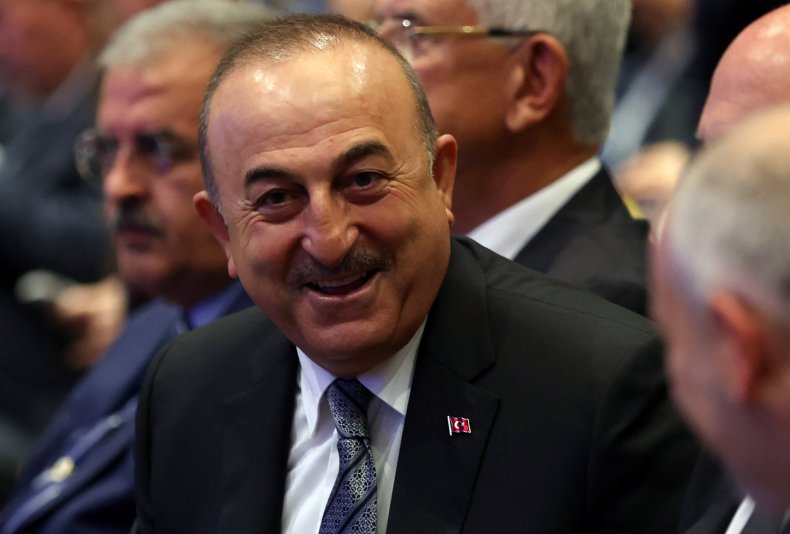 During an interview with the Haber Global TV channel, Cavusoglu said he believes NATO countries don't want the war to end.
"There are countries in the West that want the war to continue, with NATO member states among them," he said, according to Russian media TASS. "I mean not only the U.S. but also NATO member countries."
He went on to blast unnamed European countries who he said "wanted to sabotage" an agreement to help the export of Ukrainian grain after the crops were blocked by Russian forces for months, feeding into concerns about food shortages abroad. He added the U.S. was not one of those countries that tried to block the deal.
"Yet this wasn't the U.S. The U.S. contributed [to the conclusion of the grain deal], including lifting restrictions on the exports of Russian fertilizers, unblocking ports and [lifting restrictions] on banking operations. Yet there were also European countries who wanted to sabotage this. We are not losing hope and continuing our efforts," he said.
He did not offer more specifics about which countries he believes want to prolong the conflict or why they would want to do so. It's only the latest instance of Turkey disagreeing with NATO amid the war. For instance, Turkey resisted admitting Finland and Sweden into the organization before eventually agreeing to let them join.
Newsweek reached out to NATO for comment.