For NATO Members in Russia's Shadow, U.S. Is Doing Too Little Too Late
A senior official in Lithuania—one of the three Baltic states that have been NATO allies of the United States since their accession in 2004—stayed up late to watch President Joe Biden's news conference on January 19. He was hoping for some words of reassurance. But what he heard sent him into a panic.
Since the spring, the Baltics—Lithuania, Estonia and Latvia—as well as Eastern European nations like Poland and the Czech Republic, have watched with mounting anxiety as the Russian troop build up around Ukraine continued inexorably.
Mistrust of Moscow, and of former KGB officer Vladimir Putin in particular, runs deep in the region, where each country was either once part of the former Soviet Union, or a member of its eastern bloc. A number of the countries had "been raising the alarm level with the United States and our other Western allies as the last year went on," said the senior Lithuanian official, who asked not to be named in order to discuss matters candidly.
More than a year ago, then Lithuanian defense minister Raimundas Karoblis urged Washington to consider his country as the site for a permanent deployment of NATO forces. "We are investing in infrastructure to create the conditions for their deployment."
Last week, renewing those calls, the chairs of two committees in the Lithuanian Parliament–National Security and Defense, and Foreign Affairs–wrote to their American congressional counterparts asking them to consider authorizing a permanent U.S. military presence in their country.
"Given the force imbalance in the region, effective deterrence and defense can be achieved only by capable in-place forces, which should include national forces and presence of Allied forces, including...U.S. forces as a necessary and indispensable element," the parliamentarians wrote. "This is the level of ambition that Lithuania seeks—to become a continuous location for US battalion size units' deployments."
The possibility of that happening, the senior Lithuanian official said, is obviously increasing, for grim reasons. The Biden administration came to office intending to "pivot'' to Asia, the official acknowledged. "That's something we've heard before," he said, referring to the similar strategic intentions voiced by both the Obama and Trump administrations. "The problem is, events keep getting in the way—events like a possible ground war in Europe."
For months now, U.S. allies in what former U.S. Defense Secretary Donald Rumsfeld once called "the New Europe"—those nations east of Germany, the most recent to join NATO—have chafed as the Russian threat to Ukraine increased. Many don't believe the Biden administration was taking their level of concern seriously enough, or was doing enough to help shore up both Kyiv's defenses and the allies' own, as the possibility of war drew nearer.
But in recent weeks, the U.S. seemed finally to be as concerned as Russia's neighbors about the potential for a violent incursion. So when Biden held a rare press conference at the White House, the senior Lithuanian official who spoke to Newsweek said he listened anxiously to hear what would be said on Russia.
What he heard "made half our country have a heart attack," the official said. Biden promised in his statement that Russia would be "held accountable if it invades"—words meant to assuage nervous U.S. allies—but then added, "It's one thing if it's a minor incursion, and then we end up having to fight about what to do and not do, et cetera." In the embassies of Eastern European allies in Washington, frantic phone calls were immediately exchanged. Marek Magierowski, Poland's ambassador to Washington, called the State Department to seek clarification as to what, exactly, Biden meant.
Within days of Biden's confusing "minor incursion" remark, the Pentagon announced that some 8,500 additional U.S. troops were going on "heightened alert," with the Baltic states and Eastern Europe likely possible destinations. On January 24, NATO announced it was moving warships and some fighter jets to Eastern Europe. The moves, said Pentagon spokesman John Kirby, were meant "as reassurance to our NATO allies."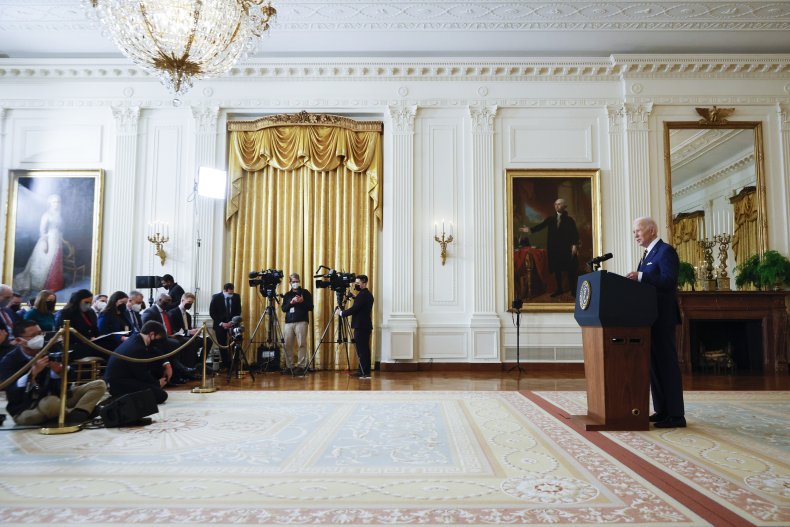 Publicly, those moves were welcomed. But privately, the Baltics and some of the Eastern European nations were hoping for more.
A senior Baltic diplomat in Washington who spoke on background to Newsweek noted that Pentagon spokesman Kirby has said publicly that the troop reinforcements to the east are meant to "reassure our NATO allies."
But Ukraine is not a NATO ally. Since the dissolution of the Soviet Union in 1991, Washington has implicitly acknowledged that Ukraine's inclusion in the alliance might be too much for Moscow to stomach.
Biden has also said no U.S. troops will set foot in Ukraine in the country's defense. With Putin apparently poised to invade, "Is there a sense among us of 'there but for the grace of God go we?'" the Baltic diplomat asked. "Of course there is, yes."