NATO Must Act to Halt Turkey's Freefall Into Putin's Arms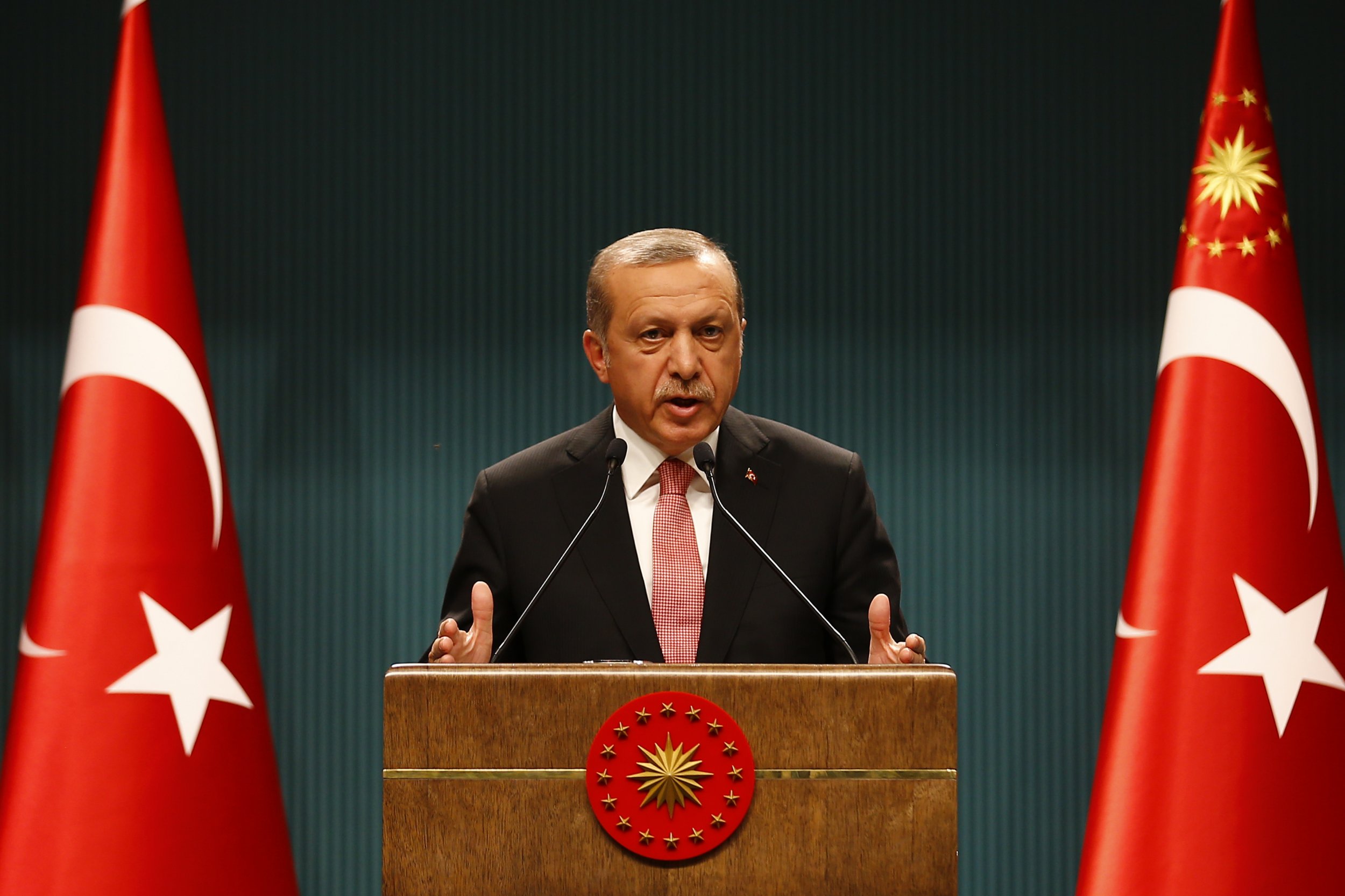 I was walking along a beach in northern Istanbul just recently, after the July 15 coup attempt, when I was jarred by a Cold War image. Wedged into the sandstone cliffs lining the beach were two abandoned gun emplacements, which silently spoke of how this golden stretch of sand was once part of NATO's first line of defense against the Soviet Union's massive military lurking just across the Black Sea.
Despite recent political turmoil and warming relations with Russia, Turkey remains a crucial NATO member, located astride the Alliance's two most serious threats: a resurgent Russia in Ukraine to the north and the Islamic State militant group (ISIS) in Syria and Iraq to the south.
The coup attempt on the night of July 15-16 nearly hamstrung Turkey's strategic potency for NATO. That night, a faction of senior military officers allegedly united by a shadowy Islamist cleric based in Pennsylvania, Fethullah Gulen, bombed Turkey's Parliament by helicopter, F-16 fighter jets terrorized residents of downtown Istanbul and Ankara and troops opened fire on police and civilians. Special forces tried to kill President Recep Tayyip Erdogan at the hotel where he was vacationing with his family. The deaths of 270 people marked the first ever loss of life in a Turkish coup, three of which preceded this one.
The coup plotters nearly succeeded. Had they done so, Turkey would have been plunged into political chaos, and perhaps even civil war. In the wee hours of the 16th, however, hundreds of thousands of common citizens streamed onto the streets of Ankara, Istanbul and other cities in response to President Erdogan's remarkable appeal on live TV via FaceTime from his mobile phone to defend their democracy.
This triumph of "people power" should be a good news story both for Turkey and all NATO allies. But rather than unambiguously condemning the coup and supporting a NATO-member government that won 52 percent of the vote in a free and fair election, the response of U.S. Secretary of State John Kerry was merely to call for peace and stability. Two days after the coup attempt, Secretary Kerry dug a deeper hole, warning that Erdogan's post-coup crackdown could threaten Turkey's continued membership in NATO.
On the one hand, Secretary Kerry's concern about the extent of Ankara's hardline response to the coup is understandable. In the month following July 15, tens of thousands of people were arrested and over 50,000 people lost their jobs. For many Westerner leaders, the size and speed of these moves seemed to belie a long-standing plan by President Erdogan to crush his political opposition as soon as a pretext could be found.
On the other hand, Turkey's own citizens have strongly supported their government since July 15. At a massive rally in Istanbul on August 7, well over one million people came together, including sharp political critics of Erdogan, diverse religious leaders, fashion models and pop singers, to express solidarity with their government both in crushing the coup and dismantling Gulen's network. They, like Erdogan, now believe the Gulenists who had penetrated Turkey's military, judiciary, police and even its scientific and educational communities must be removed. Perhaps no other issue could have tempered the hatred poisoning Turkish politics and united virtually all Turks across the political spectrum.
In any case, Secretary Kerry's unprecedented threat to expel Turkey from NATO deeply angered Turks, who expected solidarity from NATO's leading foreign minister at their moment of peril. Moreover, Turks are baffled by the U.S. refusal to extradite Mr. Gulen, whom they view as a terrorist leader because of the July 15 coup attempt.
Indeed, they remember President George W. Bush's doctrine that those who harbor terrorists are as guilty as the terrorists themselves, and recall how the U.S. was able to manufacture a legal justification to arrest suspected members of al-Qaeda in Afghanistan and fly them to the U.S. prison in Guantanamo Bay, Cuba. That Washington cannot devise a similar legal device to justify extraditing Turkey's most wanted "terrorist" has fueled a near-universal conspiracy theory that Washington, and the CIA in particular, collaborated with Gulen to plan the Turkish government's ousting.
Russia's President, Vladimir Putin, has been quick to exploit this split between Ankara and Washington. President Putin was the first foreign leader to call President Erdogan after the coup attempt, or to invite his Turkish counterpart to visit him. The Erdogan-Putin meeting took place in St Petersburg on August 9.
While the two leaders did not achieve a major breakthrough, they did advance a process begun in late June to normalize bilateral relations following seven months of chill, after Turkey shot down a Russian military aircraft violating Turkish airspace last November 24. The most tangible achievement of the St Petersburg meeting appears to have been a pledge by both countries to coordinate their policies on Syria, where Russia has supported President Bashar al Assad and Turkey has sought to topple him.
Ultimately, however, Putin is unlikely to pull Erdogan and Turkey away from NATO. Russia still retains several of the economic sanctions it imposed on Turkey as punishment for the aircraft shoot down. More fundamentally, Turks know their history, which includes more wars against Russia than against any other country, and Russia's centuries of coveting control over the Turkish Straits that connect the Black Sea with the Mediterranean. Turkey's national soul lies in Europe, the Middle East and Central Asia, but not in Russia.
Perhaps the tide is now turning in Washington, following the Erdogan-Putin meeting. Vice President Biden met Erdogan in Ankara on August 24, the first visit to Ankara of any top Western leader since the coup attempt. The White House helped prepare Biden's visit with its response to the August 20 terrorist bombing of a wedding in Gaziantep, noting the U.S. "stands with the Turkish people as they defend their democracy in the face of all forms of terrorism" and dubs Turkey the U.S.'s "valued NATO ally and partner."
The U.S. must now build on this momentum and find a way to overcome the impasse regarding Mr Gulen's extradition. Though this will not be easy, it will be worth the effort, since Turkey is more valuable within NATO than outside it.
Matthew Bryza is a former U.S. ambassador to Azerbaijan and senior fellow at the Atlantic Council.