NATO Says It Didn't Notice Ukraine Soldier's Apparent Nazi Symbol in Tweet
An official of the U.S.-led NATO alliance has told Newsweek that the coalition did not notice what appeared to be a symbol associated with Nazism on the uniform of a Ukrainian soldier featured in a since-deleted photo on NATO's official Twitter account.
The image, posted Tuesday to commemorate International Women's Day, contained four images related to the current crisis in Ukraine, where a Russian military incursion was set to enter its third week.
"All women and girls must live free and equal. This international women's day we think of the remarkable women of #Ukraine," NATO tweeted alongside a Ukrainian flag emoji. "Their strength, bravery and resilience are symbolic of the spirit of their nation #IWD2022."
The first of the four images included what appeared to be a Ukrainian servicemember bearing a "Black Sun" on the chest area of her military fatigues. The symbol, also known in German as "Schwarze Sonne" or "Sonnenrad," is rooted in Nazi occultism and has been brandished by far-right elements across the globe, including in Ukraine, where it is featured on the official logo of the National Guard's Azov Regiment.
The image first appeared to be shared on social media on February 14 by the General Staff of the Armed Forces of Ukraine and was later syndicated by a number of outlets and agencies, and was featured prominently on the front page of The Guardian the following day. The symbol itself, however, is not readily visible, as it is nearly the same color as the green camouflage of the soldier's uniform.
Shortly after NATO shared the image, the symbol was noted by a number of social media users and then taken down swiftly.
Reached for comment, a NATO official said the post was removed after the alliance first noticed the symbol.
"As part of an International Women's Day collage for social media, we posted an image from stock footage of an international agency," a NATO official told Newsweek. "The post was removed when we realised it contained a symbol that we could not verify as official."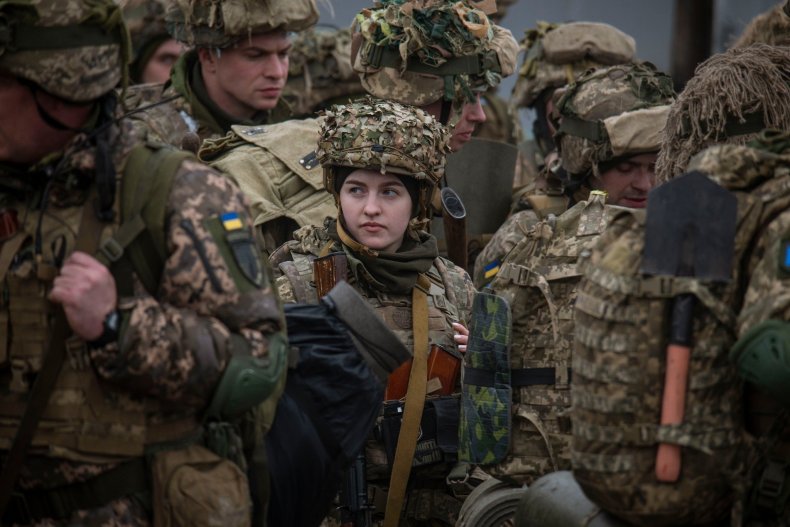 While closely associated with Nazism, the history of the Black Sun actually stems largely from the lore of the Third Reich that lingered long after its fall.
"The notion of the 'Black Sun' has been discussed in former and neo-Nazi circles since the 1950s, when it was related to alleged 'esoteric' SS circles and their super weapons that survived the war," Julian Strube, an assistant professor at the University of Vienna who has authored books on the subject, told Newsweek.
"In the postwar period, it evolved into a key concept in far-right and neo-Nazi circles," he added, "but it was only related in the 1990s to the symbol that you have seen on the uniform."
Among the most prominent direct links to Nazism for the symbol was its display on the floor of the infamous Wewelsburg castle, used by Reichsführer-SS commander Heinrich Himmler. But as Strube emphasized, the Black Sun took on a life of its own in more recent decades.
"While that symbol can be found in an SS context, as an ornament in the Wewelsburg castle, its interpretation as the 'Black Sun' is not historical but a late post-war invention," Strube said. "Today, it serves as an identity marker for far-right circles."
As to its actual meaning, Strube explained that the Black Sun "can mean a lot of different things, but it is almost always situated within far-right and neo-Nazi contexts."
"It can refer to a supposed 'Pagan' past allegedly linked to Nazism and the SS in particular," Strube said. "As such, it might be related to Norse or Slavic Neo-Perunism with a far-right thrust — or it may simply serve as a substitute for the Nazi swastika, which is outlawed in several countries."
In the context of Ukraine, where official symbols of both Nazism and communism were declared illegal in 2015, Strube said that the Black Sun is "most likely related or refers to the Azov Battalion, which used it among its insignia."
Mark Pitcavage, senior fellow at the Anti-Defamation League's Center on Extremism, also noted how the Azov Regiment "has incorporated it into their logo."
And while Pitcavage explained that "sonnenrads or sunwheels are a common ancient symbol, used with many variations"—much in the way the swastika has ancient origins—he said "the Nazis created one specific variation that white supremacists have adopted." The Black Sun, he said "was one of the less common Nazi symbols, but because the SS used it, it gained a sort of elite status."
Now, he argued, it has only gained popularity among extremists.
"After the fall of the Third Reich, neo-Nazis (and, later, other white supremacists as well) adopted many symbols used or appropriated by the Nazis, including their version of the sonnenrad," Pitcavage told Newsweek. "In the past six years or so, it has become more popular among them, as symbols sometimes do. It is now incorporated in many white supremacist graphics, as well as in tattoos."
"Its appearance on a military uniform is likely to give the same impression as its use anywhere else: an impression of neo-Nazism or white supremacy," he added.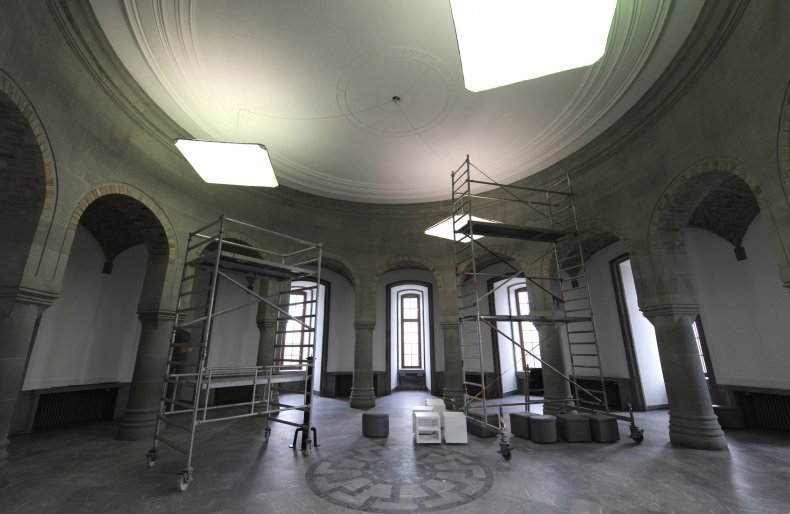 Ukraine's own experience with Nazism has been the subject of great debate within the country and abroad. Ukraine was occupied by Nazi Germany from 1941 to 1944, and while some Ukrainians fought against the invaders, some nationalists, such as Stepan Bandera, who sought independence from the Soviet Union, chose to collaborate with Berlin against Moscow. Ukraine today considers both Nazi Germany's Holocaust and the Holomodor famine that took place under Soviet rule about a decade earlier to be genocides inflicted upon the Ukrainian people.
Bandera's legacy, in particular, has been celebrated by some Ukrainian leaders since independence was realized in 1991, including by former President Viktor Yushchenko. The trend has deeply strained ties with Moscow, which has depicted Kyiv as being led by far-right elements since a 2014 uprising that brought to power a government seeking ties to the West and its NATO alliance, which led to a pro-Russia insurgency in the east along with Russia's annexation of the Crimean Peninsula in the south.
Newsweek has reported on the presence of far-right and even neo-Nazi elements within the Ukrainian military and among paramilitary formations, and has spoken with experts and former officials who raised the alarm about their presence and access to Western military support both before and after the outbreak of the war late last month.
But these same analysts took exception to what they unanimously deemed "propaganda" espoused by Russian President Vladimir Putin in his justification to launch a "special military operation" to achieve the "denazification" of Ukraine. And while the far-right played a role in the Euromaidan protests, it did so alongside a far broader segment of Ukrainian society seeking to geopolitically distance the country from neighboring Russia.
Even as Moscow is met with broad international backlash both politically and economically for its attack on Ukraine, Russian officials have continued to focus on nationalist elements active in the country.
"There are no guarantees that the atmosphere of psychosis and hatred created in Europe will not push local nationalists to some irreparable acts," Russian Foreign Ministry spokesperson Maria Zakharova told a press briefing Wednesday. "Can you imagine how your hysteria, carefully created and disseminated in the media, will affect people with extreme, extremist views?
"Russia is far away for them, you are close," she added. "Your civilian population will suffer from them, because this bacteria of Nazism, nationalism, extremism is easy to awaken, but impossible to drive back."
Moscow has also alleged that nationalists such as those of the Azov Regiment were holding civilians hostage in cities under siege by Russian forces, blocking humanitarian corridors Russian troops have been accused of firing upon, and occupying a maternity hospital that Russian jets are accused of bombing in the city of Mariupol.
The Ukrainian Defense Ministry did not immediately respond to Newsweek's request for comment. But Kyiv has roundly rejected such allegations, and Ukrainian President Volodymyr Zelensky, who is Jewish, has argued that it was Putin who was guilty of Nazi-style tactics on the ground and in the media.
"He is just destroying the citizens of Ukraine of different nationalities," the Ukrainian leader said Monday on a call with Jewish leaders. "This is just pure Nazi behavior. I can't even qualify this in any different manner."
But Zelensky has simultaneously sought a direct line with his Russian counterpart as representatives continue to hold rounds of talks hosted by Belarus, a Russian ally.
The Kremlin has issued four demands to Kyiv: the cessation of hostilities, recognition of the separatist Donetsk and Luhansk People's Republics, acknowledgment of Russia's control over Crimea, and a declaration of neutrality to remove Ukraine's bid to join NATO from the country's constitution.
Zelensky has rejected any acquiescence to a Russian "ultimatum," but has said he felt a "possible solution" could be found in direct talks with Putin.