NATO Says No One Should Be Fooled by Russian Government's 'Barrage of Lies'
The North Atlantic Treaty Organization (NATO) said in a statement condemning Russia's ongoing invasion of Ukraine that "no one should be fooled by the Russian government's barrage of lies."
NATO promised in the statement that Russia will pay "a severe price, both politically and economically, for years to come" for their actions, adding that the member countries are "making significant additional defensive deployments of forces to the eastern part of the Alliance."
A driving force in the lead-up to the current conflict was Russia's demand that Ukraine not be allowed to join NATO, which would give the alliance another member along Russia's western border, joining Norway, Latvia and Estonia. Several other NATO members border Ukraine and Belarus, another nation that has been reportedly aiding Russia's invasion, including Poland, Romania, Slovakia, Hungary and Lithuania.
"We stand in full solidarity with the democratically elected president, parliament and government of Ukraine and with the brave people of Ukraine who are now defending their homeland," the NATO statement read. "Our thoughts are with all those killed, injured and displaced by Russia's aggression, and with their families. NATO remains committed to all the foundational principles underpinning European security, including that each nation has the right to choose its own security arrangements."
The statement continued: "We will continue to provide political and practical support to Ukraine as it continues to defend itself and call on others to do the same. We reaffirm our unwavering support for the independence, sovereignty and territorial integrity of Ukraine within its internationally recognised borders, including its territorial waters. This principled position will never change."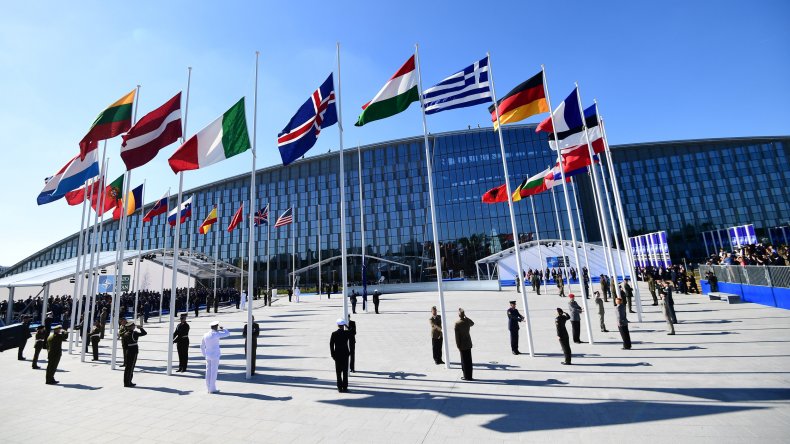 NATO leaders have discussed "all the necessary consequences" that should be levied against Russia for its actions, according to the statement.
Earlier Friday, Russian Foreign Ministry spokesperson Maria Zakharova seemed to issue a thinly veiled threat to Sweden and Finland, who are not NATO members, saying that a decision for the nations to join the alliance would have "serious military-political repercussions that would demand a response from our country."
The statement from Zakharova came after Ukrainian President Volodymyr Zelenskyy sent a pair of tweets expressing gratitude for Sweden's "military, technical and humanitarian assistance," and the $50 million in aid that Finland had reportedly donated to Ukraine's war effort.
NATO Secretary-General Jens Stoltenberg also announced Friday that some of the NATO Response Force, a multinational combat force, will be deployed to assist Ukraine in its defense against the Russian invasion.
"There must be no space for miscalculation or misunderstanding. We will do what it takes to protect and defend every ally and every inch of NATO territory," Stoltenberg said.
Update 02/25/22, 2:23 p.m. ET: This story has been updated with additional information.