NATO Secretary General Calls Scenes from Washington D.C. 'Shocking'
Americans and international leaders alike are condemning protesters who stormed the U.S. Capitol as legislators debated the Electoral College votes.
Shortly into the debate over whether legislators should vote to overrule Arizona's Electoral College results, protesters wearing pro-Trump gear broke through security barriers and entered the Capitol. Legislators were evacuated and people on both sides of the political aisle called for protesters to stop the violence, but it did little to dissuade the group from breaching further barriers and entering legislators' offices.
Some observing the events likened it to footage that would be seen in Third World countries and Jens Stoltenberg, Secretary-General of NATO, called it "shocking."
"The outcome of this democratic election must be respected," Stoltenberg added.
Senator Lindsey Graham called the violence and destruction at the Capitol a "national embarrassment" and Representative Kevin McCarthy, the leader of the GOP in the House, told Fox News "this is not what our country should look like."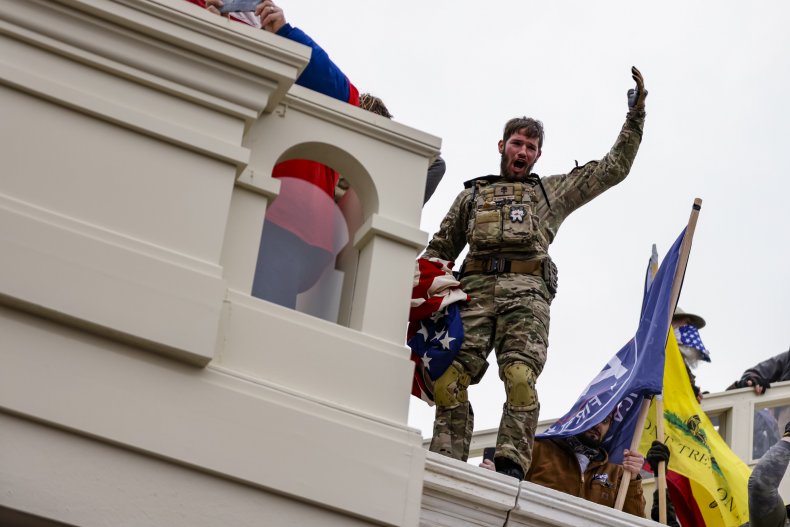 British Prime Minister Boris Johnson also spoke out about the breach of the Capitol, calling the scenes "disgraceful."
"The United States stands for democracy around the world and it is now vital that there should be a peaceful and orderly transfer of power," Johnson tweeted.
On Wednesday, Congress met for a joint session to formally certify President-elect Joe Biden's victory. It was expected to be a long day because of the number of objections that legislators said they were going to raise over Electoral College votes in key swing states and President Donald Trump pressured Vice President Mike Pence to intervene.
Pence, however, broke with the president and said that he would carry out his largely ceremonial role in line with his predecessors. He wouldn't unilaterally accept or reject the votes, but would give proper objections the debate they were entitled to have. Since an objection to the votes in Arizona had the sponsorship of both a senator and a House member, Pence permitted it to move forward and legislators were debating the issue when they received news protesters breached the Capitol walls.
Hours later, the House and the Senate were still in recess and protesters were still inside the Capitol. At least one woman was shot.
Legislators pleaded with Trump to address the protesters, believing him to be the only person who could call them off and put an end to the violence. In a video posted on Twitter shortly after 4 p.m., Trump stood by his claim that the election was stolen and that it was a "fraudulent election." A man who understands their "pain," Trump told them to go home.
"We have to have peace. So go home, we love you and you're very special. You've seen what happens. You've seen the ways others are treated which are so bad and so evil. I know how you feel. But go home and go home in peace," Trump said.
Trump clouding his message to go home with comments about the election sparked criticism from those who said he needed to do more to take control of the situation.