NATO Sending Weapons to Fight Chemical, Nuclear Warfare in Ukraine
NATO members will boost their defenses amid the Russia-Ukraine war, with some deploying more weapons, its top official said on Thursday.
Jens Stoltenberg, NATO's secretary general, said at a press conference that several allies will be deploying chemical, nuclear and biological defenses to "reinforce our existing and new battle groups," Olivia Gazis of CBS posted on Twitter.
The decisions come as the Russian invasion enters its second month. The war has put NATO in a difficult position, as it is making efforts to help the Ukrainians but does not want to indicate to Russia that it intends to join the war. Though Ukraine first looked to join the alliance, Ukrainian President Volodymyr Zelensky has since said Ukraine will abide by one of Russia's demands and not join.
On Thursday, the heads of state of the 30 NATO member nations met in Brussels, Belgium, to discuss the war, which the alliance called in a statement "the gravest threat to Euro-Atlantic security in decades."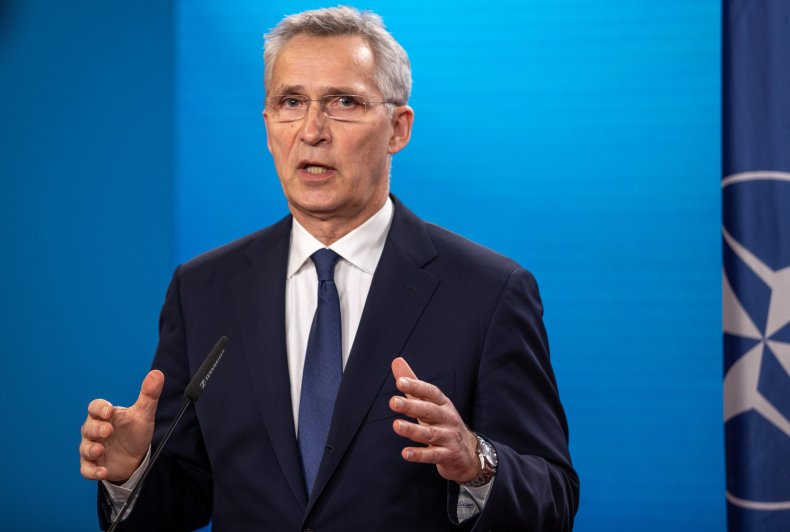 In the statement, the alliance said it would provide assistance to Ukraine in cybersecurity and "against threats of a chemical, biological, radiological, and nuclear nature." Member nations also pledged to provide humanitarian support and to host Ukrainian refugees.
It added that it will "enhance our preparedness and readiness" for the threats and that details will be ironed out at the Strategic Concept summit in Madrid, Spain, scheduled for June.
The alliance will also send four more "multinational battlegroups" to Bulgaria, Hungary, Romania and Slovakia. This adds to the existing battlegroups in Estonia, Latvia, Lithuania and Poland, according to a news release from the U.S. Department of Defense.
"This means that we will have eight multinational NATO battlegroups all along the eastern flank, from the Baltic to the Black Sea," Stoltenberg said in the release. "We face a new reality for our security. So, we must reset our deterrence and defense for the longer-term."
At the press conference, Stoltenberg said any use of chemical weapons in Ukraine would "totally change the nature of the conflict," as it would have a "direct effect on people living in NATO countries...because we can see contamination, we can see the spread of chemical agents or biological weapons into our countries," Gazis said on Twitter.
A large concern amid the Russian invasion has been the Russian forces' takeover of nuclear power plants such as Chernobyl, where employees were forced to work for nearly a month straight before finally being released.
Stoltenberg said NATO's top military commander has activated NATO's defense elements against the chemical, nuclear, biological and radiological threats, Gazis added.
In the Defense Department release, Stoltenberg condemned Russia's actions in Ukraine.
"Allies stand united in support for the brave people of Ukraine and against the Kremlin's cruelty," he said. "Putin must end this war, allow aid and safe passage for civilians, and engage in real diplomacy."
Newsweek reached out to Russia's Ministry of Foreign Affairs but did not hear back in time for publication.
Update 3/24/22, 11:59 a.m. ET: This story was updated with additional information.