NATO Member State Fears Russia's New Taxi App May Snoop on Users
The government of Lithuania is warning citizens and officials to avoid using the taxi service of a Russian web giant, fearing that the company's new product may be harvesting their data.
The Yandex Taxi app, which has emerged as a service similar to ride-sharing apps Uber and Lyft within Russia, launched in neighboring Lithuania last week. Although formally headquartered in the Netherlands, the service is a development of the Yandex search engine—Russia's most popular one and officials in Vilnius are urging citizens and especially government employees to pause on downloading the app for their own safety.
Only a few days into its arrival in the Baltic country, Yandex Taxi is already the subject of checks by internet safety authorities, and Lithuania's Ministry of Defense urged people not to use the app until further notice in a statement Tuesday. The ministry referred to the caution expressed by Lithuania's National Cyber Security Center, whose director Rytis Rainys, head of security, urged citizens not to download Yandex Taxi "until all concrete facts about the safety of the mobile application" are discovered. Rainys's warning was particularly pointed at government officials, but applied to the general public as well.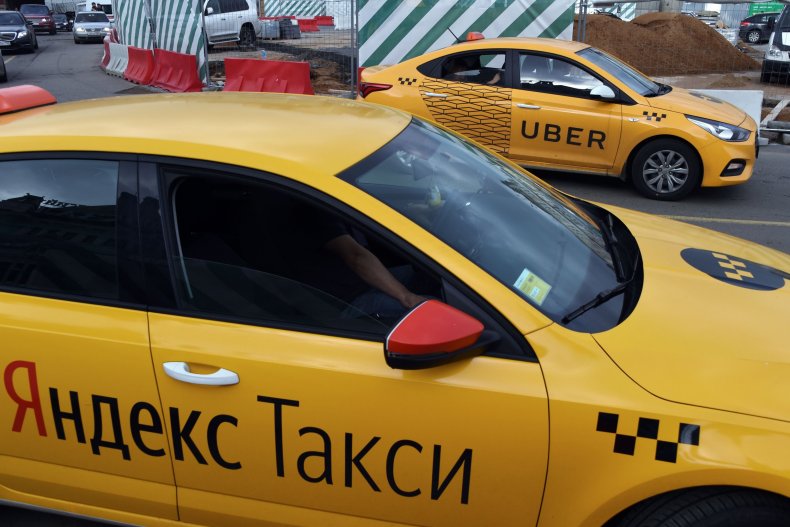 The main concern of the center appears to stem from the amount of information the app asks permission to access—a list Lithuanian authorities say includes camera and microphone use, the user's contacts, GPS location information and access to the mobile data network. The government has not yet issued a legal ban on the service, but Lithuania's Prime Minister Saulius Skvernelis tentatively joined the choir of consternation about the app on Tuesday, adding that Lithuania's State Security Department is also studying the situation and would issue its own verdict later this week.
"I think that we, like every person, should first assess this. The threats have been named—needless, excessive data collection," Skvernelis told the Baltic News Service, when discussing the Yandex Taxi service. "At any rate, I would suggest not to use it."
While Yandex Taxi alongside other apps such as Uber, has sparked some frustration in Russia among traditional cab driver businesses the privacy element is a new controversy for the service. When asked by Newsweek if Yandex Taxi harvests user data, the company highlighted in a statement that "privacy of users' data is our biggest priority" and insisted that the app is in compliance with laws of the European Union. "Accusations against us don't have any grounds," Aram Sargsyan, global strategy director, Yandex Taxi said in the statement.
"Yandex.Taxi application is operated by Yandex.Taxi BV, an E.U.-based company registered in Netherlands," Sargsyan said. "Yandex.Taxi BV processes and stores data of E.U. users strictly according to E.U. regulations, in particular GDPR [General Data Protection Regulation]. We're open and ready to any necessary checks."
Related: Biggest antlers in Europe worth $6,000 stolen near Russia-Poland border
In describing the input that the app requires from users, which Lithuanian officials may have been alluding to, Sargsyan likened the requirements to those of other apps and said that more private user information is in the hands of the developers of the Android and iOS operating systems.
"Yandex.Taxi app really requests access to built-in features of a phone. For example, it needs access to GPS to find out a proper location to where exactly it should send a car to the user," Sargsyan said. "And the access to a microphone is needed to enable voice input of the destination point. The same access is required by any other mobile apps so they could perform their functions properly."