NATO Superiority Over Russia Has 'Eroded,' Forcing Alliance to Create New Strategy, U.S. General Says
The chairman of the U.S. Joint Chiefs of Staff has warned that NATO military superiority over an increasingly aggressive Russia has been eroded in recent years, forcing the 70-year-old alliance to revamp its strategy to contain a resurgent Kremlin.
General Joseph Dunford spoke to reporters on Tuesday following the most recent NATO military committee meeting in Slovenia, which he said was building on NATO's new military strategy agreed in May, Radio Free Europe/Radio Liberty reported.
A belligerent Russia and strengthening China has left world leaders once again thinking in terms of great power competition. The post-Soviet years of unquestioned U.S. global dominance is coming to an end, and the transatlantic alliance has been forced to pivot to this new reality.
The most pressing threat has been Russia. In Georgia, Ukraine and Syria, Moscow has displayed a willingness to use military force to defend its strategic interests and retain what it considers its sphere of influence. Often, these interests are in direct opposition to American and NATO goals.
In May, NATO commanders signed up to the alliance's new military strategy. British Air Chief Marshal Sir Stuart Peach said the blueprint would enable the bloc "to deliver our core mission—defending almost 1 billion people."
Dunford told reporters Tuesday, "Russia is a competitor and the NATO advantage over a resurgent Russia has eroded."
The general said that NATO defense chiefs "recognize this" new balance, and suggested it was one of the driving forces behind May's strategic plan. "We are bringing a coherence to the planning that is going on inside NATO," Dunford explained, "and the collective efforts to develop capability."
Last month, Dunford explained that the U.S. and its NATO allies are facing a multitude of threats from malign powers.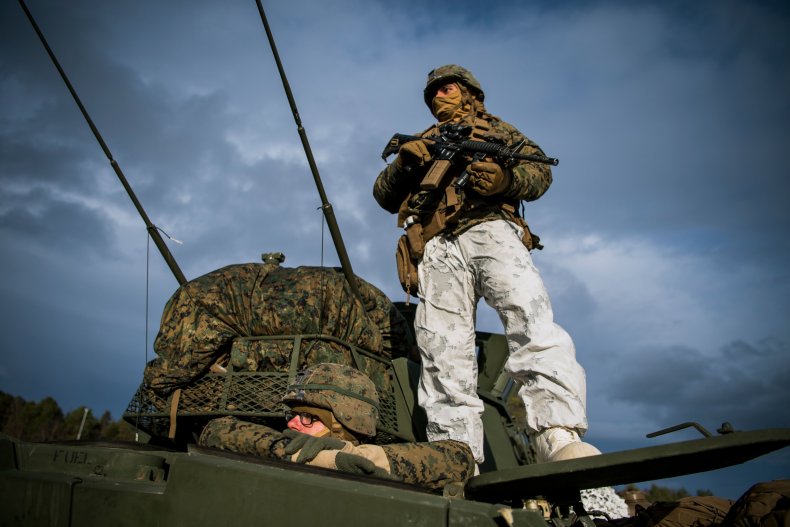 The general noted that Russia—in combination with its military campaigns in Georgia, Ukraine, Syria and active measures campaigns elsewhere—had "fielded capabilities that are not compliant with the [Intermediate-Range Nuclear Forces] Treaty, and President Putin has trumpeted the capabilities of weapon systems designed to put the American homeland at risk."
Meanwhile, an increasingly confident China has militarized the contested South China Sea region and continued the break-neck investment in its military forces, especially the People's Liberation Army Navy.
Both Russia and China have closely studied U.S. military strategy and performance since the end of the Cold War, and have tried to develop technologies and strategies that can exploit American weaknesses, Dunford said.
Dunford said Tuesday that the Slovenia meeting represented "a continuation of efforts to operationalize the alliance's military strategy." This meant making progress on the NATO concept of "360-degree security" to protect against threats from all over the world.
"Much like in the United States, we didn't have much competition in the 1990s, the need to be much more deliberate in the process of capability development, making assessments, developing concepts and strategy is what the focus is," Dunford explained.