NATO Tanks Will Go to Ukraine Despite 'Political Dance': Ex-Security Chief
German-made main battle tanks (MBTs) will "eventually" be sent to Ukraine, where they will be crucial in assisting Kyiv's planned spring counteroffensives, the former chief of the country's National Security and Defense Council has predicted.
Oleksandr Danylyuk, who headed the council under President Volodymyr Zelensky in 2019, told Newsweek that while last week's failure of the Ukraine Defense Contact Group to agree on provision of Leopard 2 MBTs was disappointing, the ongoing discussions have set the stage for a positive decision in the near future.
"I was watching for and expecting a decision for tanks," Danylyuk said. "This is something new that we didn't think about at the beginning of the war. But now it's getting crucial."
Germany is reportedly blocking the delivery of Leopard tanks—of which there are some 2,000 spread across Europe's NATO nations—fearing Moscow's wrath. Berlin will not act alone, Chancellor Olaf Scholz office has made clear, and has called on the U.S. to provide its own tanks in tandem.
The U.K. has already committed 14 Challenger 2 MBTs for Kyiv's use, while France has said it will send an undisclosed number of AMX-10RC light tanks and is reportedly considering supplying Leclerc MBTs.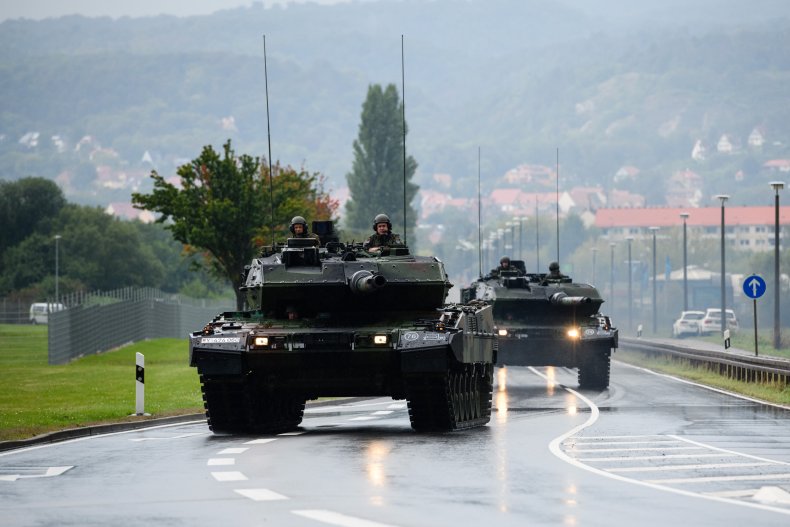 The backlash against the German government has been fierce, prompting Foreign Minister Annalena Baerbock—a member of the Green Party, which is in a coalition with Scholz's Social Democratic Party (SDP)—to suggest Berlin would not stand in the way of other nations sending their Leopard 2s east.
A coalition of Leopard 2–operating nations is agitating to provide their tanks, among them Poland. Prime Minister Mateusz Morawiecki said last week he hopes NATO nations can muster around 100 Leopard tanks between them and has suggested Warsaw will not wait for Berlin's permission if refused.
Last Friday's meeting at Ramstein, the U.S. air base in Germany, did formalize a significant expansion of Western military aid. Delivery of British tanks, American infantry fighting vehicles, Swedish self-propelled artillery, Danish howitzers and a glut of munitions is encouraging for Kyiv, even if officials there were left deflated by the lack of progress on the Leopard 2s.
Danylyuk described Friday's outcome as "an interim solution." Speaking of the tanks, he said, "Eventually, the next one will be positive on their part. We're getting used to it. Nothing is given when it is necessary, nothing is given all in one go. It takes some time."
He added, "But it clearly seems like the West have made up their mind, and it's only a political dance around when it will be over and when we will get what we need."
The next Ramstein meeting will be held in February, by which time Kyiv hopes Scholz and his SDP colleagues will have been won over on the Leopard question. Ukraine is also continuing to call for more long-range-strike capabilities—the American-made MGM-140 Army Tactical Missile System, colloquially known as the ATACMS, tops Kyiv's list.
"There are two key things: The first is the tanks, and the second is the long-range missiles," Danylyuk said.
Both Russian and Ukrainian forces appear to be preparing for a late winter or early spring offensive. In recent days, reports indicate there is renewed fighting along the southern front line, with Russian units reportedly pushing toward Ukraine's southern city of Zaporizhzhia.
Ukrainian commanders will likely be eyeing the Zaporizhzhia front as they prepare for their next push. Breaking Russian lines here would put the northern approaches to Crimea at their mercy and imperil Moscow's land bridge from the occupied peninsula to Russian borders.
Elsewhere, fierce but limited Russian offensives continue around the eastern Donetsk city of Bakhmut, and to the north Ukrainian forces are pushing toward the city of Kreminna in the Luhansk region. Winter fighting on the eastern front has been relatively static and is thought to have been costly for both sides.
Clarity from Western partners will be vital for commanders preparing their next drive, Danylyuk said.
"It's clear that this winter is about preparing for the offensives, for both sides," he said. "It would be good to know that we will have tanks, so we can prepare and think about our strategy knowing that we have tanks. Obviously, we need to have them in advance, not just to train people but to plan accordingly. To know what we can rely on.
"In any case, if the decision or political signal comes soon, then I think even if they are delivered in the spring it's OK for us," he said.