NATO War Games Warship Collides With Oil Tanker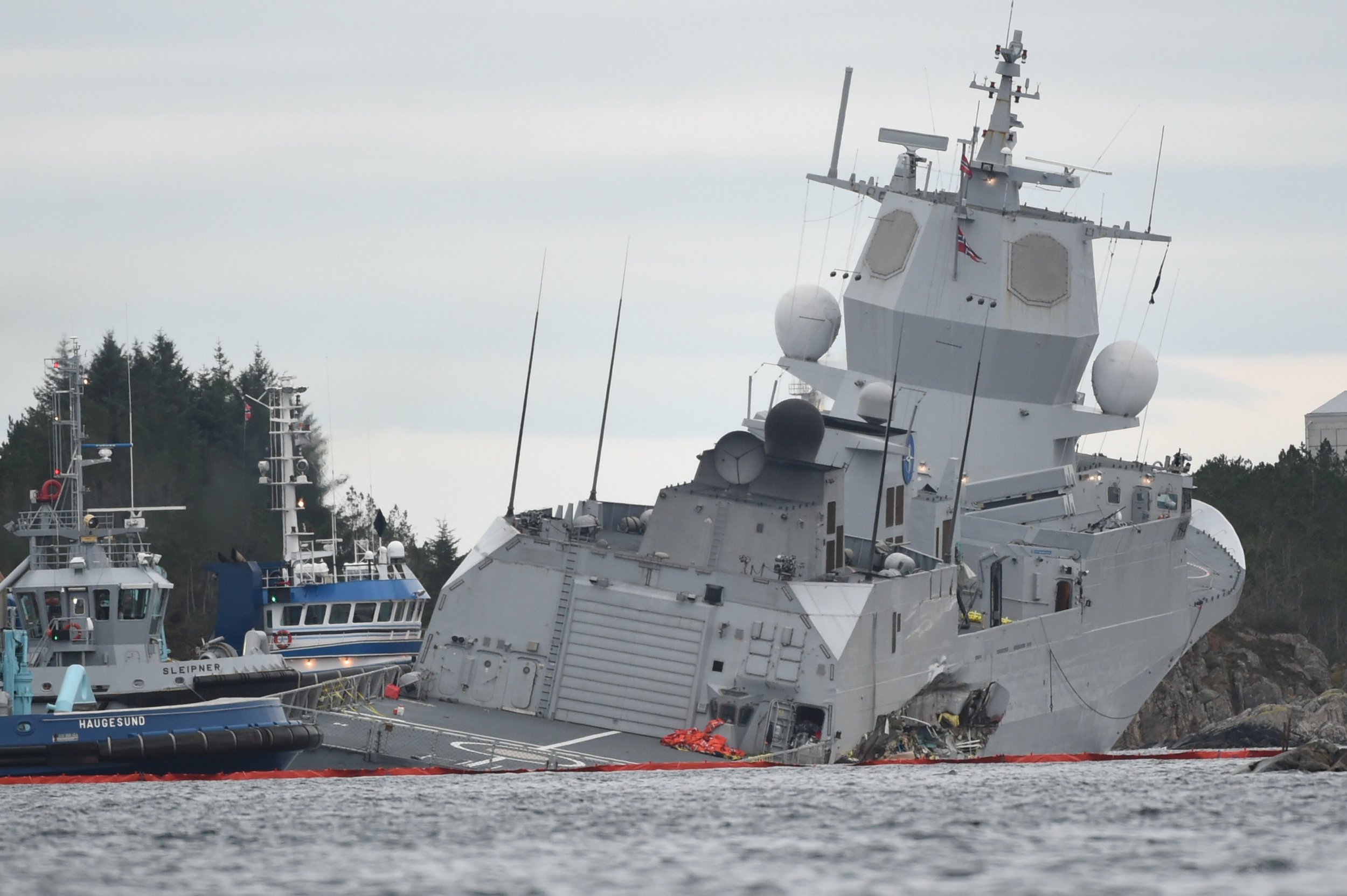 Norway is in a race to save one of its warships after it collided with an oil tanker early Thursday on the way back from a massive NATO exercise.
The KNM Helge Ingstad and tanker met in the Hjeltefjord near Bergen off the country's southwestern coast. Eight people were lightly injured in the crash, which happened at around 4 a.m. local time.
All sailors on board were evacuated as the vessel was left listing dangerously and taking on water, Reuters reported. The Norwegian navy said efforts are underway to save the ship. The exact cause of the collision has not yet been established.
The 68,000-ton tanker—the Sola TS—had left Equinor's Sture oil shipment terminal with a cargo of North Sea crude and a crew of 23, flying the Maltese flag. It was only slightly damaged in the accident and appears not to have spilled any oil as a result of the crash. The ship is now returning to port for inspection.
The Sture terminal—a major point of export for Norwegian crude—was closed as a precautionary measure while authorities worked to save the Helge Ingstad. The Kollsnes gas plant and several offshore fields also temporarily froze operations.
But the situation is more dire for the warship. Though its 137 crew members are safely off the stricken vessel, there is now a danger it could sink entirely. An unnamed official told Agence France-Presse that a "small oil slick" had been detected from the frigate. "It took on a lot of water and there is a real danger that it sinks where it is," the official added.
The Norwegian Coastal Administration said a 355-cubic-foot helicopter fuel tank had been damaged by the collision, with oil spilling out into the surrounding water. "The leaked amount has not been determined," the body said.
The navy brought in tug boats to move the Helge Ingstad closer to shore so it would not sink in the fjord's deep waterway, which is a busy shipping route. "We are doing everything we can to save the ship," Lieutenant Colonel Ivar Moen told AFP. "All available means have been mobilised," he explained.
The frigate had returning from NATO's Trident Juncture military exercise, which simulated a Russian invasion of Norway. The vessel was one of 65 involved in the war game, along with 50,000 troops, 150 aircraft and 10,000 vehicles. The Helge Ingstad was built in 2009 and took part in chemical disarmament operations in Syria from 2013 to 2014.