Nato Warships Start Submarine Hunt Drill As a 'Strong Signal' to Russia
The U.S. Navy, along with at least seven allies, has launched a practice submarine hunt in Europe's northern waters in a "strong signal" to nearby Russia.
The annual drill, named Dynamic Mongoose, aims to bolster NATO allies' ability to chase down enemy submarines sailing out of plain sight, using surface ships and marine aviation, according to a NATO statement. The U.S. 6th Fleet will participate in the drill alongside the navies of Germany, the Netherlands, Denmark, Norway, Poland, Spain and Turkey.
"This valuable training opportunity will allow us, in conjunction with our NATO allies and partners, to enhance our ASW [anti-submarine warfare] capabilities, improve interoperability and ultimately strengthen the alliances that bind our nations together in mutual commitment to regional security," Commander Chad Donnelly, commanding officer of the U.S. patrol squadron participating in the exercise, said in a statement. The 6th Fleet suggested that Canada, France and the United Kingdom would also participate.
Related: U.S. Navy sends two warships to Black Sea, risking Russian complaints again
The drill launched on Monday and will continue until July 6 on the coasts of Norwegian counties Troms and Nordland, drafting two submarines, seven surface ships and three aircraft. The aim of the exercise will be to simulate an intrusion by a submarine, which an allied navy group must track and force to resurface.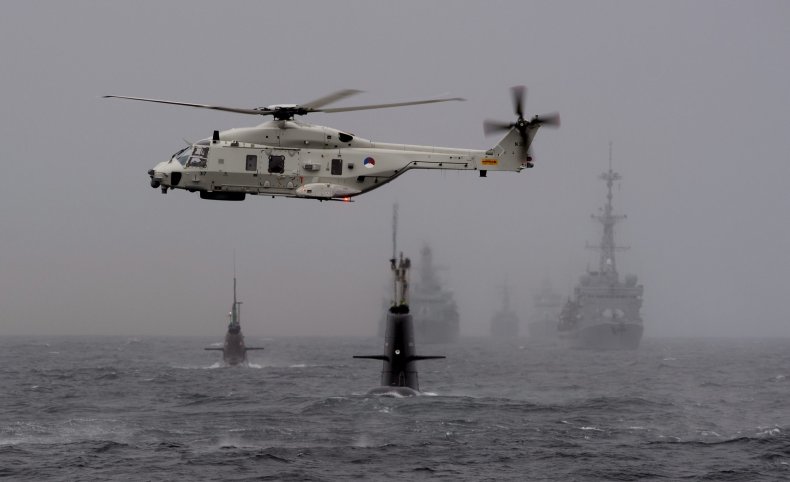 The Nordic country has already made a deal with the U.S. to host its 300-strong marine deployment, which could double in size. Although nominally a deployment for training purposes in low temperatures, the U.S. presence in the Russia-bordering Scandinavian country is part of a wider effort to tighten allied defenses in the wake of Moscow's 2014 annexation of Crimea.
Submarine warfare is a particular focus of Russian defense investment and planning. NATO's Secretary-General Jens Stoltenberg estimated last year that, since 2014, the Russian Navy had added 13 new submarines to its ranks, with more under construction.
Dynamic Mongoose is one of the latest additions to the NATO training calendar, which has been updated since the annexation in a show of unity against potential attempts by Russia to cause further disruption with military actions.
"They should look at this as a strong signal that we are going to be solid partners," U.S. Navy Admiral John Richardson told Norway's public broadcaster NRK.
The admiral reportedly met with Norwegian defense officials after the U.S.S. Bainbridge missile destroyer docked in the country's capital of Oslo last week. Although Russia has repeatedly protested the training of non-regional forces in various European waters, Norwegian Defense Minister Frank Bakke-Jensen said Moscow should not respond to the drill. "It should not surprise Russians that we practice with our allies. There is no reason to react," he said.
NATO members' leaders will meet at a summit in Belgium next month to discuss the ongoing revamp of the alliance's new posture and rapid response structure in Europe. President Donald Trump's ongoing rift with leaders of U.S. allies, which veered the latest G-7 summit off its usually amicable course, has overshadowed the buildup to the summit. He is likely to cross paths with Canadian Prime Minister Justin Trudeau for the first time since he went on a Twitter tirade against the U.S. neighbor's leader.