NATO is refusing to police a no-fly zone over Ukraine over concerns that doing so could instigate a war with Russia that could spread across Europe.
NATO Secretary-General Jens Stoltenberg acknowledged that the situation in Ukraine is "horrific" and lamented the destruction taking place "at a scale we haven't seen in Europe since the Second World War." But he asserted that NATO will not enter Ukraine either in the air or on the ground, the Associated Press reported.
Ukrainian President Volodymyr Zelensky has urged the West to institute a no-fly zone over Ukraine, but NATO has chosen to bolster the nation's defenses and avoid direct involvement and a possible military confrontation with Russia, the AP reported. Russian President Vladimir Putin has threatened to use nuclear weapons if any NATO nations try to intervene in the invasion of Ukraine, which could trigger a broader nuclear conflict.
While NATO has no nuclear weapons itself, certain NATO member nations, including the U.S. and Britain, possess them, according to the AP.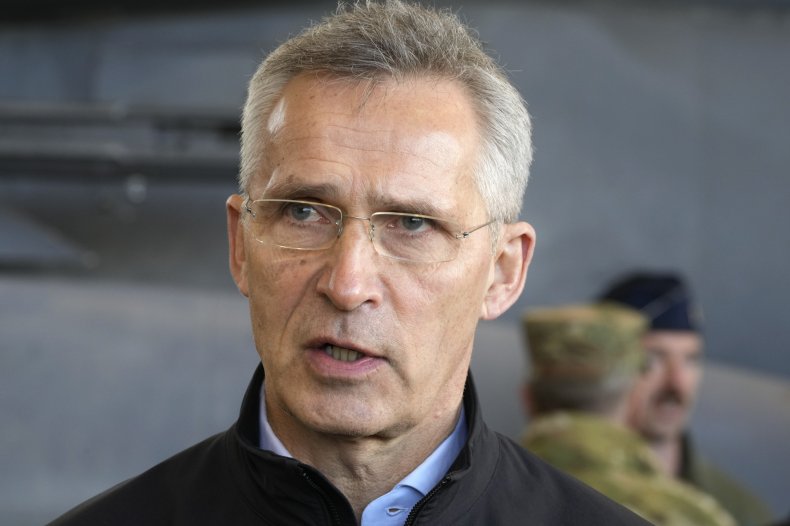 "The only way to implement a no-fly zone is to send NATO fighter planes into Ukrainian airspace and then impose that no-fly zone by shooting down Russian planes," Stoltenberg said. NATO allies believe doing so could cause them to "end up with something that could end in a full-fledged war in Europe," he added.
Stoltenberg made the remarks after a meeting with U.S. Secretary of State Antony Blinken and NATO foreign ministers in Brussels on Friday.
"Ours is a defensive alliance," Blinken said. "We seek no conflict. But if conflict comes to us we are ready for it, and we will defend every inch of NATO territory."
"At the same time, as the secretary-general says, we're preparing for NATO's future, and the events of the last few weeks, as they continue, will further inform that future," Blinken added.
NATO's mission, according to its website, is to "guarantee the freedom and security of its members through political and military means." It currently has 30 member nations, but Ukraine is not one of them.
The alliance's collective security agreement requires all members to defend any other member if it is attacked. Russia, for example, could trigger the agreement if it shoots down a NATO warplane, the AP said.
Stoltenberg announced last week that NATO was deploying some of its combat-ready response forces to help protect members near Ukraine in light of the Russian invasion. Thousands of troops have been sent to countries like Estonia, Latvia and Poland amid fears that Putin's military aggression could extend beyond Ukraine.
"There must be no space for miscalculation or misunderstanding. We will do what it takes to protect and defend every ally and every inch of NATO territory," he said.
Newsweek reached out to NATO for additional comment but did not hear back before publication.
Update 03/04/22, 11:30 a.m. ET: This story was updated with additional information and background.