The Biden administration sent officials to Mexico and Guatemala this week to discuss the crisis at the border, with a mission to form "an effective and humane plan of action to manage migration," NSC spokesperson Emily Horne said in a statement released by the White House.
This trip comes as the Biden administration pledges to address the migration crisis by providing support to the three nations of Central America's Northern Triangle—Guatemala, Honduras and El Salvador.
The officials leading the mission included White House Coordinator for the Southern Border Roberta Jacobson, the National Security Council's Director for Western Hemisphere Affairs Juan Gonzalez, and Special Envoy for the Northern Triangle Ricardo Zuniga.
"We are committed to working with partner governments who are ready to make the needed political, rule-of-law, and economic reforms that are essential to success as we embark on new initiatives together," a State Department spokesperson told Newsweek. "The communities migrating to the United States are often the most marginalized in their countries of origin. That is why addressing food insecurity, lack of economic opportunity, citizen security and access to services like healthcare and education is key to sustainably preventing irregular migration."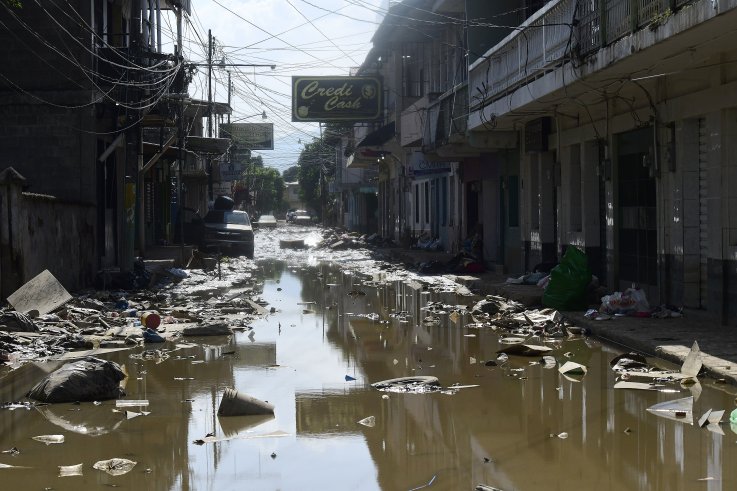 View of empty streets after locals in La Lima, Honduras evacuate their homes before the arrival of Hurricane Iota on November 15, which is expected to bring a "life-threatening" storm surge to parts of Central America.
Yoseph Amaya/Getty Images
Four months ago, the Northern Triangle was hit by two ferocious hurricanes back-to-back—Hurricane Eta, a Category 4, was followed almost immediately by Hurricane Iota, a Category 5, the most powerful storm on the scale, with sustained winds over 160 mph.
Iota was only the second Category 5 Atlantic hurricane in the last 100 years to occur in the month of November.
The two storms wrought catastrophic damage in the Northern Triangle, destroying roughly 250,000 homes, displacing more than 500,000 people, and leaving more than 5.3 million people in desperate need of aid, according to the International Organization for Migration.
These storms occurred in the midst of the COVID-19 pandemic, when vital services such as shelters and childcare were closed, leaving people with few options for relief.
On top of the storm wreckage and pandemic pressure, people had to deal with the gangs, which have become a fixture of everyday life in the Northern Triangle.
"The hurricanes, with the violence on top of that, are the sort of tipping point that makes life untenable," Meghan López, regional vice president of Latin America at the International Rescue Committee, told Newsweek. "People are not running to the U.S.—they are running away from the situations that they are living in Central America."
López argues that in order to be effective, the discussion of increased migration to the U.S. should focus on the issues in the Northern Triangle, rather than those happening at the border. This view is shared by U.S. military experts, who have referred to issues at the border as a "symptom" rather than a cause.
She said that along with strengthening the asylum system in the United States, Mexico should strengthen its system as well. Earlier this week, the Biden administration sent officials to Mexico and Guatemala to discuss the crisis.
López said she is encouraged by the language of the Biden administration's foreign policy, and said it signals a commitment to identifying root causes in Central America for the problems of migration.
Border crossings increased by 28% in the month of February, prompting President Biden to designate Vice President Kamala Harris as the lead official on the matter. As the new face of immigration reform, Harris will undertake efforts to directly address the instability in the Northern Triangle.
Economic instability and gang violence over the past decade have resulted in the number of individuals born in the Northern Triangle now residing in the U.S. to increase by 78%. However, one central issue plays a role in exacerbating both of these issues—climate change.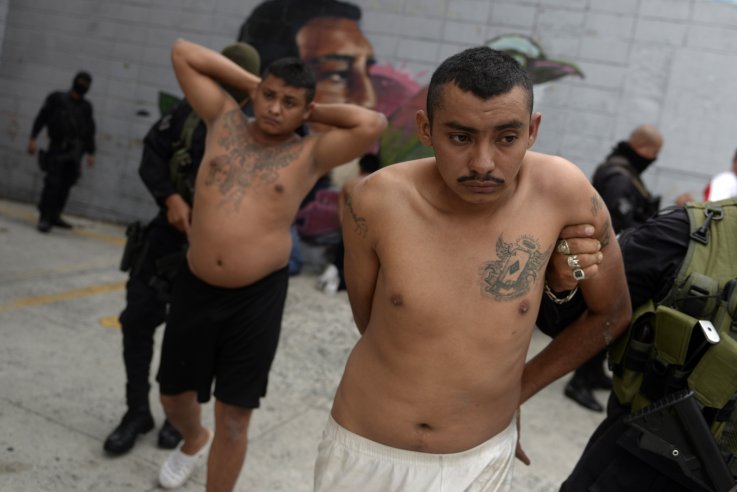 Alleged members of the Barrio 18 gang are detained by members of the National Civil Police during an operation in San Salvador on May 11, 2015. More than 10,000 gang members remain in Salvadoran prisons and another 60,000 are believed to be on the streets, according to authorities.
PHOTO CREDIT: Marvin RECINOS/AFP via Getty Images
"In Central America everything is related," Elizabeth Kennedy, a migration researcher based in Honduras told Newsweek. "In El Salvador, Guatemala, and Honduras many people live in unending crisis."
As an American social scientist who's conducted research for Human Rights Watch and the United Nations High Commissioner for Refugees, Kennedy said she can afford to shield herself from the direct effects of climate change while living in Honduras. But most people in the country do not have that luxury.
One of those "luxuries" is actually one of the essentials of life—fresh water.
For about half of last year, water was rationed in Honduras due to national shortages. Kennedy's well was replenished once a week, although it wasn't always completely refilled. In poorer areas, water was often delivered every three weeks or once a month.
"That coincided with the beginning of the pandemic when everyone would be told to wash their hands," she said.
Water shortages in the Northern Triangle have played a devastating role in the region's agricultural hub known as the Dry Corridor. Agricultural jobs employ 33% of Guatemalans, 30% of Hondurans, and 19% of Salvadorians. In comparison, agricultural jobs employ 1.5% of the U.S. population.
The effect of climate change on El Niño–Southern Oscillation, a weather phenomenon with significant effect on rainfall and droughts, has wreaked havoc on farmers in the Corridor. They've seen their crops wither and die during periods of extended drought. When they respond by planting crops that need less water, they are washed away during periods of intense rain storms and flooding.
In 2018, the region lost 60% of its corn crop and 80% of its bean crop.
"The Dry Corridor is the backbone of the national economies [of these countries]," Amali Tower, founder of the nonprofit Climate Refugees, told Newsweek. "Climate change effects have not only destroyed the livelihood of the farmers there, but also their survival."
Beyond facing economic hardship due to the loss of crops, many of the farmers in the Dry Corridor face dangerous levels of food insecurity. Tower said many living in the area are subsistence farmers, relying on the food they grow to feed themselves and their families. When their crops are destroyed, they have no choice but to become refugees within their own countries and beyond, seeking food to survive.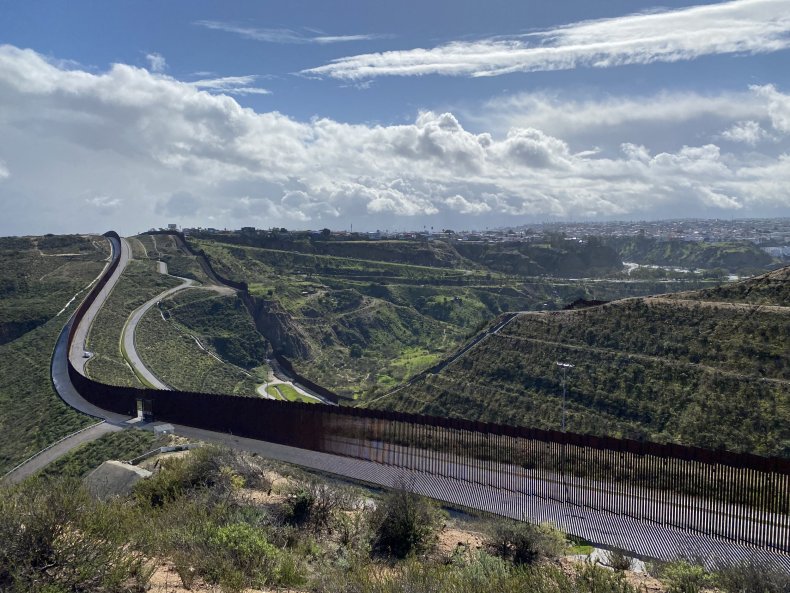 Those who move within their country face risk of violence and extortion at the hands of gangs. And those who do not find a way to survive within their own countries are faced with a last resort—to try to make it to the U.S. border, even though seven out of every 10 of them will likely be denied entry.
Addressing the underlying issues of migration means supporting the region's infrastructure. Kennedy said construction projects, buildings, and parks remain ill-equipped to sustain damage caused by environmental disasters. She said that in many areas houses are built on ground prone to landslides and mudslides during heavy rain.
In some towns the primary water source is a community well, and in all three countries many bodies of water remain heavily polluted.
She said that ultimately environmental stability in the region is dependent upon the world's ability to respond to climate change. Absent an effective response, the issues and the problems they create will only get worse.
"Geographically, the region is highly susceptible (to climate change)," Kennedy said. "This past year you've had a layering of crises with the environmental crises, the global pandemic crisis, and the ongoing crisis of very high levels of violence. It doesn't have to be that way."