It's the Catalina Lime Mixer: Natural Light's New Hard Seltzer Has Everyone Remembering Will Ferrell's 'Step Brothers'
It was the movie moment Step Brothers fans will never forget: Brennan Huff finally acting his age in a last-ditch attempt to save one of the most important events of his life. And now Natural Light is helping moviegoers remember that moment.
A Billy Joel tribute band abruptly ended their performance at an extravagant island wine tasting organized by Brennen's big brother's company. Nervous but determined not to let the event go to ruin, Brennen takes to the stage where he starts softly singing "Por Ti Volaré," the Spanish version of Andrea Bocelli's Italian-language "Con te Partiro." People begin to boo him, throw things even, when finally his ex-best friend and stepbrother Dale Doback joins him on stage and starts to play the drums.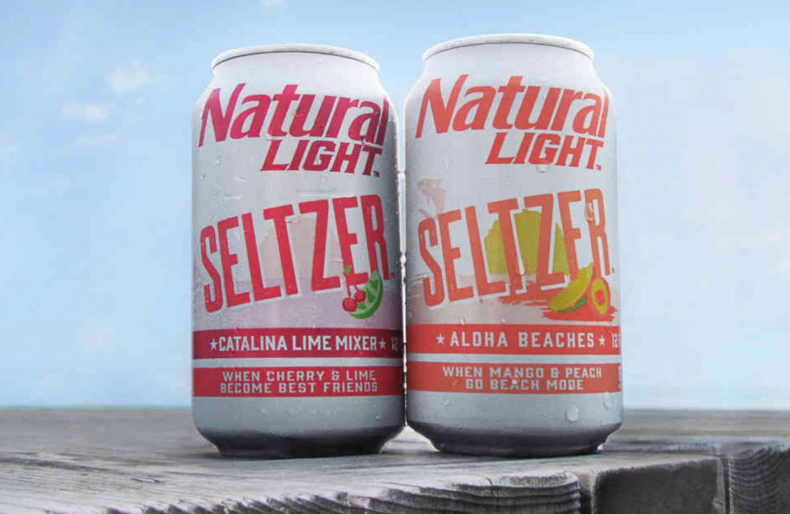 Suddenly, Brennan finds his confidence. His angelic voice gets louder and stronger as he completely captivates the audience while delivering lyrics of one of the best-selling singles of all time. Those who were heckling him just moments ago are now in tears. Ice sculptures crack from the power of Brennan's voice while bottles of wine literally explode. The song ends, and everyone is happy. It's the Catalina Wine Mixer.
The famous scene, from Will Ferrell and John C. Reily's iconic 2008 comedy Step Brothers, was thrust back to the forefront of everyone's mind thanks to Natural Light. The Anheuser-Busch beer brand unveiled its new line of adult beverages, Natural Light Seltzers on Monday. The new brand produces Aloha Beaches and Catalina Lime Mixer, two flavors of hard-seltzer, the latter of which seems to be a play taken right out of the Step Brother's script.
At least, that's what fans of the movie thought following Natural Light's announcement of the new sparkling drink. Social media erupted with memes from Step Brothers in response to the Catalina Lime Mixer flavor, particularly clips of Brennan, Will Ferrell's character, singing the socks off guest at the then-fictionalized Catalina Wine Mixer. The event later became a real wine tasting festival in Catalina in 2015.
The canned drinks mark Natural Light's attempts to cash in on the hard-seltzer market, which is steadily growing following the explosive popularity of flavorful alcohol-infused seltzers like White Claw, Bon & Viv, and Truly. However, Natural Light's new product has a higher alcohol content—about six percent alcohol by volume while the others typical have five percent
Natural Light's canned hard-seltzer will be available in 12 and 24-pack options. They're also expected to be about 20 percent cheaper than competitors prices, a move Ricardo Marques, vice president of core and value brands at Anheuser-Busch, said was to help fill the gap for affordable options.
"From a brand standpoint, we're bringing the fun personality of Natural Light. This is a first, in many ways, because it is the first established beer brand to bring a seltzer proposition into market," he told Business Insider.
From the outpour of hilarious banter the new seltzers have caused on social media, it definitely appears as though Natural Light has indeed brought out the fun in drinkers. See a few reactions to the Catalina Lime Mixer below.