Natural Solutions Foundation Ordered to Stop Selling Fake 'Nano Silver' COVID Treatment
A New Jersey company that purports to offer "natural solutions" to medical issues has been ordered to stop selling a fake "nano silver" treatment for COVID-19 by a federal court.
The Natural Solutions Foundation, along with self-proclaimed "Vitamin Lawyer" Ralph Fucetola and his business partner Dr. Rima Laibow, were ordered to stop distributing a nano silver treatment that they claimed could treat or cure COVID-19, the Department of Justice (DOJ) announced on Tuesday.
The order came as part of a consent decree in the settlement of a 2020 lawsuit against the company from the Food and Drug Administration (FDA). The suit alleged that nano silver products were sold by the company despite not being "generally recognized by qualified experts as safe and effective to prevent, treat or cure COVID-19." The FDA said that the claims lacked any backing from "credible scientific evidence or studies."
"The FDA will continue to aggressively pursue and hold accountable those who jeopardize public health," Greg Noonan, acting Deputy Director of the FDA's Office of Dietary Supplement Programs, said in a statement. "Today's consent decree demonstrates that we will use all of our authority to stop companies that prey on the public during a global pandemic by selling unapproved new drugs."
In addition to being forced to stop selling nano silver products, the Natural Solutions Foundation was ordered to issue a recall for already-sold products and to destroy any remaining nano silver products in its possession. The company must also inform the FDA in advance of any drugs that it intends to sell in the future.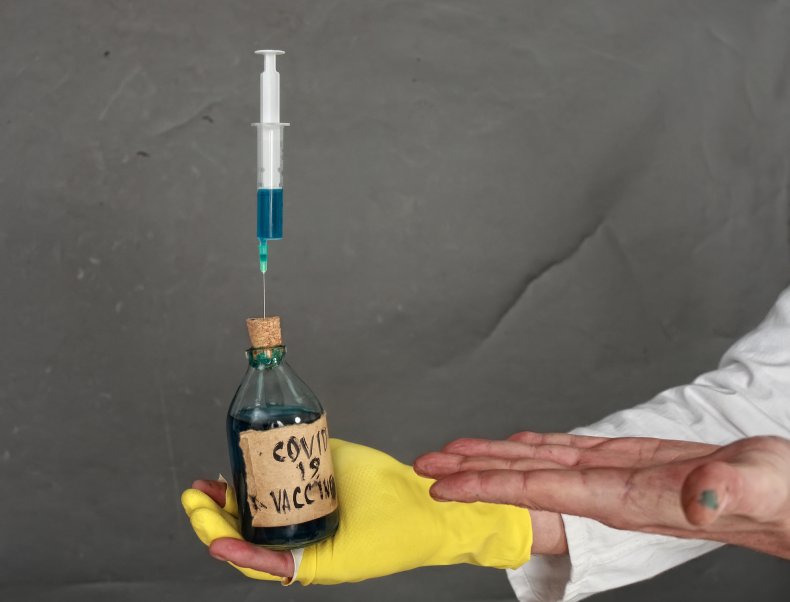 Nano silver products, made from tiny particles of silver, have been touted by figures like televangelist Jim Bakker and conspiracy theorist Alex Jones as cures or treatments for COVID-19 since the early days of the pandemic, despite no evidence to support the notion that the products are safe or effective.
While silver does have antimicrobial properties and can destroy bacteria and viruses on surfaces outside of the body, silver substances have not been FDA-approved to cure or treat any systemic diseases and can be toxic when taken internally.
Products sold as nano silver are either very similar or identical to colloidal silver, a substance that has also been falsely touted as a cure to various ailments and is linked to argyria—a condition known to permanently stain skin a blue-gray color.
"We are pleased to announce that we have now entered into a consent decree resolving that dispute, without any admission of wrong-doing," Laibow, the Natural Solution Foundation's medical director, said in a statement posted online.
"In consequence of that consent decree, we may modify some of our procedures and activities, but the Foundation will continue to operate under the protection of the First Amendment," added Laibow.
Laibow went on to insist that the company remained committed to its "mission" of supposedly discovering, documenting and distributing "natural solutions to the problems with which we are faced" before urging supporters to donate "a generous year-end gift to keep Informed Consent and Health Freedom Strong."
Although nano silver products were no longer offered for sale on the Natural Solutions Foundation website as of Tuesday, the site continued to offer some "hemp extract" products for $97 per one-ounce bottle, ebooks and a $497 course on "grief relief through unique frequencies."
The site was also selling cards that purported to provide the bearer with valid "exemptions" to requirements for vaccinations and mask-wearing, with prices ranging from $20.95 to $124.80 depending not the number of cards.
In addition, the company was still pleading for donations to help "legal efforts for your right to use nano silver," claiming that "Deep State agencies like the DoJ and FDA target leading health freedom advocates like the Natural Solutions Foundation."
"Rest assured that we have not come this far just to back down: not only do we intend to litigate the issue, we intend to counter-claim, defending Nano Silver as nutrient support for an effective immune system," the page states. "We need your help to defend the lawsuit and to counterclaim seeking protection from the Courts for the use of nano silver as a nutrient that supports normal immune function."
The page asked for a default donation of $25 or a "minimum" donation of $10, warning that "access to Nano Silver is at stake." Given that the court order announced by the DOJ on Tuesday permanently stops the company from offering nano silver products, it was unclear whether the page was mistakenly or intentionally left online.
Laibow and the Natural Solutions Foundation previously got into trouble with the FDA and the World Health Organization (WHO) for touting nano silver products as a cure for Ebola during a 2014 outbreak of the virus in Africa, according to The New York Times.