Naturalized U.S. Judge Officiates Naturalization Ceremony for 350 People in Texas Border Town
Marina Garcia Marmolejo never dreamed she would stand where she did Tuesday during a ceremony to naturalize citizens in a Texas border town. She once stood on one side to take the oath of becoming a United States citizen. She also once stood on the other side of the border.
Now as a United States District Judge, she administered that oath to become a citizen.
Marmolejo, a district judge for the U.S. Southern District, presided over the oath ceremony Tuesday in Laredo for 350 people who became citizens.
"I can tell you as one of the two district judges in Laredo that are presiding over the naturalization ceremonies, it is one of the most joyous things," Marmolejo told the Laredo Morning Times. "In fact, this is the most joyous thing that we get to do. The majority of our docket is criminal nature. We have a civil docket. For us, this is a joyous occasion."
Marmolejo was born across the Rio Grande in Nuevo Laredo, and she spent time in Texas as a student. She became a citizen in 1996 while a law student in San Antonio. She worked her way through private law firms and as an assistant public defender in Texas districts.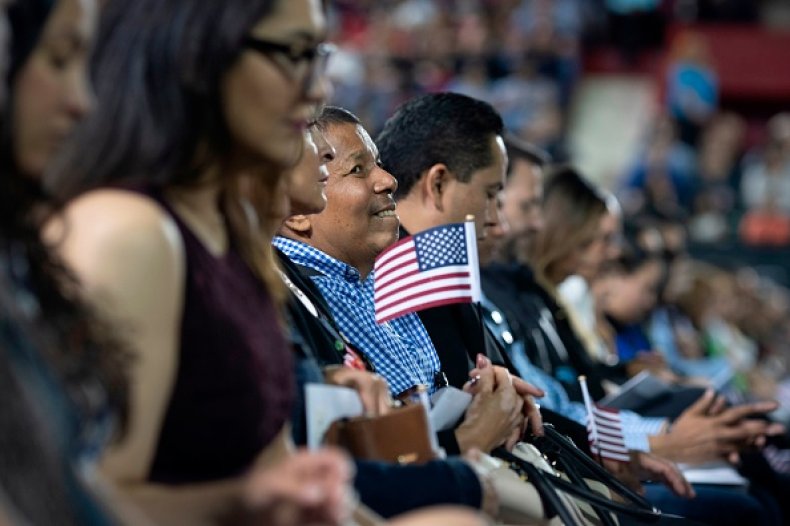 She was appointed to become the U.S. District Judge by President Barack Obama in 2011 and confirmed by the Senate later that year. Now she plays a pivotal role for so many who journey in the path her footsteps once traversed. She said officiating such naturalization oaths is "indescribable."
"If someone had said to me that I would be presiding over these ceremonies when I took my own oath, I think I would have been incredulous," Marmojelo said. "I would not have believed that it was not even ... You want to think that it's possible, but these are big dreams. It just confirms that if you do your part, the country will do their part as well."
The ceremony in Laredo was part of 110 ceremonies nationwide that saw about 7,500 total new citizens take their oaths. Judge Marmojelo said in Laredo, it is typically broken into smaller ceremonies — one in the morning session of court and the other in the afternoon.
Not this week, though.
"What we wanted to do here is we wanted to combine a couple of the groups, and we wanted to make it extra special for everyone that is going to be preceding their oath of citizenship and their certificates as well," Marmolejo said. "This is a long process. The people, they all here today have made a very big sacrifice to come to our country and do so the right way. It's been years for some of them to fill out applications and go through interviews. Today is the culmination of all of that hard work."
One of those new citizens in Laredo was Roberto Cruz, who said he came from Mexico and spent the last seven years as a U.S. resident.
"It's expensive, it's long, but it's worth it," Cruz said.
The journey to becoming a naturalized United States citizen requires several steps and eligibility requirements, according to USA.gov. Those include:
Being at least 18 years old
Able to read, write and speak basic English
A person of good and moral character
The 10-step naturalization process includes: determining eligibility to become a citizen, filling out Form N-400 through the government, taking a U.S. Naturalization test, a personal interview and ultimately, the invitation to take the oath to become a citizen.
Naturalized U.S. Judge Officiates Naturalization Ceremony for 350 People in Texas Border Town | News