Naughty Puppy Jumping on Golden Retriever's Head Has Internet in Stitches
An adorable video that shows a puppy sneaking up behind an unsuspecting golden retriever and jumping on the dog's head left TikTok users laughing.
Set to the song "Naughty" from Matilda the Musical, the video, uploaded to TikTok by user ladyandtheblues on Saturday, starts out by showing the sweet dogs sitting next to each other on a bench while wearing matching bandanas. It's captioned: "Telling the puppy it's not nice to jump on other dog's head."
Seconds later, the video cuts to the puppy sneaking around the backyard while the older dog, Lady, relaxes on the grass with a pile of toys.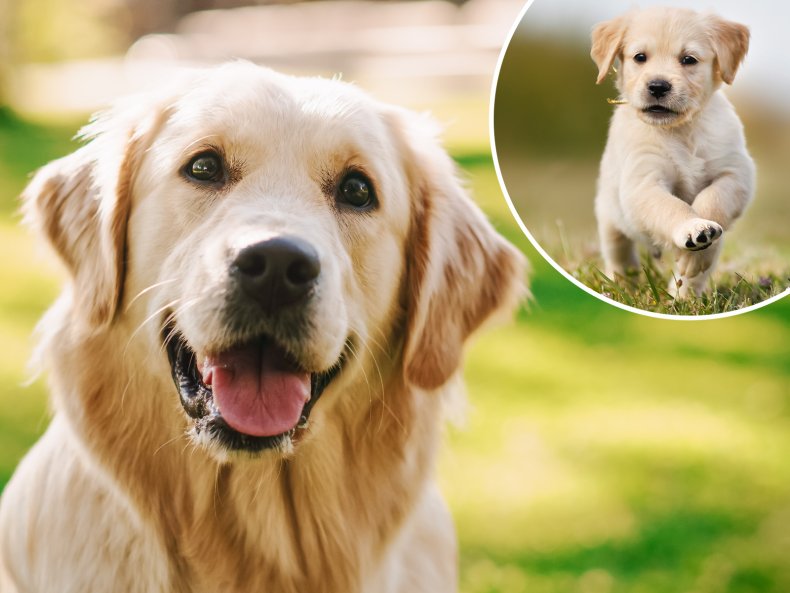 As expected, the cheeky little puppy executes the perfect sneak attack and jumps on Lady's head, leaving the older dog howling in shock.
The puppy's delightful behavior is completely in line with its breed, according to the American Kennel Club, which says that "Goldens are outgoing, trustworthy, and eager-to-please family dogs, and relatively easy to train. They take a joyous and playful approach to life and maintain this puppyish behavior into adulthood. These energetic, powerful gundogs enjoy outdoor play."
Since being shared on Saturday, the video has garnered 5.5. million views and more than 900,000 likes.
Many of those who commented on the video praised Lady's calmness and also gushed over the cute puppy.
TikTok user LCStaysfly commented: "Lady is such a sweetheart she took that like a champ."
Cntu wrote: "He saw his opportunity and took it."
Kingra commented: "Wow. They look so cute. I really want a dog now."
Jessica Ireland said: "My Frenchie does this to our husky mix."
It is not surprising that content involving dogs is extremely popular on social media, especially among Americans, as the United States is a nation of dog lovers.
According to the American Veterinary Medical Association, some 38.4 percent of homes across the U.S. had at least one pet dog in 2018. The number of households where at least one dog was owned was 48.2 million that year.
Newsweek reached out to ladyandtheblues for comment.
One other example of a golden retriever getting millions of views is that of pooch Maple whose instinctive licking had been turned into a "secret language."
Owner Tyler could be seen responding to his pup's attempts to lick his face by sticking his tongue back at her.
The AKC says that licking is a common way in which dogs express their affection toward people, "an instinctive behavior that's linked to the comfort they felt when their mothers licked them as babies."
Do you have funny and adorable videos or pictures of your pet you want to share? Send them to life@newsweek.com with some details about your best friend and they could appear in our Pet of the Week lineup.