Navajo Nation Reports Over 1,000 Coronavirus Recoveries After Having More Cases Per Capita Than Any Other State
Navajo Nation said Wednesday that 1,001 of its residents have recovered from COVID-19. The announcement came just days after officials said the territory had the highest number of cases per capita than any U.S. state.
Navajo Nation in March introduced some of the strongest restrictions in the U.S. to slow the spread of the virus, with nighttime curfews in place every day since March 30 and weekend lockdowns continuing into Memorial Day weekend. The territory has also aggressively conducted COVID-19 testing and announced this week it had surpassed all U.S. states in its testing efforts.
"We have tested over 13 percent of our people here in the Navajo Nation, compared to say 7 or 8 percent in New York state," President Jonathan Nez said during an interview with FOX 10 Phoenix Wednesday. "Overall, we are testing more of our citizens. And because of more testing, obviously you'll get more positive and negative results."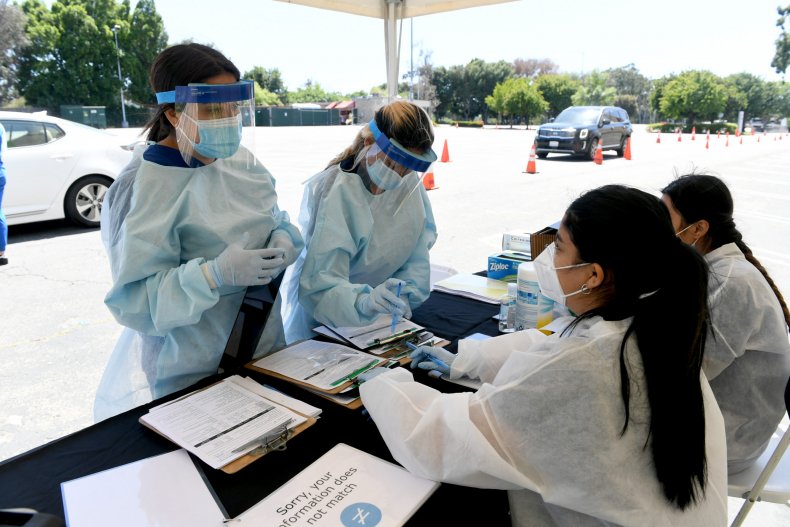 According to Nez, more than 26,000 residents had been tested for COVID-19 by Wednesday. Though the Navajo Department of Health said 20,200 of those tests were negative, 4,153 residents had tested positive for the virus and 144 had died. Based on population data from the 2010 U.S. Census Bureau, the number of Navajo Nation residents who tested positive meant there were approximately 2,391 COVID-19 cases per 100,000 residents.
Outside Navajo Nation, New York has been the state most significantly affected by the pandemic, with more than 354,300 positive cases reported by Wednesday. According to data compiled by Johns Hopkins University, New York has a rate of about 1,822 positive cases per 100,000 residents, with New Jersey close behind at 1,688 cases per 100,000 residents.
Health officials reported 82 new cases in Navajo Nation Tuesday, bringing the total number of new cases since Sunday morning to 241. Officials reported daily rises of more than 100 cases several days last week during the period in which Nez and other officials said they hoped the virus curve was beginning to flatten. In March, health officials predicted Navajo Nation would reach its COVID-19 peak in mid-May.
Nez attributed the steadily rising case numbers to the broad testing efforts among residents and said he expected the case count to rise further after a testing event was held on Tuesday. "The more people we identify who have the virus, the more people that we can isolate to help flatten the curve," Nez said in a news release.
Though the number of new positive cases remains an important point in COVID-19 discussions, increasing numbers of recovered patients have provided officials like Nez with more hopeful data points. With about a quarter of the territory's COVID-19 patients recovered, Navajo Nation is also beating the roughly 17 percent recovery rate reported in New York, according to Johns Hopkins University data.
"We are seeing from these testing [blitzes] a flattening of the curve in Navajo Nation," Nez said Wednesday.