Naval Academy Midshipmen Seeking Temple for Satanic Services on Campus
Some midshipmen at the United States Naval Academy are looking for a place on campus to hold Satanic study services, the Military Times reported Tuesday.
The group of students who study and train at the Academy requested a space where they can hold such study sessions while following the religion of the Satanic Temple.
The email sent from midshipmen to brass within the academy was posted on an Instagram account labeled drunkoldgrad.
Academy spokeswoman Cmdr. Alana Garas said the Satanic Temple is a tax-exempt religion, and the academy's followers of the religion were just merely looking for a "group study space" on campus, and not so much as a place to "burn a pentagram into Ingram Field or to erect a giant horned icon in front of the Zimmerman Bandstand," as the Military Times noted.
Newsweek subscription offers >
"A group of Midshipmen with beliefs aligned with those practiced by The Satanic Temple ... requested a space where they could assemble to discuss and share their common beliefs," Garas wrote in her email. "The request was for a 'study group' space, not for holding 'satanic services.'"
Garas went on to say that no students at the academy were to engage in politically-active groups, and nonchalantly called the Satanic Temple a religion that takes a hard political stance.
"Midshipmen have the right to assemble to discuss their beliefs as they choose, but, to be clear ... military members will not engage in partisan political activities, and will avoid the inference that their activities may appear to imply DoD approval or endorsement of a political cause," Garas said.
Garas said "arrangements were being made to provide the Midshipmen with a designated place to assemble as chaplains facilitate the beliefs of all service members, a responsibility outlined by Navy instructions" even before the email was supposedly sent.
Newsweek subscription offers >
The original email sent on October 8 was leaked to the Instagram user, and it stated the new religious program "caters to people who prescribe to The Satanic Temple's Satanic philosophy, however all people of any faith background are welcome to attend."
The invitation says the group would discuss "Satanic philosophy" and a "literary history of Satan."
The meetings are to be held every Thursday evening, according to the post.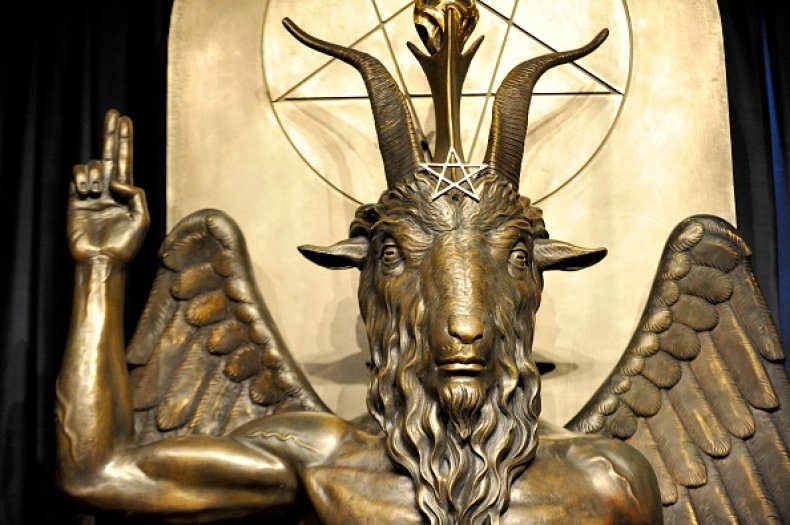 Having formed in 2013, the Satanic Temple says its mission is "to encourage benevolence and empathy among all people, reject tyrannical authority, advocate practical common sense and justice, and be directed by the human conscience to undertake noble pursuits guided by the individual will."
As for any political sidings, the Satanic Temple claims that "civic-minded Satanists and allies in the Satanic Temple have publicly opposed the Westboro Baptist Church, advocated on behalf of children in public school to abolish corporal punishment, applied for equal representation where religious monuments are placed on public property, provided religious exemption and legal protection against laws that unscientifically restrict women's reproductive autonomy, exposed fraudulent harmful pseudo-scientific practitioners and claims in mental health care, and applied to hold clubs alongside other religious after school clubs in schools besieged by proselytizing organizations," according to its website.
Naval Academy Midshipmen Seeking Temple for Satanic Services on Campus | U.S.