Naval Appeals Court Overturns Marine Colonel's Child Sex Abuse Conviction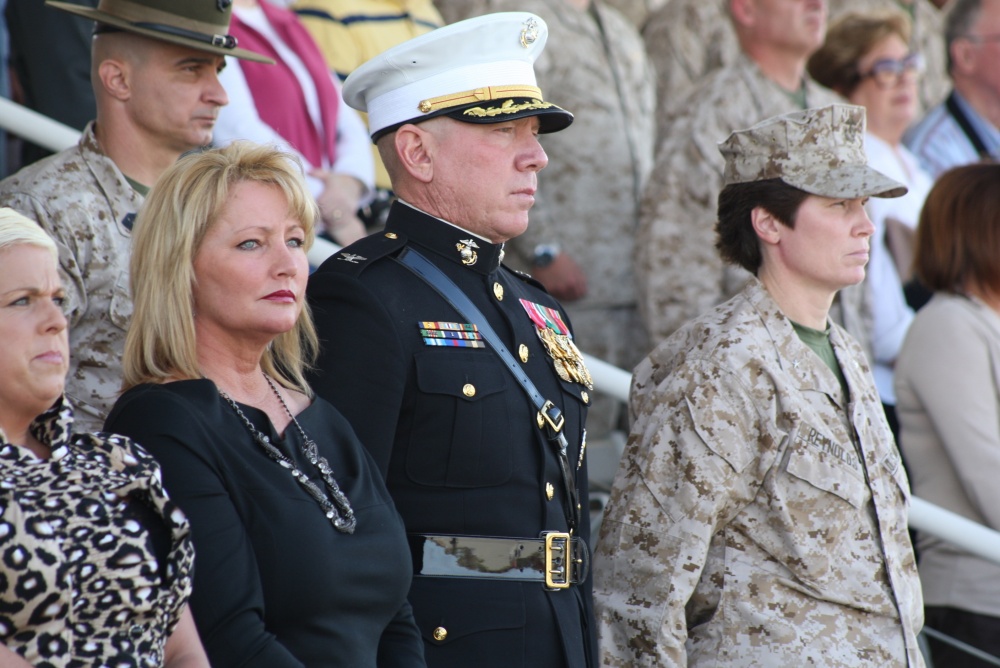 A Naval appeals court overturned a U.S. Marine officer's child sex abuse conviction, siding with defense attorneys that the verdict, handed down in late 2017, was "legally and factually insufficient" due to issues with the child victim's testimony and lack of corroborating eyewitnesses.
The decision drew criticism Tuesday from U.S. military advocacy groups who said the ruling was indicative of a broken military justice system in need of congressional reform at a time when sexual assault across the services is on the rise. You can read the court's opinion at the bottom of this article.
U.S. Marine Colonel Daniel H. Wilson, 58, had been convicted of one specification of sexual abuse of a child on multiple occasions between June and July 2016. The alleged victim was 6 years old and the daughter of a Marine officer; junior in rank to Wilson.
The Marines removed Wilson from his position as the operations officer for II Marine Expeditionary Force when he initially was charged in late 2016.
However, a panel of three judges assigned to the U.S. Navy and Marine Corps Court of Criminal Appeals unanimously dismissed, with prejudice, Wilson's single charge of child sexual abuse. The "with prejudice" ruling means Wilson will not be charged for violations of the Uniform Code of Military Justice he faced in his original trial back in 2017. Task and Purpose, a military and veteran-focused digital media company first reported the appellate decision.
"Colonel Wilson is relieved and grateful that his innocence has been established through the appellate process," said Katie Cherkasky, Wilson's attorney, in an email to Newsweek on Wednesday. "He has maintained faith in the military justice system throughout this extended process and honestly believed that a neutral review of the case by the appellate court would clear his name."
A jury of officers—four generals and three colonels—sentenced Wilson to five-and-a-half years in prison and to be dismissed from service and register as a sex offender during his general court-martial, held at U.S. Marine Corps Base Camp Lejeune in North Carolina on September 10, 2017. For a conviction on any of the 24 specifications Wilson was charged with initially, at least five of the seven jury members had to agree on a guilty finding.
After a 10-day trial and eight hours of deliberation, the U.S. military officers found Wilson guilty on eight of the original 24 specific charges. He was acquitted of the most severe charge of child rape; including licking and striking the alleged victim's twin sister; and offering alcohol to the two twin sisters and their older sibling, who was 10 years old at the time, according to the court filing. Wilson was also cleared of a second alleged sexual assault upon an adult woman, according to previous reporting by this reporter for The Daily Beast.
U.S. Navy Commander and Senior Judge Angela J. Tang wrote the court's opinion on Monday and said, "In sum, the government presented no physical evidence and no corroborating eyewitnesses who saw or heard signs of abuse" and that the alleged victim's "statements are the only evidence of the appellant's guilt."
The court called into question inconsistencies in the testimony from the 6-year-old child, arguing that her statements were not, "consistent about the type of contact she alleged the appellant [Wilson] made with her body," and that despite her young age, she "was capable of providing a narrative clearly describing her abuse but did not."
Adrian Perry, the mother of the children, who has publicly spoken to Newsweek and other publications about the case since the September 2017 conviction, testified that her daughter told her Wilson allegedly, "rubbed her vaginal area." However, Senior Judge Tang wrote that the alleged victim "never made that disclosure" at trial or during a forensic interview on July 14, 2016.
The court said that it could not determine the manner of how the alleged victim "contends the appellant touched her, when he did so, or how many times she contends the abuse occurred." During the forensic interview and later at trial, the child said the alleged abuse occurred on a single occasion, but when asked a third time, she answered, "Maybe like six times,' according to details in the court's opinion.
Tang wrote that the court could not determine if the alleged victim meant she had sat on Wilson's lap or was "inappropriately touched" six times. The court noted the question was "so poorly worded as to make it impossible to know, with certainty," what the young girl intended to say.
The court also explained that expert testimony from both the prosecution and defense "acknowledged that children are susceptible to suggestion and that they are capable of believing events happened that did not happen."
Don Christensen, retired U.S. Air Force colonel and president of Protect Our Defenders—a nonprofit organization and advocacy group for victims of sexual assault in the military—told Newsweek in an email on Wednesday that the court's decision was "obviously devastating news."
"The decision is extremely disappointing and highlights the absurdity of the military justice system," said Christensen. "Few if any civilian appellate courts have the ability to substitute their judgment for that of the trial court. The civilian justice systems understand that the persons who actually heard the witnesses testify are the only ones who should judge the credibility of witnesses, not appellate judges."
In celebrating the legal win on their podcast, Legally Bound, on Monday, Cherkasky and her husband, Andrew Cherkasky, who is also a lawyer and U.S. Air Force veteran, agreed with Christensen on the distinction between civilian appellate courts and appeals courts in the Defense Department.
"In the regular criminal justice system, appeal courts don't really have the autonomy to say, 'You know what? The jury got this wrong, there is actually doubt of this individual's guilt, so we must overturn it,'" explained Andrew Cherkasky. "The military has this specific exception to review the case for what's called 'factual sufficiency'—are there enough facts to essentially give the jury or judge enough grounds to have found the person guilty beyond a reasonable doubt."
Andrew Cherkasky added that it's "extremely rare" to have a U.S. military appeals court overturn a jury verdict and that it only happens every three to four years, comparing it to the Chicago Cubs winning the World Series after multiple decades.
Christensen told Newsweek he believes an appellate court should limit its review to legal errors and not second guess the verdicts of the trial courts.
"Unfortunately, Congress empowered the military courts to do exactly that. Wilson's convictions were not overturned because of legal error," added Christensen. "Instead, it's because three O-5 judges thought they knew better than the general officers who actually heard the victim testify and judged her credible. A small child is paying the price for their hubris."
While the conviction of the child sex abuse has been overturned, the government has 30 days from July 1 to file a motion asking the appeals court to reconsider Monday's opinion. The government also has 60 days to decide if it wants to petition the Court of Appeals for the Armed Forces (CAAF)—the highest appeals court for the U.S. military—but that court is limited to reviewing cases dealing directly with the law.
"The government can ask for reconsideration en banc by the service court," Christensen told Newsweek, referring to a reconsideration by all the judges, not just a small panel, "but it is basically impossible to appeal a factual sufficiency finding to CAAF."
If neither option is taken at the end of the 60-day period, the case will return to II Marine Expeditionary Force at Camp Lejeune for a rehearing on Wilson's previous convictions.
The colonel was found guilty in September 2017 of six counts of conduct unbecoming an officer and a gentleman. The charges stem from when he served as the officer in charge of Marine Corps Rotational Forces in Darwin, Australia, in February 2016 before transferring to II Marine Expeditionary Force, according to the court filing.
In November 2017, two months after Wilson was sentenced, Military.com obtained a Marine Corps Inspector General's report that faulted Marine Lieutenant General Lawrence Nicholson, the commanding general of III Marine Expeditionary Force, out of Okinawa, Japan, for failing to investigate Wilson's actions in Australia thoroughly.
Wilson was also originally convicted of being absent without leave, which stems from a trip he took to Beaufort, South Carolina, with his wife and their mutual friend. The trip occurred two months after he was removed from his position at Camp Lejeune and charged with child sexual abuse, according to The Daily Beast.
The couple's friend later accused Wilson of multiple instances of alleged sexual assault upon her during the trip and at Camp Lejeune, but Wilson was acquitted of those alleged offenses, except for the absent without leave violation, according to the court opinion.
"It is too early to speculate about whether he will be sentenced on the remaining minor allegations or whether they will be dismissed and handled administratively," Katie Cherkasky told Newsweek. "He has certainly already served more than he would realistically be facing at a new trial. Colonel Wilson hopes the convening authority recognizes the tremendous punishment he has already suffered and dismisses the remaining charges."
Phillip Stackhouse, who was Wilson's attorney at his original trial, said that after his 36 years of service, his pension was worth more than $5 million, according to The Daily Beast.
With the conviction tossed out and a potential retrial pending, Wilson may have the option to pursue his military retirement with benefits and would likely receive back pay for the nearly two years he spent in confinement, Stackhouse told Military.com on Tuesday.
In July 2018, Protect Our Defenders filed a lawsuit against the U.S. government seeking $25 million for the damages on behalf of the Perry family stemming from the original conviction of Wilson, according to previous Newsweek reporting.
It's unclear where the lawsuit stands with the overturned conviction from the appeals court. Christensen said the Perry family was exploring their options. On Friday, Adrian Perry sent the following statement to Newsweek: "The power of prayer is more powerful than any court of law. With that said, we are calling upon all prayer warriors to pray over our child and our family."
When asked if Wilson was considering filing his own civil suit, Katie Cherkasky said he is not contemplating civil legal actions at this time.
"Colonel Wilson is focused on getting released from the brig and reuniting with his family," she said.
Wilson remains confined to the brig at Marine Corps Base Camp Pendleton in California.
Editor's Note: As a U.S. Marine, Newsweek staff writer James LaPorta served under the command of Colonel Daniel H. Wilson for a year but did not work directly for him.