Alexei Navalny: Jailed Russian Opposition Leader May Have Been Poisoned With 'Undefined Chemical'
Kremlin foe Alexei Navalny is being treated in hospital for what his doctor has described as the effects of an "unknown chemical substance."
The opposition leader had been jailed for 30 days after he called for an unsanctioned protest in Moscow last Saturday during which more than 1,000 people were detained by police.
Navalny was hospitalized after he suffered from skin rashes and facial swelling in what his spokeswoman Kira Yarmysh had initially described on Twitter as a "severe allergic reaction."
However his attending physician, Anastasia Vasilyeva posted on Facebook that she could not rule out that he had been poisoned.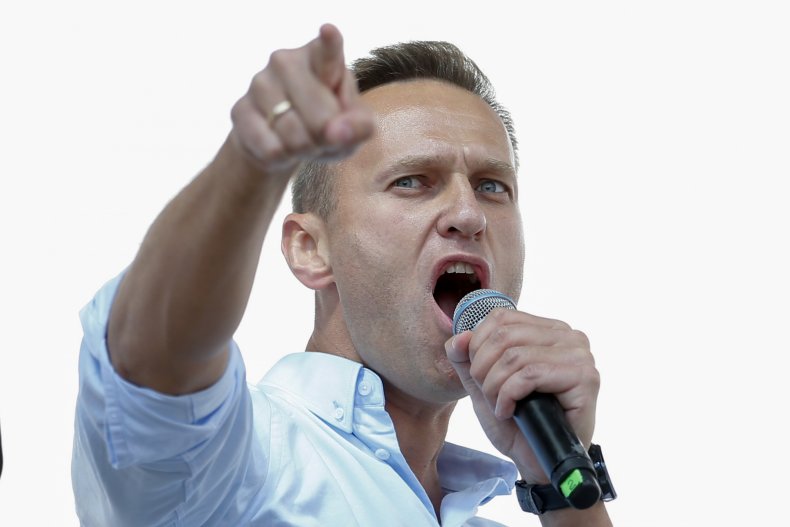 In a lengthy post in Russian, she said that Navalny had "never had any allergy" and said he had a rash on his upper body, skin lesions, and discharge from his eye.
She said what she had seen of him through a door could not rule out the possibility that he had been poisoned, adding that it was suspicious that Russian authorities did not allow her to carry out a proper examination.
"We cannot rule out toxic damage to the skin and mucous membranes being caused by an unknown chemical substance with the help of a 'third party.'"
"To verify this, we strongly recommend that law enforcement agencies carry out a chemical examination of Navalny's bedding, and the doctors would need to immediately take skin and hair samples."
"We are afraid of the delayed effects of any damage," she added.
Navalny has become renowned as an anti-corruption campaigner, with a YouTube channel viewed by millions, which outlines the greed and corruption of top Russian officials.
He has been jailed numerous times, and his sentence in 2017 for embezzlement, a charges he says was politically motivated, prevented him from running in the 2018 election.
In 2017, he was twice splashed in the eye with an antiseptic green dye.
The plight of such a thorn in the side of the Kremlin has drawn parallels with others who have opposed President Vladimir Putin, such as Boris Nemtsov who was shot dead near Red Square in 2015.
Saturday's protests saw thousands take to the streets demanding free and fair elections.
The actions were in response to Russian authorities banning independent and opposition candidates from taking part in municipal elections in September because they allegedly did not have enough signatures.
Opposition politicians and supporters have disputed this, CNN reported.
Alexei Navalny: Jailed Russian Opposition Leader May Have Been Poisoned With 'Undefined Chemical' | World