Navy Bombing Range's Massive Expansion Could Have 'Significant Effects' on Nevada's Wildlife and Irreplaceable Cultural Resources
The U.S. Navy has finalized its environmental impact report for the proposed expansion of the Fallon Range Training Complex, a bombing training ground in Nevada—expansion critics say could have "significant effects" on the state's wildlife and cultural resources.
The project is now undergoing a 30-day wait period where members of the public can submit comments.
The final environmental impact (EIS) statement outlines three alternative plans (as well as a no-action alternative), which propose expanding the base and increasing the amount of land controlled by the Navy from 232,000 acres (approximately 360 square miles).
Under its preferred scenario outlined in the document, the Navy would request up to 602,216 acres of added federal land for a term of 25 years, more than tripling its current size.
The Navy argues expansion of its "premier aviation training range" is "critical for defending and securing the United States and its interests abroad," saying newer aircraft models require more training space.
Conservationists worry it will have significant effects on the land, as well as the wildlife and cultural sites found there.
"The Navy's land grab would have significant effects on public lands, wildlife, and irreplaceable cultural resources," Patrick Donnelly, the Nevada Director for the Center for Biological Diversity, told Newsweek.
"The military already drops bombs on millions of acres across our state, and Nevadans have said enough is enough. We oppose any seizure of our public lands by the military."
One of the issues concerning conservationists is the effect expansion could have on migratory birds like the long-billed dowitcher and black-necked stilt, who regularly stop off at the Stillwater National Wildlife Refuge in north-central Nevada, 60 miles east of Reno, on their migrations. According to Stillwater National Wildlife Refuge, over 280 species have been spotted in the area.
"Increased combat training would threaten migratory birds and imperiled species like greater sage-grouse that depend on Stillwater National Wildlife Refuge for breeding and nesting," Mark Salvo, Vice President for the Landscape Conservation team at Defenders of Wildlife, told Newsweek.
According to the National Audubon Society, the greater sage-grouse was once a common sight across 13 western U.S. states and three Canadian provinces. However, a combination of factors, including agricultural and industrial development and climate change, have drastically cut the species' historic range. According to the World Wildlife Fund, the greater sage-grouse can only be found in half the land it used to inhabit.
Donnelly says breeding grounds could be further threatened by noise from an increased number of overflights.
The Navy's attempts to address these concern includes a proposal to fund a study led by the Nevada Department of Wildlife, with Navy co-operation, monitoring the effect of aircraft overflights on greater sage-grouse behavior during their annual mating congregation each spring.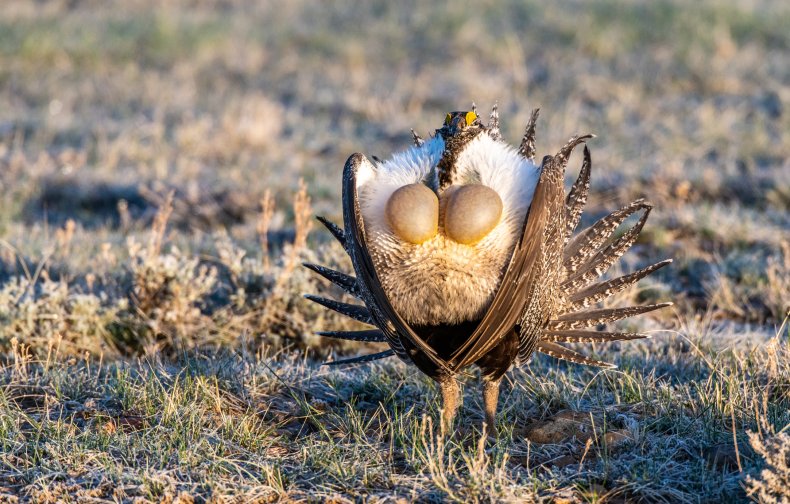 Another concern has been cultural sites belonging to the Fallon Paiute-Shoshone Tribe, including their access to ancestral lands. These are issues that the report acknowledges may be significantly impacted.
"After discussions with interested Indian Tribes, the Navy acknowledges that there is a potential for significant impacts to access under all action alternatives," the report reads.
"The discussion of Public Accessibility-related impacts in the Final EIS has been revised to indicate that impacts to tribal access to cultural resources may be significant."
Democratic presidential candidate Elizabeth Warren has raised objections to the way the proposal has been handled, saying the Navy failed to consult or collaborate with the tribe, who expressed concerns about the plans.
"That's unacceptable. As president, I'll seek Tribal Nations' free, prior, informed consent for decisions affecting their lands," she said.
The tribe released a statement in opposition to the project in May 2019, stating that the expansion threatens to cause additional damage to ancestral lands and sites of cultural importance.
"The military's proposed expansion is huge and could affect both wildlife and national wildlife refuges in the area, as well as public access and enjoyment of these resources," said Salvo.
"Legislative renewal of the Fallon Range must account, and mitigate, for these impacts through operational restrictions and additional protection for wildlife habitat on the public lands withdrawn for military use."
The Navy has scheduled a public meeting in Fallon on January 28.
Newsweek has contacted the Navy for comment.
Navy Bombing Range's Massive Expansion Could Have 'Significant Effects' on Nevada's Wildlife and Irreplaceable Cultural Resources | U.S.