Navy Charges Sailor in Multi-Day USS Bonhomme Richard Fire
The U.S. Navy has charged a sailor for allegedly starting a massive fire aboard the USS Bonhomme Richard last year.
A fire raged for four days and effectively destroyed the amphibious assault ship in July 2020. The Bonhomme Richard was decommissioned after it was determined that repairing the substantial damage caused by the fire would have taken up to seven years and cost over $3 billion. The Navy said that an unnamed sailor, a member of the ship's crew, had been charged with starting the blaze on Thursday.
"On July 29, charges under the Uniform Code of Military Justice were brought forth against a Navy Sailor in response to evidence found during the criminal investigation into the fire started on USS Bonhomme Richard (LHD 6) on July 12, 2020," Navy Cmdr. Sean Robertson, spokesperson for the 3rd Fleet, said in a statement obtained by Newsweek.
"Evidence collected during the investigation is sufficient to direct a preliminary hearing in accordance with due process under the military justice system," added Robertson. "The Sailor was a member of Bonhomme Richard's crew at the time and is accused of starting the fire."
Vice Adm. Steve Koehler, the commander of the 3rd Fleet, is considering bringing court-martial charges against the sailor and has ordered a preliminary hearing that Robertson said would determine "whether or not there is probable cause to believe an offense has been committed and to offer a recommendation as to the disposition of the case."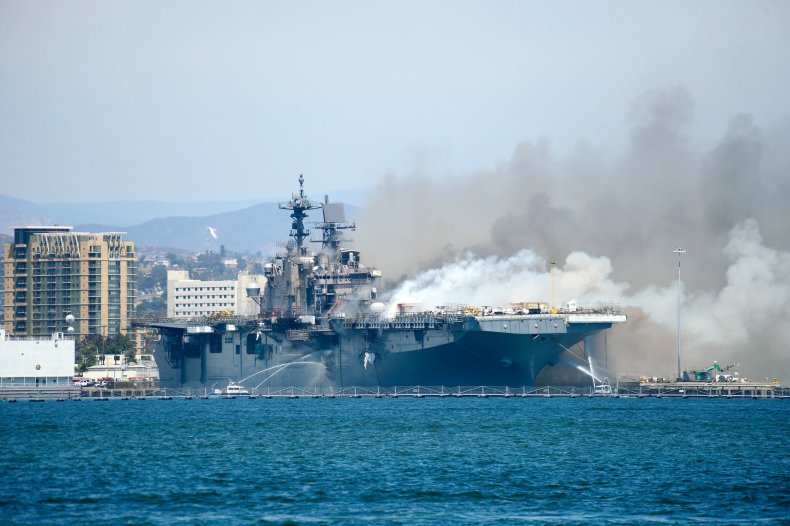 Reports of a crew member being questioned on suspicion of arson first emerged last August. Although Navy officials declined to comment publicly at the time, a senior defense official told The Associated Press that an investigation had been launched by the Naval Criminal Investigative Service and the Bureau of Alcohol, Tobacco, Firearms and Explosives.
The sailor implicated on Thursday was charged with aggravated arson and hazarding of a vessel or aircraft, both violations of the Uniform Code of Military Justice, Robertson told The Navy Times. Robertson declined to comment when asked by the outlet whether the sailor was the same person mentioned in last year's Associated Press report.
The results of Navy investigations into the cause of the fire have not yet been released publicly. The ship, which was over 800 feet long and acted as a carrier for launching assault helicopters and fighter planes, burned while it was docked for maintenance at its homeport of Naval Base San Diego last year.
About 160 out of 1,000 crew members were aboard the Bonhomme Richard when the fire started. Although no life-threatening injuries resulted from the blaze, dozens of people were treated for smoke inhalation and other minor injuries.