Navy Continues to Track UFOs as Area 51 Raid Still Looms
The U.S. Navy last week acknowledged it has been tracking "unidentified aerial phenomena" from footage captured by its own pilots over the last 15 years. This comes as Area 51 Raid memes for this weekend loom and nearly two million people pledged to attend.
A report in the San Diego Union-Tribune on Tuesday stated video recorded by Navy pilots in both 2004 and 2015 is being studied for objects that are real, yet still unidentified. A total of three videos are being studied — a 2004 clip off the coast of San Diego and another in 2015 over the Atlantic Ocean.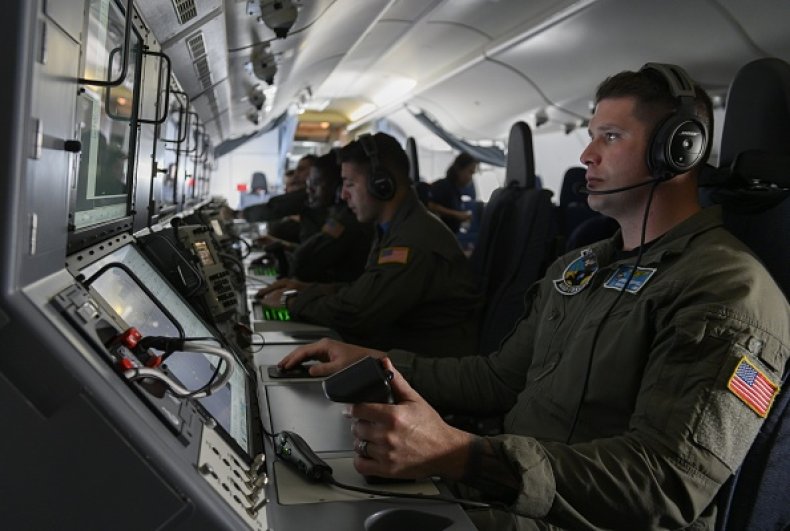 The videos were obtained by The Black Vault, which first published the declassified government documents. A Navy spokesperson said they have "no descriptions, hypothesis of conclusions" about videos captured by its pilots. The videos show small aircraft zooming by and maneuvering at high speeds.
The three videos released on YouTube are called: "FLIR1," "Gimbal" and "Go Fast." Former Blink-182 singer Tom DeLonge published these declassified videos on behalf of his organization, To the Stars Academy Arts and Science, which explores phenomena believed to be alien in nature.
This first video was reportedly taken aboard a Navy F/A-18 Super Hornet that captured infrared footage of an unidentified flying object, and the pilots can be overheard with an excitement of seeing something whiz by them so fast.
The second video is from the USS Nimitz in 2004 and later released, showing the study parameters in the video, and the light captured in the frame zoom quickly to the left and out of frame.
The third video shows a flying object captured on video, with pilots talking to each other about how the object just rotates, and that there were a fleet of them.
The report from the San Diego newspaper comes as an event called Alienstock was originally scheduled to happen this Friday, Sept. 20, at Area 51 in Nevada. It started as a Facebook joke, and a cult following quickly swelled to more than two million followers.
Area 51 is a classified defense site, according to the U.S. Air Force, and the event has supposedly been cancelled. But that hasn't stopped the government from banning all flights above the area, according to Popular Mechanics.
The Federal Aviation Administration has banned all aircraft from flying above areas west and south of Rachel, Nevada, from Sept. 18-23, or Wednesday through Monday.
Although Area 51 is designated as a test and training range for the Air Force, many believe secrets lie in the restricted area.
The chart below, provided by Statista, shows the relative levels of belief in Area 51 conspiracies by political affiliation.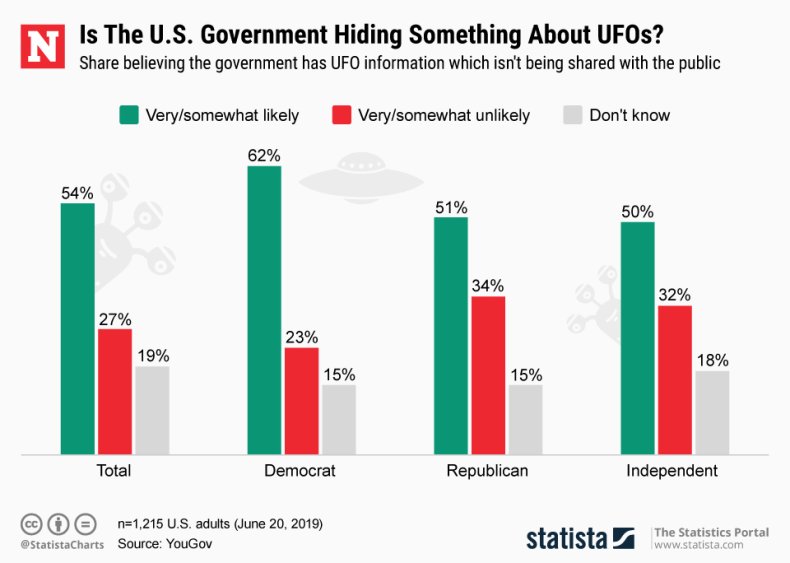 Many people have still made plans to attend the region this weekend, despite the Area 51 raid supposedly shut down.
Whether or not people show up in Nevada, the Navy is still trying to figure out what it captured in the skies on separate parts of the country.