Navy Head Wants More Diverse Service, Will Change Recruitment Techniques
Chief of Naval Operations Admiral Michael Gilday is striving to make the U.S. Navy the most diverse military service of the 21st Century by changing the way recruitment is handled.
Gilday said at the State of the Navy event on Thursday that his goal is to "put the Navy in a place over the next 20 years where we're the most diverse service in the DOD."
"I think it's going to be a long-term effort to get us where we need to be with respect to a diverse force," Gilday said. "And where, you know, we ultimately have a force where respect is part of everybody's DNA, right?"
Gilday said that the ultimate goal is for the Navy to "respect diversity" in relation to both "racial and gender diversity" and "experience and varied backgrounds." Gilday believes that this can only be achieved through intentional, competitive recruitment.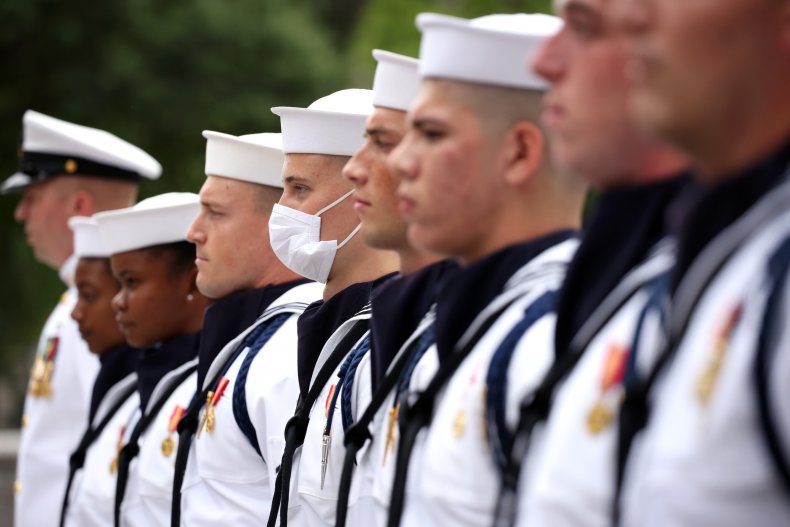 "I think that if organizations don't have that mindset, they're not going to be competitive in this century," Gilday added.
Gilday echoed the same sentiments in the February 2020 Task Force One Navy Report, which focuses on the capitalization of "mentorship, advocacy and accountability" to address inequality and bias that exists within the ranks.
"As a Navy—uniform and civilian, active and reserve—we cannot tolerate discrimination of any kind, and must engage in open and honest conversations with each other and take action," Gilday said in the report. "That is why we stood up 'Task Force One Navy'—to identify and remove racial barriers, improve inclusion efforts, create new opportunities for professional development, and eliminate obstacles to enter the Navy."
The report contained more than 50 recommendations to foster diversity and inclusion in the service, in areas like talent management, retention and professional development.
It also advised the Navy to consider the structure that's currently in place for "promotions, dealing, and milestone job opportunities," as well as "expanding the diversity data included in selection board records to garner transparency."
Currently, more than 41 percent of enlisted sailors are people of color, according to the Department of Defense figures from 2019. These sailors make up nearly 23 percent of Naval officers, which is the highest ratio of all military branches.
Black male and Black female enlisted members make up a higher percentage than what is currently represented in the civilian workforce of 18-to-44 year-olds, based on 2018 numbers from the undersecretary of defense. White, Asian and Hispanic enlisted recruits represent a smaller percentage than in the workforce.
Newsweek reached out to the U.S. Navy for comment but did not receive a response in time for publication.