Navy Fights Inside War to Purge Extremists from Ranks, Push for Diversity
The U.S. Navy is pushing to purge its ranks of extremist ideologies and diversify its ranks, according to a new official report.
Released less than a month after the deadly Capitol riot showcased problematic ties between largely white anti-government groups and former members of the military, the report contains dozens of recommendations for attracting people of color as recruits, and to make them feel more welcome and accepted when they serve.
Roughly 20% of the people arrested for their involvement in the Jan. 6 storming of the Capitol were military veterans. Chief of Naval Personnel Vice Admiral John Nowell, Jr., who helped author the Navy Task Force One report, said the Navy is taking a zero-tolerance approach to those harboring radical beliefs, which he said go against the culture of equality the service seeks to foster.
"The Navy does not and will not tolerate supremacist or extremist conduct," Nowell told Newsweek. "Discrimination of any kind, for any reason, goes against the Navy's core values and will not be tolerated. Sailors participating in supremacist or extremist activities are acting in direct contradiction to the professionalism standards we expect Sailors to follow."
Any individuals found to be in violation of these principles upon investigation "will be held accountable," he said.
In an effort to shore up the internal war on domestic extremism, the Navy's Task Force One issued 56 recommendations as part of a 142-page report released last week. The goal, according to the authors, was to "analyze and evaluate issues in our society and military that detract from Navy readiness, such as racism, sexism and other structural and interpersonal biases."
The intent was to then implement reforms based on the findings.
As Defense Secretary Lloyd Austin, the first Black Pentagon chief, institutes a 60-day standdown to address the insider threat of extremism throughout the armed services, former personnel say these changes are both badly needed and long overdue.
"You know what, you're gonna have to make a determination whether you truly believe in the Navy core values of honor, courage, commitment," Malcolm Nance, a counter-terrorism specialist, author and retired U.S. Navy senior chief petty officer, told Newsweek.
Nance recounted the experiences of female family members who served and suffered sexual harassment to the point of becoming nearly incapacitated. He also recalled facing instances of racism during his own years of service, a phenomenon still apparent today, as evidenced in recent reports of a noose placed at a Black sailor's rack on the guided-missile cruiser USS Lake Champlain stationed in San Diego.
Nance said such dangerous ideologies have no place in the Navy, especially if they evolve into threats of violence toward others based on race, gender, sexuality or other factors.
"We don't have space or time for these people," he said. "Ships cannot fight if a man is afraid that one of his shipmates might kill him instead of a cruise missile or sea mine that their vessel may have."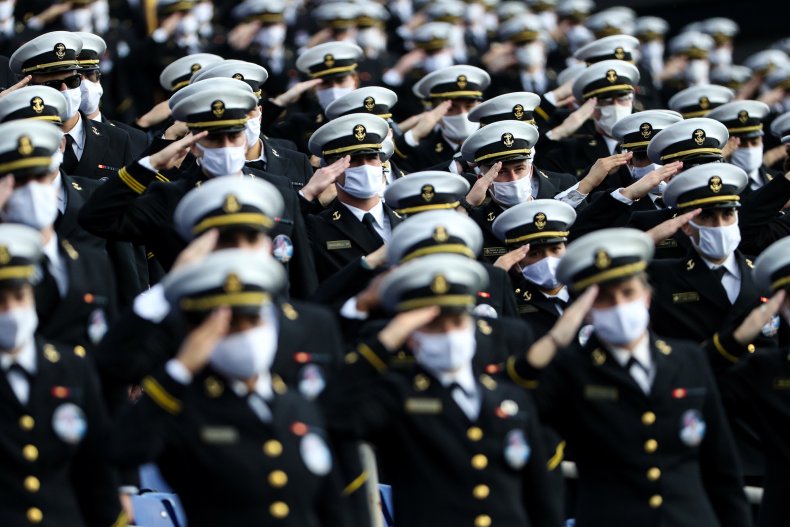 The roots of bigotry, sexism and other abusive behaviors run deep in the United States, and, as might be expected, through its armed forces. Nance was joined by Tashandra Poullard, a Navy veteran who serves today as owner and CEO of House of Virgo Entertainment, in discussing the difficulty of eliminating undesirable trends without first answering systemic questions about the institutions they inhabit.
"The military must start working diligently to vet men and women who demonstrate racist, sexist, and xenophobic views that are relatively close to white supremacist logic," Poullard told Newsweek. "This includes background checks, social media scrubs, and if needed, a lie detector test."
She warned of "white supremacist 'ghost skins'" who have infiltrated both military and law enforcement circles with hidden agendas, such as learning potentially deadly skills.
"There are aspects of military training that appeal to white supremacist groups," Poullard said. "Learning how to kill in close-quarters combat makes them more effective members in a white nationalist army. It assists in preparation for a race war."
Spotting words and actions that serve such ulterior motives may be easy for some. But for many, these potential red flags go unnoticed, giving these ideas time and room to develop and spread.
Kristin Beck also witnessed abuses in her 20 years of service in the Navy SEALs before coming out as a trans woman in 2013, making her the first former Navy SEAL to do so.
Looking back, she told Newsweek she saw the prevalence of such hateful mentalities and the development of extremist mindsets as "two sides of the same coin" in the Navy.
"They're together," she said.
Beck viewed the recent report as helpful if the fight to root out extremism because it would educate senior officers on how to identify it. She used an example from her days of training, when her unit would test the crews of friendly ships by attempting to swim up and board the vessels during a pre-designated timeframe in the middle of the night.
"We would swim up on these ships, and the lookouts would never see us," Beck said. "And we didn't need scuba gear, we didn't need anything, we just swam, because they don't know what it looks like to see a head at 3 o'clock in the morning, and what it looks like with the way that water looks, and have anybody in that water coming toward you."
She said that certain toxic cultures are allowed to fester within the Navy in the same fashion, by taking advantage of a blindspot.
"If you've never seen these over 50 things, you will never recognize them, so you can never confront them and try to make it better," Beck said.
In her scenario, once the lookouts were given guidance on how to identify the incoming threat, they were able to successfully defend the ship. She hopes the planned Navy reforms will offer a similar benefit for the service.
"Now in the future, they're never gonna be able to sneak up on you," she told Newsweek. "Now you know what it looks like."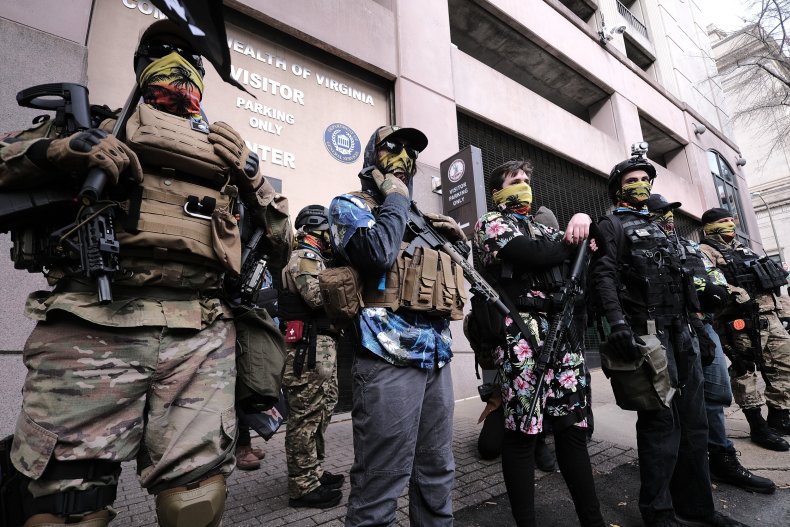 Reshaping the service is also a matter of national security. Arizona Rep. Ruben Gallego, who served as a Marine corporal in the U.S.-led war in Iraq, discussed the importance of inclusivity.
"I think we're having a cultural change in terms of who is in the military, and who's going to be leading the military in the future," Gallego told Newsweek. "I think we have to be more diverse, because that's where the pool of people that we can get to actually join the military is coming from in the future, and also, just, the future is young and brown."
If the U.S. military fails to recruit new generations, "then we're going to have a national security problem," Gallego said.
This evolution is arriving in parallel with another high-stakes transformation affecting the U.S. military. New bodies and minds are needed to challenge a new foe, China, which Gallego sees as the top priority for the Pentagon.
"I think we are moving into a situation where our only near-peer adversary really is going to be China, and containing their ambitions is going to have to be something that we need to look at," Gallego said. "Part of that is the fact that China's a bigger threat than Russia, because China's whole-of-government approach is dangerous to us."
Beijing has made public overtures aimed at improving ties with Washington, especially after relations soured under former President Donald Trump. As President Joe Biden dedicates his first weeks in office to recalibrating many of his predecessor's policies, and trying to tackle domestic extremism, the new White House has been eager to be seen as tough on China.
But whether the threat is from abroad or within, the Navy has emphasized the need to revisit its approach to ensure it is prepared by routing out harmful elements while striving to cultivate an environment conducive to potential recruits of all backgrounds.
"It's all about war-fighting readiness," Nowell told Newsweek. "We know that diverse teams that are led inclusively will perform better. We have got to have the best team possible and that means we've got to have that diversity."