Navy Kicks Out Alleged Recruiter for Neo-Nazi Group Atomwaffen Division After Investigation
The U.S. Navy has tossed out a man suspected of recruiting for the Atomwaffen Division, a neo-Nazi terrorist network that has been connected to numerous murders and planned terrorist attacks.
Until Friday, David Cole Tarkington served as a naval aviation machinist mate's apprentice with Strike Fighter Squadron VFA-41 ("Black Aces") in Lemoore, California. Enlisting in July 2019, he worked on aircraft engines, propellers and other technical duties.
However, a March 12 investigative feature published by the science and technology publication Gizmodoidentified Tarkington as a "prolific Atomwaffen recruiter who is now a sailor in the U.S. Navy." Tarkington allegedly tried to recruit 12 other users into Atomwaffen using Iron March, a white supremacist forum that went defunct in 2017. He posted 224 messages and 377 posts on the site.
The site's slogan was "Gas The [K-word]s! Race War Now! 1488! Boots on the ground!" The "K-word" in question is a slur for Jewish people. The number "1488" is shorthand for the "14 Words"—the white supremacist slogan, "We must secure the existence of our people and a future for white children"—and 88 stands for "Heil Hitler" (H being the 8th letter of the alphabet), according to the Anti-Defamation League.
During his three years on the site, Tarkington allegedly recruited John Cameron Denton, a man who went by the online handle "Rape," into Atomwaffen. Denton was arrested in Montgomery, Texas last month for allegedly plotting to trick armed police into "swatting" the homes of journalists investigating Atomwaffen. Swatting is used to intimidate and even kill people by reporting them as armed and dangerous individuals to unwitting police squads.
Using the forum, Tarkington is said to have also contacted Christopher Lythgoe, a representative of National Action, a far-right fascist terrorist group in the U.K. which was classified as a terrorist organization in late 2016. Tarkington reportedly wanted their groups to collaborate and recruit new members together. Lythgoe was later imprisoned in connection to a National Action plot to assassinate a police officer and member of British parliament.
On Iron March, Tarkington allegedly posted under the screen name "The Yank" and revealed few personal details. However, when the now-defunct site's archives were leaked on the Internet Archive last year by an anonymous individual using the screen name "antifa-data," the leak included every registered user's email address.
Tarkington's email address was used to locate his Skype and social media profiles. Photographs of himself on social media resembled images that "The Yank" had posted of himself doing the "Sieg Heil" salute in front of a Jewish monument in 2014.
Naval Cmdr. Ron Flanders, a spokesman for Naval Air Forces, said that Tarkington was investigated but refused to comment about the nature of Tarkington's dismissal. "His separation was administrative in nature, and I am not able to go into details," he said.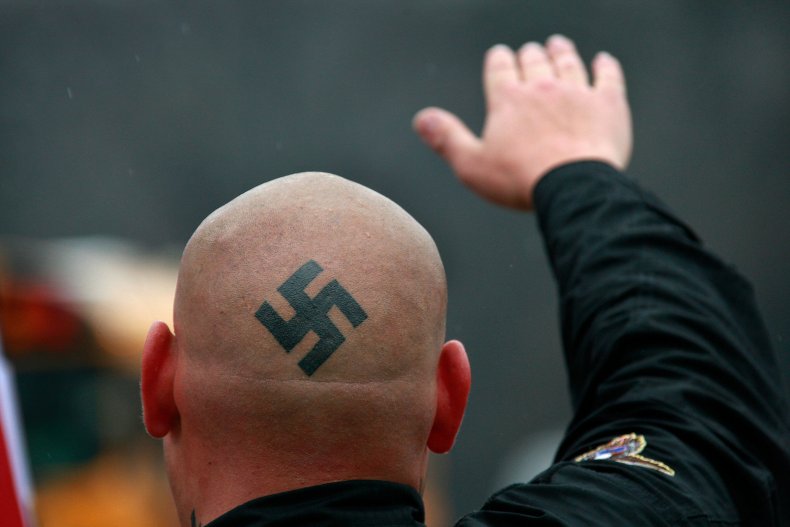 The Atomwaffen Division advocates for the end of multiracial society through acts of mass violence and terrorism by independent cells of white supremacists. The group reportedly has 20 cells around the U.S. and an estimated 80 members full members as well as a larger pool of potential "initiates." Their recruitment videos on YouTube show members firing weapons and setting fire to the U.S. flag and Constitution.
The Southern Poverty Law Center's Lecia Brooks said in a February 2020 Congressional hearing that at least seven Atomwaffen members have military service records that "significantly [increases] the group's potential to carry out deadly attacks."
However, Air Force, Navy, and Army leader told members of Congress during the same hearing that active participation in white supremacist organizations forms grounds for investigation, but not necessarily for discharge.
In January 2018, Atomwaffen member Samuel Woodward, a 20-year-old student at the University of Pennsylvania, murdered Blaze Bernstein, a 19-year-old gay and Jewish sophomore, by stabbing him 20 times and dumping him in a shallow grave. Four U.S. white supremacists with ties to Atomwaffen were arrested in February for plotting to intimidate journalists and activists.
Various Atomwaffen members around the world have also been arrested for illegally possessing firearms and plotting terrorist attacks.