The U.S. Navy Chief of Information on Saturday moved to properly recognize a "heroic" Black World War II sailor for swimming through the night for hours to save 15 wounded sailors.
On September 5, 1942, U.S. Navy Petty Officer First Class Charles Jackson French navigated through shark-infested waters with a rope around his waist, towing 15 wounded sailors to safety from the USS Gregory after it was bombed by the Japanese navy near Guadalcanal in the Solomon Islands.
At the time, French, of Omaha, Nebraska, was 22 years old and serving as a mess attendant. He died at the age of 37 on November 7, 1956 in San Diego.
Described as "hero of the year" by the African-American newspaper Chicago Defender, French received a royal welcome as he returned to Omaha. The sailor was also awarded a letter of commendation and a Navy Marine Corps Medal.
As in the case of most other Black service members during World War II, French's bravery was not adequately recognized through awards, several U.S. veterans told Newsweek Saturday.
"Too often in our past, service members of color were overlooked despite their fidelity and bravery in the face of overwhelming odds," said Naveed Shah, a U.S. Army veteran and government affairs associate at the organization Common Defense.
Today, as the nation faces a reckoning on systemic racism sparked by the police killings of Black Americans, several former veterans have urged the Navy to posthumously award French with recognitions appropriate to the bravery he demonstrated in 1942.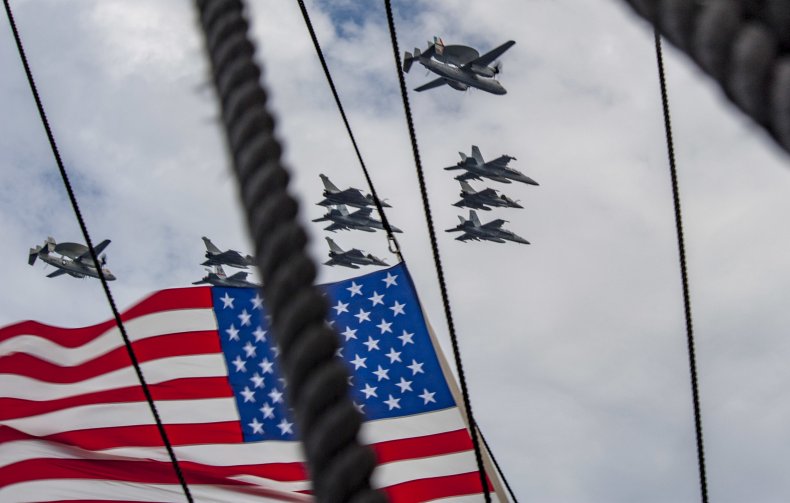 In a tweet, Malcolm Nance, an American author and retired U.S. Navy senior chief petty officer, highlighted French's story and questioned why his act of heroism wasn't adequately recognized by the U.S. Navy.
Rear Admiral Charlie Brown, the Navy public affairs officer, acknowledged Nance's call in a response tweet: "Thanks for highlighting this heroic story, Senior. Will work with @USNavyCNO [the chief of naval operations] & look into whether we can do more to recognize Petty Officer French."
Veterans of color celebrated the move to properly recognize French, with one suggesting that he should receive the Congressional Medal of Honor, America's highest honor.
Shah said he was "glad to see senior Navy leadership looking to right these wrongs today."
"My father was a seaman in World War II and this reconsideration honors every service member regardless of rank or race. Don't listen to my voice, listen to those shipmates whom he saved. His bravery fills me with Navy pride!" Nance told Newsweek.
Lieutenant Commander Ernest Morales III urged Navy officials to award French with the Congressional Medal of Honor.
"There's no time like the present to correct the errors of yesterday's thoughts," he told Newsweek. "French performed valiantly on September 5, 1942 disregarding his own personal safety to help save the lives of 15 wounded shipmates."
Morales' suggestion echoes those of the survivors who French swam for more than two hours without rest to save.
In May 1943, French was awarded a letter of commendation from Admiral William F. Halsey Jr., then-commander of the Southern Pacific Fleet. Disappointed by the accolade, the survivors expressed belief that French deserved the Congressional Medal or at least the Silver Star.
French's "valiant and fearless actions are well-deserving of recognition beyond that of his original award. It is my hope the Secretary of the Navy shares the view and does everything in his power to ensure my Shipmate is appropriately awarded," Travis Akers, a veteran Navy intelligence officer, said in a statement to Newsweek.
When the U.S. entered World War II in 1941, African-American sailors were limited to serving as mess attendants whose main function was to tend to white service members for nearly two decades, according to the Naval History and Heritage Command. It wasn't until 1948 that the entire military was desegregated.
The bravery of heroes such as Doris 'Dorie' Miller, the first Black American to be awarded the Navy Cross, and a surge of political activities eventually forced change. In 1944, the Navy commissioned its first-ever African-American officer.
"It's amazing how service members of color demonstrated heroic acts of bravery only to go unrecognized," Navy veteran Tashandra Poullard told Newsweek, adding that it's important to update the record "so that their stories don't go untold."
Black service members vowed to work harder when the opportunity rose to break the Navy's color barrier. "We were the hopes and aspirations of the blacks in the Navy," veteran William Sylvester White said 30 years later. "What we did or did not do determined whether the program expanded or failed."
Nance said every recruit should be told the story of French at boot camp.
"You think you can't get across that pool? Everybody have a seat? I'm gonna tell you the story of petty officer first class French, a goddamn mess specialist, because that's the only job Blacks could have. He f***ing pulled 15 people in a goddamn life raft. I want to hear you say you can't swim across from the middle of the pool to the end."