Navy to Name Aircraft Carrier in Honor of Doris Miller, First African American to Receive Navy Cross, on MLK Day
The U.S. Navy will name a new aircraft carrier after Mess Attendant 2nd Class Doris Miller, who was the first African American to receive the Navy Cross for valor.
Miller, who received the Navy Cross for his actions on December 7, 1941, when he fired back at Japanese planes by manning a machine gun on the USS West Virginia, will be honored on Monday, Martin Luther King Jr. Day.
Doreen Ravenscroft, president of Cultural Arts of Waco, Texas, and team leader for the Doris Miller Memorial told Star Advertiser: "I think that Doris Miller is an American hero simply because of what he represents as a young man going beyond the call of what's expected.
"Without him really knowing, he actually was a part of the Civil Rights movement because he changed the thinking in the Navy. In the end, the fact that he didn't think about what could be repercussions – that wasn't a thought, when, at the time and in war, he did what was needed in his way to defend the United States of America."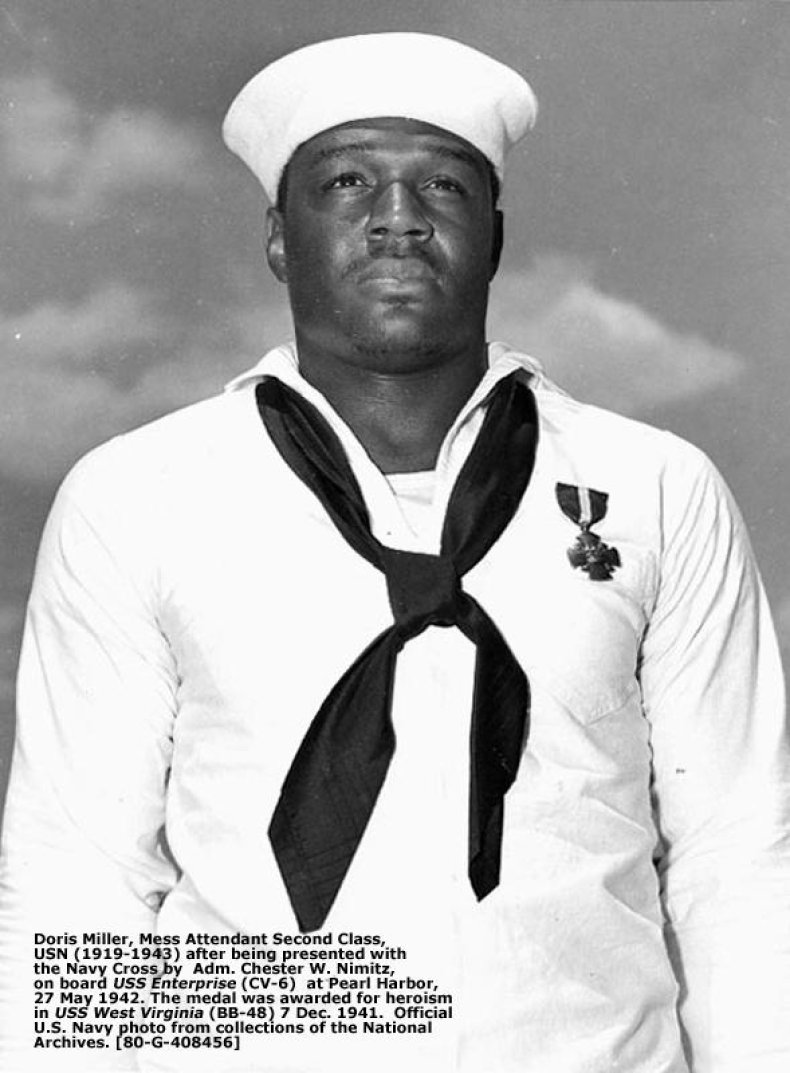 The new aircraft carrier isn't the first time Miller has been honored for his service. The USS Miller was also named in his honor. The ship was commissioned in June 1973, was transferred to the Naval Reserve Force in January 1982, and was decommissioned in October 1991.
On December 7, 1941, Miller heard the alarm and headed for his battle station, to discover it had been damaged. He went up on deck where he carried wounded soldiers to safety before aiding the mortally wounded ship captain.
Miller then manned a 50-cal. Browning anti-aircraft machine gun, which he hadn't been trained to use, to defend the ship against attacking planes.
Miller was born on October 12, 1919, in Waco Texas, and enlisted in the U.S. Navy in 1939. Following the attack on Pearl Harbor, Miller continued to serve in the Navy and was killed in action on November 24, 1943, aged 24, when his ship was torpedoed by a Japanese submarine.
Miller's Navy Cross citation reads: "For distinguished devotion to duty, extraordinary courage and disregard for his own personal safety during the attack on the fleet in Pearl Harbor, Territory of Hawaii, by Japanese forces on December 7, 1941.
"While at the side of his captain on the bridge, Miller, despite enemy strafing and bombing and in the face of a serious fire, assisted in moving his captain, who had been mortally wounded, to a place of greater safety, and later manned and operated a machine gun directed at enemy Japanese attacking aircraft until ordered to leave the bridge."
The National Service celebrates Martin Luther King Jr. Day as "a day on, not a day off" and encourages Americans to volunteer in their communities. MLK Day is the only federal holiday designated as a national day of service and January 20, 2020, is the 25th year Martin Luther King Jr. Day has been celebrated as a day of service.