Navy Officers Behind Viral Sky Penis Joked That It 'Would Be So Funny' Before Investigation, Reprimand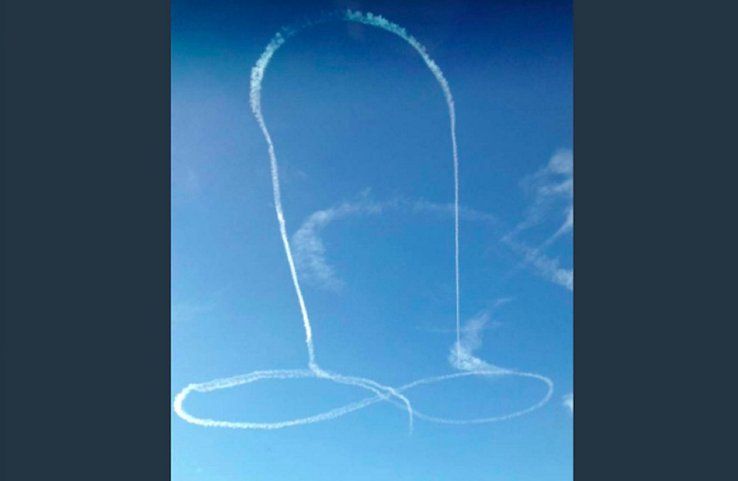 Two U.S. Naval officers who drew a large penis in the sky with their aircraft reportedly thought the prank "would be so funny" before earning a formal rebuke for their actions, according to a newly revealed transcript from the investigation into the 2017 incident.
Although the viral sky drawing over Okanogan County, Washington, drew national and international attention at the time, the military's official investigation report was reported by Navy Times for the first time this week. Two lieutenants with exemplary records prior to the incident were behind the prank, and the investigation detailed their conversations with one another leading up to and during the time they made the infamous sky drawing.
"Draw a giant penis," the pilot's cockpit partner said. "That would be awesome."
"What did you do on your flight?" the pilot joked in response. "Oh, we turned dinosaurs into sky penises."
"Dude, that would be so funny," the pilot added later. "Airliner's coming back on their way into Seattle, just this big f***ing, giant penis."
Their jokes then spiraled into action, but the officers wondered whether the plane's contrails would remain in the sky long enough to pull it off.
After they realized that their prank had worked better than expected, the officers attempted to draw over the giant phallus floating in the sky, but their attempts were unsuccessful. As the aircraft was running low on fuel, they returned to base. Shortly after, superiors approached them for an explanation, telling them they would face repercussions.
And those among the Navy's leadership quickly realized a media storm was on its way.
"Aircrew maneuvered an EA-18G aircraft in a pattern that resulted in contrails depicting an obscene symbol when viewed from the ground," the pilots' squadron wrote in an "official information dispatch" that landed on the desk the Office of the Chief of Naval Operations, according to Navy Times. "Media attention is expected."
The penis drawing was first reported by local television station KREM 2. People in the community sent images of the phallic contrails, complaining about the image floating above their homes. One mother complained that she may have to explain the bizarre drawing to her children.
"The Navy holds its aircrew to the highest standards and we find this absolutely unacceptable, of zero training value and we are holding the crew accountable," the Navy told the news station in an official statement at the time.
Investigators concluded that the incident was "not premeditated" and superiors described the two lieutenants as "fine officers." But the investigation pointed out that the prank "has caused the United States Navy severe embarrassment in the public arena." It is not clear what disciplinary action the pair faced.
"My initial reaction was no, bad," the pilot said in a statement following the incident. "But for some reason still unknown to me, I eventually decided to do it."