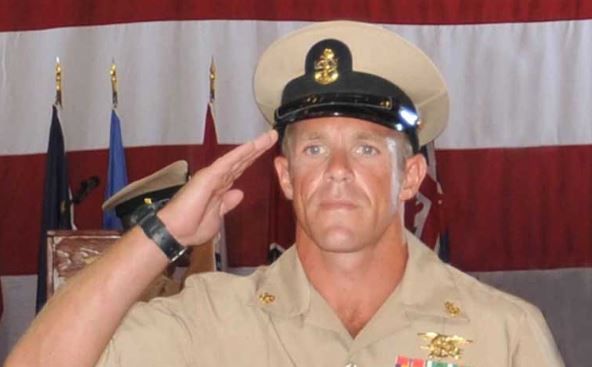 Special Operations Chief Edward Gallagher plans to plead not guilty to all charges, including one related to the death of a member of the Islamic State of Iraq and Syria (ISIS), who was estimated to be 15 years old.
Gallagher's lawyer, Phil Stackhouse, told The Associated Press that the Navy SEAL, 39, would plead not guilty to all charges at his arraignment on Friday, which is scheduled to take place at Naval Base San Diego. Gallagher was charged with war crimes, including the premeditated murder of a 15-year-old prisoner in Iraq in May 2017.
At the hearing, he will also be read multiple specific charges, including aggravated assault against two noncombatants, re-enlisting next to a corpse, posing for an unofficial picture with a corpse and obstructing justice.
Along with his client entering his plea, Stackhouse said he planned to ask for Gallagher to be removed from the ship's prison, where he has been held since his arrest on September 11. At the time of his arrest, Gallagher was at Camp Pendleton and receiving treatment for a traumatic brain injury, according to the Navy Times.
Gallagher, a 19-year-veteran, was accused of stabbing the 15-year-old in the neck and other parts of the body. Naval Criminal Investigative Service Special Agent Joe Warbinski testified during a preliminary trial that a medic had told him he'd just stabilized the 15-year-old when the killing took place.
Warbinski also told the court that members of Gallagher's platoon told him they felt "their priority was to protect civilians from Chief Gallagher, not ISIS." The members said they believed he had targeted civilians during the deployment.
Navy prosecutors showed cell phone photos of Gallagher holding the head of the deceased 15-year-old during a re-enlistment ceremony in November, according to KPBS, but both Gallagher's attorney and his family deny the 39-year-old carried out the murder. Stackhouse told The Associated Press that Gallagher had been falsely accused by members of his platoon, whom he labeled "disgruntled" and claimed they wanted Gallagher removed as leader.
"These allegations are malicious and shameless, and I know that my husband did not do what is alleged, and I will stand by him and I know he will be exonerated of these charges," his wife, Andrea, said. "His family, friends, SEALs and former Marines and his scout sniper colleagues all stand beside Eddie. Eddie is a hero, and we are patiently awaiting the restoration of his good name and reputation."
Stackhouse told the Navy Times that an independent investigation conducted by the defense found that the crime "simply didn't happen" and said his client would take on the case as he did every deployment, by fighting.
"Fight to clear his name, fight for justice, and fight to expose the lies that are being made against him," Stackhouse said.
Gallagher joined the Navy as a corpsman attached the Marines, according to Task & Purpose. He became the first non-Marine to graduate from the branch's Scout/Sniper school, and he deployed to Iraq and Africa in 2003 as both a corpsman and sniper.
In 2005, he became a SEAL and served in various roles, including lead sniper, lead platoon medic and lead petty officer. He deployed with SEAL Team 1 to Afghanistan, and his last deployment was with SEAL Team 7 to Iraq. He received two Bronze Star awards for combat valor and Sailor of the Year in 2014, among others.
If found guilty, Gallagher faces life in prison.
​