Navy Secretary Carlos Del Toro Tests Positive for Coronavirus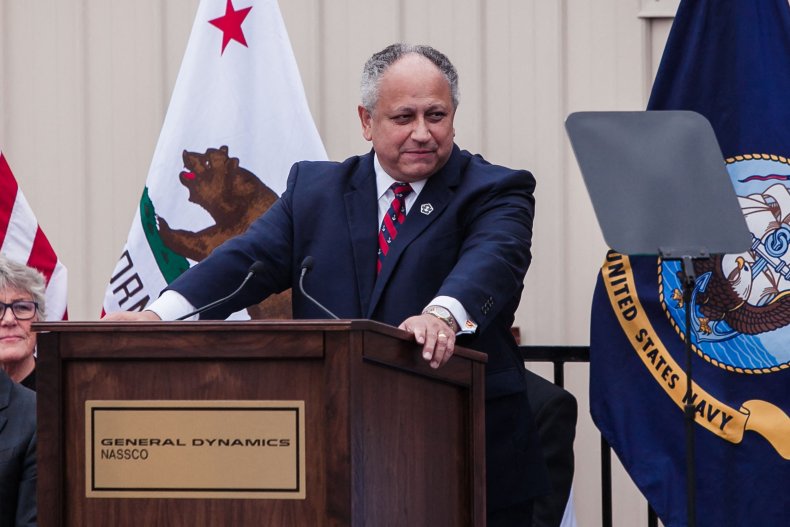 Navy Secretary Carlos Del Toro has expressed gratitude for being fully vaccinated after testing positive for COVID-19.
The Navy leader announced in a Monday statement that he last tested negative on Friday, the same day he returned home from official travel. Del Toro plans to continue his duties virtually while adhering to Centers for Disease Control and Prevention (CDC) guidelines by quarantining for at least five days.
"This morning I tested positive for COVID-19," Del Toro said. "I am following my physician's instructions and will quarantine for the next five days at a minimum in accordance with CDC guidelines. During this time, I will attend key meetings and discussions virtually and when necessary, the Honorable Meredith Berger, performing the duties of Under Secretary of the Navy, will represent me during my physical absence."
"I am grateful to be fully vaccinated and to have received the booster shot in October as I know my symptoms could be far worse," he continued. "We must continue to vaccinate our naval forces and look out for our physical health as we finish the fight against COVID. The well-being of our Sailors, Marines, Civilians and their families is of the utmost priority."
Del Toro's positive test comes only two weeks after Joint Chiefs of Staff chairman General Mark Milley, the U.S. military's highest-ranking member, tested positive for the virus alongside Commandant of the U.S. Marine Corps General David Berger. General Richard Clarke, commander of the Army Special Operations Command, tested positive for COVID-19 last week.
All of the military leaders were fully vaccinated in accordance with a vaccine mandate for service members. The Navy has discharged at least 45 sailors this month for refusing to comply with the mandate, with the status of another 5,000 unvaccinated sailors still undetermined as of last week.
Across the entire U.S. military, over 15,000 service members have refused to comply with the vaccine mandate. At least 12,000 have requested religious exemptions from the mandate. The requests have largely been unsuccessful. Only the Marine Corps has granted any—just three exemptions out of 3,000 requests over the past month, according to Military.com.
Although the quickly spreading Omicron variant has fueled a COVID-19 surge in the military that mirrors the civilian surge, Navy leaders have indicated that outbreaks on ships have had little impact on operations.
"We've had all variants on our ships, including omicron," Vice Admiral William Merz, deputy chief of Naval Operations for Operations, Plans and Strategy, told reporters last week, according to Military Times. "We have taken advantage of our operational flexibility to evaluate and ensure our approach has remained effective, and we all continue to learn and adjust."
"So, it's coming and going all the time, very small numbers, and really no operational impact," added Merz. "And the teams are just very, very attuned to watching their indications and reacting to it."
Newsweek reached out to the Department of Defense for comment.