Navy Ship Seizes $106 Million of Cocaine From Alleged Drug Smugglers
A U.S. Navy ship operating in the Eastern Pacific Ocean intercepted a massive haul of suspected cocaine, worth an estimated $106 million, earlier this month.
The USS Gabrielle Giffords, carrying a U.S. Coast Guard law enforcement detachment, intercepted the "low-profile vessel" (LPV), also known as a narco submarine, after being diverted during a routine patrol on December 5. Approximately 134 bales of cocaine weighing an estimated 2,810 kilograms were found on board the vessel and three crew members were detained on suspicion of drug trafficking.
"Interdiction evolutions, no matter how often you conduct them, are different every time," Chief Boatswains Mate Daniel Pike said in a statement. "Our team is dedicated to exemplifying the qualities of safe, professional mariners during these operations from start to finish."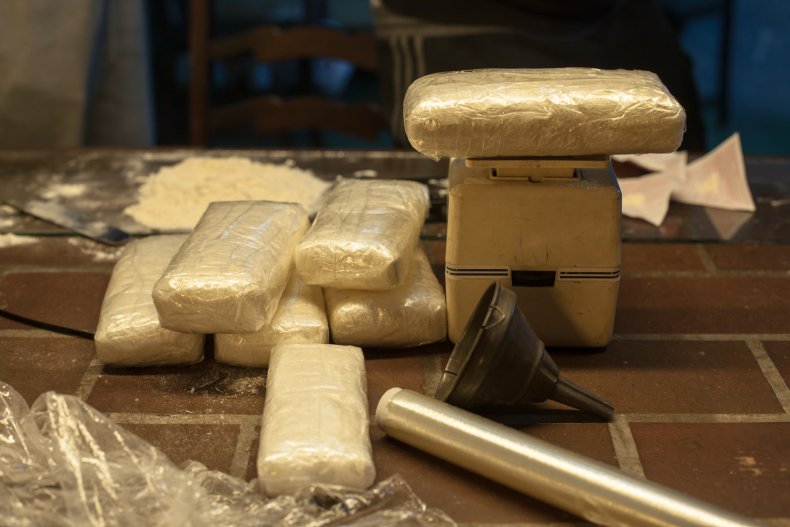 The LPV that was involved in the incident is typical of the narco submarines used in the area to transport illicit drugs from Colombia to North America, with a thin hull that is difficult to detect being powered by three motors, according to the U.S. Naval Institute.
In similar vessels, a crew of three fits tightly into cramped and usually unhygienic cockpits, sleeping on bales of drugs kept in one of the holding areas below them. Identical narco subs have been reported 18 other times since 2017, but the payload of drugs being transported on the vessel intercepted December 5 was said to be much larger than usual.
The USS Gabrielle Giffords is involved in a Joint Interagency Task Force South mission to combat drug trafficking in the Eastern Pacific and the Caribbean. Enhanced counter-narcotics efforts were launched by the U.S. Southern Command on April 1.
The Navy ship confiscated 200 kilograms of suspected cocaine, worth an estimated $7.5 million, from a "go fast vessel," a speedier type of ship that is capable of carrying a smaller quantity of drugs, only three days before the December 5 incident, while also detaining three suspected drug traffickers.
"The work our team does out here, not only helps support the counter-narcotics mission, but also makes these waters safer for all who sail," said Commander Rion Martin, commanding officer of the Gabrielle Giffords. "I'm extremely proud of the professionalism displayed by our men and women as we continue to enhance regional security and stability in U.S. 4th Fleet."
The Gabrielle Giffords was named after former U.S. Rep. Gabrielle Giffords, who retired from politics after being targeted and shot in the head during a 2011 mass shooting in Tucson, Arizona. Giffords' husband is Sen. Mark Kelly, a former Navy pilot and astronaut who took office earlier this month after defeating former Sen. Martha McSally in Arizona.