Navy Vet Tweets Image of Soldiers Holding Casket After Fox News Segment: 'What Happens After an Ambush'
A U.S. Navy veteran on Wednesday posted a picture on Twitter showing several soldiers carrying a casket and wrote that "here's what happens after an ambush" after Fox News said President Donald Trump was "ambushed" during an interview with ABC News.
"Dear Fox News," D. Earl Stephens tweeted. "Here's what happens after an ambush (left). Here's what happens after you've made a complete moron out of yourself in front of the entire world (right). Do better, dammit."
The picture on the left shows the soldiers carrying the casket off of a plane. According to The New York Times, the image was released by the Army in 2018, and shows the body of Staff Sergeant Dustin Wright, who was one of the American soldiers killed last in October 2018 during an attack in Niger.
In the photo on the right, Trump can be seen standing next to ABC News' George Stephanopoulos after undecided voters in Pennsylvania questioned the president on several different issues in a segment that aired on the network.
During Trump's appearance on ABC News' town hall titled The President and the People, he was asked about a national mask mandate and suggested it was Democratic presidential candidate Joe Biden's job to impose one, even though the former vice president lacks the power to do so.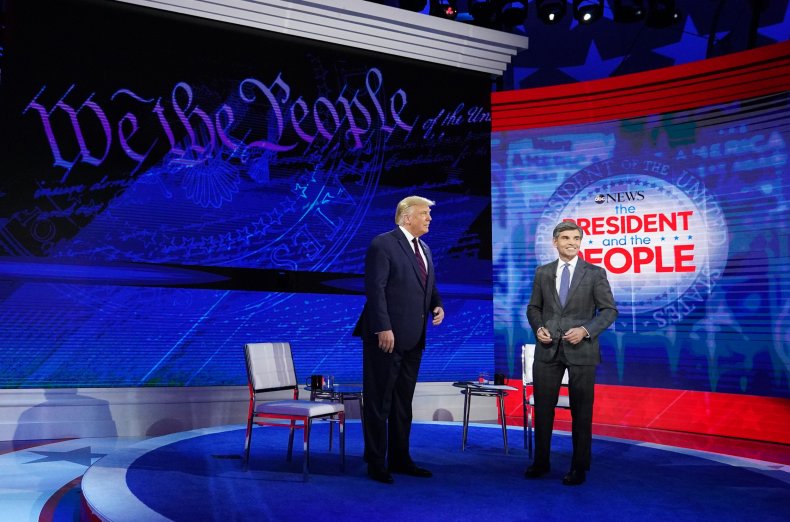 "They said at the Democrat Convention they're gonna do a national [mask] mandate. They never did it, because they've checked out and they didn't do it," Trump said.
Trump was also asked about a recent excerpt from Watergate journalist Bob Woodward's new book where he said he wanted to downplay the severity of the nation's coronavirus outbreak earlier in the year.
"I didn't downplay it," Trump said in response. "I actually, in many ways, I up-played it in terms of action."
Shortly after his interview with ABC News, Fox News host Laura Ingraham accused the network of ambushing the president.
"The president loves mixing it up with everybody," Ingraham said, noting Trump's previous interviews with Woodward and with Axios' Jonathan Swan. "And now he did this. But this was an ambush."
Ingraham also criticized the former vice president, saying, "Biden's not going to take any questions like this. He's not going to get any questions like this."
She continued, "So why did the president decide to do this, to open himself up to a room full of basically Trump resistance?"
Newsweek reached out to Stephens and Fox News for comment but did not receive replies in time for publication.